SWOT – The core analysis of marketing regardless Essay Sample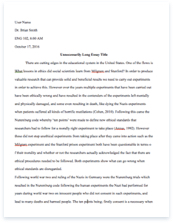 Pages: 3
Word count: 654
Rewriting Possibility: 99%

(excellent)

Category: marketing
Get Full Essay
Get access to this section to get all help you need with your essay and educational issues.
Get Access
Introduction of TOPIC
SWOT, the abbreviation of Strengths, Weaknesses, Opportunities, and Threats, is one of the core analysis of marketing regardless if it comes to the decision of either penetrating the market, or competing in the existing market. Development of a strategic marketing campaign is a crucial step for any further moves of any companies and organizations. A company or an organization can survive and expand successfully afterwards relies heavily on their very first acknowledgement of their strengths, weaknesses, opportunities and threats. Based on the SWOT analysis, companies and organizations may adjust their marketing and promotion plan wisely and accordingly to minimize their shortcomings and maximize their advantages. (Lamb, Hair & McDaniel 2011, 491.)
Strengths of a promotional strategy in SWOT analysis is basically the top knowledge and abilities of companies and organizations to perform against their competitors in the market place in term of drawing more customers and consumers, recognizing abilities (strengths) and drawbacks (weaknesses) in product offering, distribution network and customer service levels. Strengths can also be the capability to develop a system of Marketing metrics to measure the performance of issues such as market and relative market share, market penetration, brand penetration, customer retention rate, and customer satisfaction rate… Also, the right channel to transfer the product information concisely and precisely to (potential) customers is considered a strength of promotional plan. (Lamb, Hair & McDaniel 2011, 491.)
To indicate the organization's strengths, it is necessary to answer to those questions as follows:
What advantages does your organization have?
What do yo
u do better than anyone else? What unique or lowest-cost resources can you draw? What do
your customers define your strengths?
What factors support that the sales could be achieved?
What is the organization's Unique Selling Proposition  (USP)? (Website of mindtools, 2017)
Weaknesses are defined as the negative internal aspects of your business that diminish the overall value your products or services provided. It could be a lack of knowledge of promotion strategy, or other Marketing mix problems. Yet, as it is an internal factor which comes from inside the organization, it may be hard to identify and admit own weaknesses. An example of a weakness coming from promotion strategy is that when a sales promotion lasts so long, customers may perceive negatively about the value of your products and services. Hence, it is advisable to keep the length of sales promotions reasonable to prevent default long-term overall pricing strategy. (Brassington & Pettitt 2007, 371.)
Keep asking these following questions to identify your weaknesses when necessary:
What could be improved?
What should be avoided?
What your customers and other experts in the market define as your weaknesses?
What factors may make you lose sales?
(Website of mindtool, 2017)
Opportunities are external factors which the company may be able to use to boost their strengths and/ or to change their shoes into brighter situation with such as modern technology inventions, market growth, change in consumer's behavior, current problems resolutions etc. Successful companies do not stay stable but always scan for opportunities to thrive. To figure out some opportunities that could be beneficial to the company's business, it is necessary to answer to the following questions. (Summers, Gardiner, Lamb, Hair & McDaniel 2006, 270.)
What good opportunities can you spot?
What interesting trends are you aware of?
Useful opportunities can come from such things as:
Changes in technology and markets on both a broad and narrow scale.
Changes in government policy related to your field.
Changes in social patterns, population profiles, lifestyle changes, and so on.
Local events. (Website of mindtool,2017)
Threats are defined as the negative external factors that may harm your business. To identify threats, it is relevant to answer the following questions
What obstacles do you face?
What are your competitors doing?
Are quality standards or specifications for your job, products or services changing?
Is changing technology threatening your position?
Do you have bad debt or cash-flow problems?
Could any of your weaknesses seriously threaten your business? (Website of mindtool,2017)