9-11 Experience Essay Sample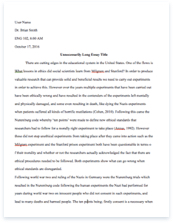 The whole doc is available only for registered users
OPEN DOC
Download Essay
A limited time offer!
Get a custom sample essay written according to your requirements urgent 3h delivery guaranteed
Order Now
9-11 Experience Essay Sample
Today I interviewed my mother about her experience with September 11, 2001 ("9/11"). To me her experience wasn't as exciting as if she were there, but pretty normal for someone who was having a typical day. On 9/11 my mom was driving down Perryville Road, passing Menard's, to the doctor's office where she worked at that time. She was informed about the attacks on the radio. Unfortunately she doesn't remember what radio station it was. At first my mom thought that they were doing a joke on the radio but then they were serious, and she was just in shock. She remembers getting to work and watching the second plane hit the South tower.
My mom told me that the people's response was that everyone was just in shock and they couldn't believe that it had happened. The government was focused on protecting the people. Planes couldn't go anywhere. Those who were in the sky had to land immediately. A lot of New York City was evacuated, but the government was focused on keeping the people safe. Internationally was different. "Britain and France were the countries that wanted to help the United States" she recalled.
September 11 was very crucial in her life because the U.S had upgraded the security in airports to protect innocent Americans. It was also extremely important in the U.S history because it was the first time that the United States had been attacked by a foreign country. Since the attack traveling to other countries is a lot more difficult. September changed many things, like for my mom she said "I really cherish my family and the time I get to spend with them."
She also stated that Americans now really are distrusting of foreign countries. Before the attacks my mom really didn't think about terrorism she just knew it was there and now it is thought about daily. People are more aware of their surroundings and the people because of the attacks. There's no ending of the lessons to be learned about 9/11 but here were a few important ones my mom thought of, -you aren't safe anywhere
-we are the country of the free but not everyone thinks so -other countries hate us (Iraq, Afghanistan)
-you can't trust anyone
September 11, 2001 affected millions of other people just like my mom. This paper was just her opinion about 9/11.