An organizational study with specific reference to sales & marketing Essay Sample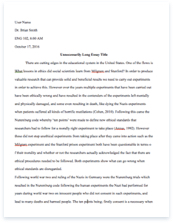 The whole doc is available only for registered users
OPEN DOC
Get Full Essay
Get access to this section to get all help you need with your essay and educational issues.
Get Access
An organizational study with specific reference to sales & marketing Essay Sample
Executive Summary
Acknowledgement
Chapter1: Introduction
Chapter2: Organization Structure
Chapter3: Functional Departments
Chapter4: Company Analysis
Chapter5: Findings & Suggestions
Chapter6: Conclusion
Chapter7: References
EXECUTIVE SUMMARY
This is the internship report based on the 40 days long internship program that I had successfully completed in Bikes Station under sale & marketing Department from 09.05.2018 to 18.06.2018 as a requirement of my BBA (M&S) program IN Amity University. As being completely new to practical, corporate world setting, every hour spent in the marketing & sales department gave me some amount of experience all the time all of which cannot be explained in words. But nevertheless, they were all useful for my career. This report includes how an marketing & sales Department works, what are the possible divisions and work distribution in a marketing & sales department , how to keep employees motivated as well as how to control insubordinations, compensation and benefits planning, how to lead etc. I have worked in marketing & sales department of bikes station with almost all the wings. It maintains the organizational responsibilities successfully. The marketing & sales Team of Bikes Station is completely organized and well reputed team. Within my 4weeks internship around. I have assisted the sales & marketing team in doing works like customer assistance & sales. I have assisted the administration team in processing of leave of the employees. My personal views about the sales & marketing department, my value addition to the sales & marketing department are also included in the report. With limited knowledge and experience I tried my best to make this report as much understandable as possible and translated the real world experience into a document. The various boundaries to process improvement and maintaining ethical standards in a corporate environment have also been experienced. But even so, how those policies and practices are In-Line with the corporate strategy are discussed in this report. Before drawing any conclusion based on this report it may be noted that the report was prepared in a very short term and there is lack in data. But still the report may be useful for designing any further study to evaluate the accounting & finance facilities provided by the firm.
ACKNOWLEDGMENT
I would first like to thank my faculty advisor, Dr. Neetima Agarwal, my faculty guide of BBA department, Amity University for guiding me throughout the course of my internship program.
The internship opportunity I had with bikes station was a great chance for learning and professional development. Therefore, I consider myself as a very lucky individual as I was provided with an opportunity to be a part of it. I am also grateful for having a chance to meet so many wonderful people and professionals who led me though this internship period.
Bearing in mind previous I am using this opportunity to express my deepest gratitude and special thanks to the store head, Bike Station who in spite of being extraordinarily busy with her/his duties, took time out to hear, guide and keep me on the correct path and allowing me to carry out my project at their esteemed organization and extending during the training.
I express my deepest thanks to Mr. Raghubeer Singh, CEO for giving necessary advices and guidance and arranged all facilities to make life easier. I choose this moment to acknowledge his contribution gratefully.
It is my radiant sentiment to place on record my best regards, deepest sense of gratitude to Mr.PC Joshi, Mr.Pramod Singh for their careful and precious guidance which were extremely valuable for my study both theoretically and practically.
I perceive as this opportunity as a big milestone in my career development. I will strive to use gained skills and knowledge in the best possible way, and I will continue to work on their improvement, in order to attain desired career objectives. Hope to continue cooperation with all of you in the future,
Sincerely,
INTRODUCTION
Bikes Station is a firm formed in 2012 is a franchisee holder of various brands such as Jack & Jones, Only, Trek, Giant, Firefox etc. it started with holding the franchisee of just the cycling brands in 2012. On 11th November 2016, the firm bought the franchisee of a dutch clothing brand Jack & Jones and Only named as ' The Danish Rack '. The sole purpose of this firm was to make the people of this city aware with the niche segment of cycling brand as well as a young adult oriented clothing brand. The firm also deals with fitness, adventure product related brand i.e. Cofit, BH and AcneFitness. The firm imports all its goods for sale from different parts of the world for better quality and customer satisfaction.
The firm deals with two segments i.e.:
CLOTHING :
JACK & JONES
One of Europe's leading producers of menswear, JACK & JONES is riding high on a strong legacy of craftsmanship, unmatched quality and exemplary style. With humble beginnings that are dated back to 1990, the brand today holds an inimitable position in the sphere of trend inspired fashion for the cosmopolitan man.
While Jeans are the life-blood of JACK & JONES, the brand prides itself in offering a carefully curated selection of fashion forward apparel, accessories and footwear for the modern man. With more than 1000 stores across 38 countries, the brand has carved an indomitable niche for itself, and continues to build fashion inroads across the globe. Within India, currently the brand stands proud at 69 Exclusive Brand Outlets and a whopping 221 Shop-In-Shop.
JACK & JONES is defined and represented by five unique brands: JACK & JONES VINTAGE CLOTHING, PREMIUM by JACK & JONES, ORIGINALS by JACK & JONES, and
CORE by JACK & JONES
Each of these brands offers a unique style ethos which is translated into contemporary styles and designs, catering to the varied yet discerning taste of the modern man.
VINTAGE BY JACK & JONES
JACK & JONES VINTAGE CLOTHING celebrates craftsmanship coupled with supreme quality. By reviving authentic vintage items and reproducing washes, trims and fabrics, it aims to capture the true soul of Jeans. Recreating the perfect vintage vibe with a modern twist, it offers a complementing blend of authentic denim-wear with contemporary styles.
PREMIUM BY JACK & JONES
Attention to detail and eclectic styles are the backbone of PREMIUM by JACK & JONES. Addressing the needs of the modern sophisticate, the brand has its roots in classic styles and the collections are built on iconic pieces. The styles are put into modern and seasonal contexts – e.g. dress shirts or blazers in new fabrics, new colors or with added details, based on current trends. With emphasis on quality and detail, these are essentials in a man's wardrobe.
ORIGINALS BY JACK & JONES
ORIGINALS by JACK & JONES is inspired by the indie and urban pop culture scene. The style is vibrant and easy going, and references are drawn from everything that influences the current trends. ORIGINALS by JACK & JONES is bold and daring, and not afraid to stand out from the crowd. Hip, high quality and in a mix of colors and styles, ORIGINALS BY JACK & JONES opens up a world of possibilities to customize the right look.
CORE BY JACK & JONES
CORE by JACK & JONES is utility street wear with a strong graphical concept and an eye for innovative details. Directed at the fashion forward man, the collection is crafted with high quality fabric, and has a crisp and clean finish where details have strong work wear references. A mix of formal and casual, exemplified by anti-fit jeans, graphic T-shirts, sweatshirts, footwear and knitwear, a striking look is ensured by cut-and-sew seams, technical design details and a color palette consisting of minimalist, neutral shades combined with bold contrasts.
ONLY
We embrace the magic of the possibilities within everyday life. That is our philosophy – ONLY is about you – and ONLY you. An amalgamation of western fashion forward styles, high quality and great value is what makes ONLY truly unique. Each style is created with this special ONLY feeling, which resonates with the self -confidence, style and carefree attitude of the style conscious millennial.
We started operations in 1995 in Denmark, and forayed into the Indian market with the launch of the first store in Mumbai in 2010. Having received an overwhelming response, we have rapidly expanded our style footprint in the country with 53 Exclusive Brand Outlets, and 140 Shop in Shops till date.
Denims are our lifeblood and we pride ourselves in setting the paradigm for 'denimizing' the world with our range of runway inspired and trend driven collection of high on fashion denim wear for the fun fearless fashionistas! In effect, all ONLY collections reflect the denim attitude, look and image.
Incorporating the latest trends ONLY curates a unique version of fashion, keeping in mind the exclusive and differentiated fashion moments each ONLY girl comes across. The ONLY collections of high fashion western wear feature an inimitable, modern identity coupled with attractive styles and international class.
CYCLING:
FIREFOX
In early 2005 the cycling scene in India changed dramatically when Firefox introduced an imported range of approx. 30 bike models into the Indian market. The first company owned Firefox Bike Station was opened in Delhi in April 2005. Designed, keeping in mind customer oriented bike & accessories displays & backed by trained sales & technical staff, the Bike Station proved an instant success & provided the template for future expansion. The present count of 8 company owned outlets & more than 60 carefully chosen Franchisee outlets all over India are testament to the success of Firefox's distribution strategy. The present range of almost 70 bike models provides the Bike Stations with the ability to offer bikes to all ages & category of buyers. In June 2006 Firefox teamed up with the finest cycling company in the world, Trek Bicycle Corp, USA& in 2010 this tie-up was further strengthened with the introduction of Gary Fisher Collection. Simultaneously in 2010, Firefox introduced Finish Line (specialists in cycling lubricants) & Slime (specialists in puncture resistant products) to the Indian market. The Trail Continues.
TREK:
America's largest manufacturer of bikes and aftermarket products has designed and built some of the best road and mountain bikes since '75. Trek is constantly reinventing itself, branching out into travel, kid's bikes and eco-friendly products.
Trek is the Afrikaans word for "journey". And if you do read through the company history you'll soon discover the journey Trek's been through. They have continually refined and improved their products over the last 25 years and also encourage their customers to embark on their own journey towards improved health and a better world.
GIANT:
We are builders and innovators, but we are also a global community of cyclists. We are athletes, adventurers and advocates for cycling. We are Tour de France racers, single-track explorers, neighbors and friends.
It's true that Giant is the world's largest producer of high-quality bikes, but we never forget where we came from. We started small. And we were founded on the idea that the best way to inspire passion for cycling is to create the best products, and make them accessible to all riders. That's what we did back then. That's what we do today.
Much has changed since we started in 1972. In fact, Giant has long been one of cycling's main catalysts for change. We introduced lighter, stronger aluminum frames at a time when the industry standard was steel. We were first to make carbon fiber bikes widely available to the world. We defined the look and feel of modern road racing bikes with our Compact
Road technology. And we revolutionized off-road performance bikes with Maestro Suspension.
Today, this spirit of innovation is stronger than ever. Our collection of gear and apparel, developed and tested by some of the top teams and athletes in pro racing, continues to expand. Our industry-leading E-bikes are redefining what's possible for riders of all abilities.
These innovations serve a larger purpose. It's not just about winning races and producing lighter, stronger, faster bikes. That's part of it, but it's also about making cycling more enjoyable and approachable. To everyone.
When we talk about "Ride Life," this is what we mean. Our products, our people, our passion. Our commitment to enhancing your cycling life. You can find us at our more than 12,000 retail stores around the world, or connect with us online from wherever you are. We are always accessible and never too Far away.
CHAPTER2: ORGANISATION STRUCTURE
Bikes Station is a new firm in Uttrakhand and its still recruiting. Currently it has 10 employees and is still recruiting. The firm was established 5 years ago and owns a franchisee of mainly cycle brands and clothing brands. The cycle brands include: Trek, Firefox, Giant etc. and clothing brands are Jack & jones and Only.
CHAPTER3: FUNCTIONAL DEPARTMENTS
The following are the main departments of the firm Bikes Station: these include the Sales & Marketing department, the Finance & Accounts department , the Inventory department and the Customer Assistance department.
SALES & MARKETING:
BRANDINGThe brand department of the company deals with image of the brand to the customers. It basically helps the brand to portray its intentioned image to the potential target group. This department along with the Marketing Communication department deals with the promotional activities. Since, the firm holds a franchisee business, the marketing of the brand will be done by the franchisors. Many franchisors also have a local advertising and marketing requirement wherein the franchisee must spend a certain percentage of their gross sales on local advertising, and provide proof of such advertising to the franchisor on an annual basis.
SALES:
Since this is a franchisee holding company, all the sales activities performed will be in the form of direct sales. The direct sales team handles the customers. They try to make the product available to the local customers of the city. In Haldwani city, there are very few brand and quality stores, so the company targets customers who are looking for good quality and branded clothes & bikes and are willing to pay the required price for it.
FINANCE & ACCOUNTS:
This department includes purchase & sales of the goods imported and sold. This department is also responsible for the budgeting. The people hired for handling this particular department must have a knowledge in the field of accounts, must be computer savy and also must have communication skills. One of the employee from this department will be responsible for maintaining the profit and loss accounts & the balance sheet of the firm. One of them will be at the billing counter to handle the billing of the items purchased by the customer.
INVENTORY/ STOCK:
This department takes care of all the imported goods and goods purchased that are kept in stock for future sales. This departments keeps a record of all the goods kept in the inventory.
CUSTOMER ASSISSTANCE:
This department deals with customer after and before the sale occurs. Main activities of this department includes maintaining data base of the customers, preparing, distributing, and collecting the bills, activating new connections, deactivating connections and most of all dealing with customers when they step into the store for purchase. The people hired for this job must have good communication skills in their native language as well as in English. They must be trained as to how to sell the product and how they should behave while they're at work.
CHAPTER4: COMPANY ANALYSIS
SWOT ANALYSIS:
STRENGTH Already sourced
Adopted important skills.
Establishes a rapport with the locals.
Customer feedback is readily available.
WEAKNESS Ideas are more constricted.
Limited communication.
No ability to stand out from the crowd.
Highly competitive.
OPPORTUNITIES Ability to shine.
A chance to grow with the company.
THREATS Reputation is always on stake.
Location: weather conditions can vary.
Economic recession (conditions may vary)
(*note: this SWOT is for the franchisee firm i.e. BIKES STATION. )STRENGTHS Strong Financial Muscle
Risk Taking Ability
Higher Margins on Products
Rapid expansion
Strong advertising.
WEAKNESSES Higher costs.
Not enough stores.
weak brand presence
OPPORTUNITIES Growing youth population.
Growing market potential.
Backing flagship designs
THREATS High competition.
E-commerce
Changing consumer taste
(*note: SWOT for all the brands present in the firm i.e. JACK & JONES, ONLY, TREK, FIREFOX, GIANT.)
REFERENCES
http://www.forbesindia.com/article/work-in-progress/firefox-bikes-crank-it-up/32852/1
http://firefoxbikes.blogspot.com/https://www.ebicycles.com/listing/trek-bicycles.html
http://www.only.in/about_us_onlyhttp://www.jackjones.in/about-jackjones