A Case Study In Total Quality Management Essay Sample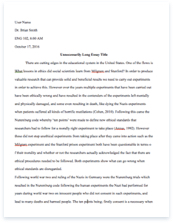 The whole doc is available only for registered users
OPEN DOC
Download Essay
A limited time offer!
Get a custom sample essay written according to your requirements urgent 3h delivery guaranteed
Order Now
A Case Study In Total Quality Management Essay Sample
You are an expert in Total Quality Management (TQM) and have been hired as a consultant to improve the profitability of Advanced Laminated Products (ALP), LLC. ALP designs and manufactures furniture using polymer impregnated laminated pulp products, both sheet and dimensional lumber. The primary use of the products is in outdoor living spaces at both homes and at commercial properties such as hotels and restaurants. ALP has been in business for 10 years, during which time they have grown from a garage operation to 30 employees in a 10,000 square foot fabrication shop with 1000 square feet of office space. ALP had gross income of $5,000,000 in 2013 and expenses totaling $4,500,000 including $100,000 building lease, $1,500,000 employee salaries, $24,000 utilities, and $2,000,000 in material cost.
In the first 5 years of business, ALP focused on custom fabrication to customer requirements using the best materials. The founder of the company is a master carpenter with 25 years of work experience who fabricated and assembled each item. With the growth in business, the founder was required to hire administrative staff to handle business operations, computer operators to design products, and additional shop personnel to fabricate and assemble products. A shipping department was also added, and a full suite of computer equipment was purchased and outfitted with financial software, design and drawing software, and shipping software. The company founder frequently changes completed product designs, and remakes furniture to correct perceived quality issues.
ALP has received competitive pressure from new outdoor furniture being manufactured in Indonesia. The new Indonesian furniture is far cheaper than ALP products. ALP employees have examined the furniture from Indonesia to determine how ALP products compare. They find that the Indonesian furniture is made from standard dimensional lumber, uses standard steel hardware, and is only available in a handful of components and styles. Fabrication is rough and finishes are basic. The Indonesian furniture is functional, but its ability to last in outdoor environments is questionable. ALP employees estimate that it would probably perform passably for 3 years without maintenance.
Based on the information from the Indonesian furniture investigation, ALP changed some of its processes based on input from the accounting department that was based on solid accounting practices designed to reduce cost and improve profit. ALP also reduced its staff by 3 shop personnel, 1 designer and 1 administrative person. Delivery time increased as a result of these personnel changes, but it was determined that the delivery time was temporary and that remaining staff will learn to fill the gaps. Also, the number of ALP products returned for repair or replacement has increased by 20% since the changes. Despite the cost cutting measures, new orders are down 5% compared to the same quarter in 2013, and the founder is concerned that this trend will increase without something being done.
Submit a project report, as a group, to include an analysis of the existing ALP business, 5 and 10 year projections of ALP business, and changes you would make to ALP to bridge the gap between today and the 10 year projection. To assist in the analysis, perform each of the items below and include them in the submitted project. The final analysis must be written in report format, 1-2 pages, with introduction paragraph, supporting paragraphs, and a conclusion paragraph. Each supporting paragraph must have an introductory sentence and conclusion sentence in addition to supporting sentences. Graphs and tables that visually convey information in the report, and support any recommendations or conclusions are considered beneficial and will receive additional credit.
1.Using your knowledge of TQM including Deming's Fourteen Points, Juran's Ten Steps to Quality Improvement, and Crosby's Fourteen Points to Quality Improvement, suggest five (5) areas of focus to improve the profitability of ALP.
2.What questions would you ask of ALPs customers to determine how ALP is meeting their needs? Is ALP delighting customers? What questions would you ask to determine the ALP customer definition of quality? Make a list of questions for interviews of ALP commercial and residential customers. Simulate and report the results of 5 interviews. Summarize the interview responses to define quality for ALP products.
3.What questions would you ask ALP's employees to determine how ALP is meeting customer needs? Make a list of questions you would ask and the ALP employees you would ask the questions? Simulate the results of 5 interviews. Summarize the interview responses to define how ALP compares to World Class Organizations.
4.Based on the responses to ALP external customer interviews, and responses to ALP internal customer interviews, and the information on process changes made by ALP before they hired you, what are the top 5 changes you would make to ALP? How do those changes support the 5 year and 10 year business plan for ALP?
5.How does the competition from the Indonesian furniture affect the ALP business model? Should it? How would you make changes to ALP to make it globally competitive?
Number all pages of the finished report at the bottom of the page. Include IND101-N02B, Fall 2014, and Project #1, at the top of each page. Include IND101-N02B, Fall 2014, Project #1, Analysis of Advanced Laminated Products, LLC, and the names of all group members on the cover sheet of the report.