A Culture of Ignorance, Violence and Drug Use Essay Sample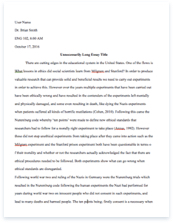 The whole doc is available only for registered users
OPEN DOC
Pages:
Word count: 778
Category: violence
Download Essay
A limited time offer!
Get a custom sample essay written according to your requirements urgent 3h delivery guaranteed
Order Now
A Culture of Ignorance, Violence and Drug Use Essay Sample
For some it takes seeing life in a different perspective to understand that a certain lifestyle is not the one for you, but when you are surrounded by a certain type of culture you can't help but to follow the trend that is set in order to fit in. We are all guilty of trying to follow a certain crowed of people just to fit in, rather it is good or bad. Unfortunately I was sucked into the culture of my childhood neighborhood, which still affects me to this day. Growing up my immigrant parents, who believed in a strong work ethic, instilled the importance of education in my mind.
"Without education you're nothing in this world," is a phrase my mother would never let me forget every time she would discipline me after finding out I got in trouble in school. All my parents wanted from me is to always try my absolute best in school. My absolute best was never given due to the fact that I was more focused on trying to fit-in and becoming the "cool kid". Going to a low preforming public school in a part of town where education is not the main focus, you're usually looked down on for being the smart kid or the well behaved kid.
The culture of my neighborhood gowning up was that if you cared about school you were weak and vulnerable, thus making you lame and subjected to an enormous amount of being bullied on a daily basis. When you're put in a dilemma like that you either have to beat them or join them. I decided to join the people that have been bullying me for years by following the trend just to become one of them. My downward spiral began in middle school were I would pride myself in being the class clown. Every chance I had I would either do or say anything that would focus everyone's attention on me just for a couple of laughs and high fives.
It was the best feeling in the world to be the center of attention and all the kids egging me on to make a joke. The only issue was while I was busy trying to make everyone laugh I missing whatever is being went over in class. The bad grades would start to pile up and by the time I was finishing my freshman year of High School I was already projected to fall through the cracks like the rest of the kids in the neighborhood. The summer after my freshman year my parents new that it was a matter of time before I completely hit rock bottom, they also understood that my surroundings was just making things worst.
After going back and forth on the subject they had to make the decision to move me in with my step-sister in a more affluent side of town. I had mixed emotions about the move but I knew how much stress and pain I've put my parents over the years and was willing to do anything to show them that I can change my ways. My first reaction when I arrived in this what felt like another world was, how friendly and happy everyone was. The diversity is something that really caught my eye due to the fact that I've grown up with the same race my whole life.
After a week of taking in my new surroundings it was time for school to start, my last chance to prove to people that it's possible for a person to change. I'm not going to say that from the start everything just turned around and I became the perfect student. My journey from where I was to where I am now took a lot of adjusting and patience. Adjusting to the rigorous school work and the expectations that is places upon me as a student at first was very overwhelming and there were times were I would hit my braking point and felt like giving up because, I felt like I was wasting my time and my parents efforts.
But I didn't because the longer I was here the more I was growing as a person. For the first time working hard in school was actually being praised by people around me and I actually felt good. My parent's decision to move me to Alpharetta was the best thing to ever happen to me. Being here these last three years I've grown from an immature teenager not having a care in the world about school into a man. I may have grown up in a neighborhood were education is least important, but that's where I'm from, not where I am now.