A Day as a Gay Essay Sample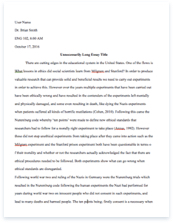 The whole doc is available only for registered users
OPEN DOC
Pages:
Word count: 619
Category: story
Download Essay
A limited time offer!
Get a custom sample essay written according to your requirements urgent 3h delivery guaranteed
Order Now
A Day as a Gay Essay Sample
This essay is the story of my life, in a way. "A clean heart create for me, God; renew in me a steadfast spirit. " Psalm 51:12 I was raised in a close, loving household and went to parochial school. When I began to experience attraction to male peers in junior high school, I didn't know what to make of the feelings. Mostly, I stuffed them down, decided this was an adolescent phase, and went along with my life. At 13, I began to masturbate daily, often fueled by fantasies of guys in my class. I told myself this phase would pass; however, when friends in high school started dating girls, bragging of their exploits, I couldn't relate.
I knew many girls who were my friends, but I'd never felt the slightest spark of romantic interest in them. Through high school and college, I dated several girls and dutifully "made out" with a few, but never felt that "rush" I got from my attraction to men. Friends from college began to pair off, marry, and have children. I began to realize this adolescent "phase" was not going to magically vanish. To this day, I thank God for protecting me from homosexual encounters during my college years. When I heard that someone was "gay" , I simply didn't hang around with him.
Because I wasn't stereotypical, I was able to live my double life. Friends would set me up on dates with women, while I kept my dark secret of fantasizing and masturbating to myself . When I first got Internet access, I quickly discovered "gay" pornography, and my obsession worsened. While I would never have gone into an adult bookstore, graphic images were now just a mouse-click away! I was hooked and soon began surfing for hard-core pornography. I wasted hour after hour and sometimes entire weekends exploring this dark wor1d. I felt power1ess over this obsession.
I began to hate myself. Spiritually, I was dead inside. It was dawning on me that before too long, pornography wouldn't satisfy me, and I'd turn to "rear" sex. I began to search the Internet for answers. I found several ministries that promoted "orientation change" through prayer and therapy. I found sites that focused on working through possible psychological causes of homosexuality . But when I finally found the Courage site, something clicked for me. The focus wasn't on changing your sexual orientation, but on deepening your faith life and growing in your walk with Christ.
On the Courage site, I read that I wasn't "gay," a label I'd never identified with, but that I was a child of God dealing with same-sex attraction. AMEN, I thought, this is ME. While there weren't any meetings in my area, I decided to join the e-mail based mailing list, CourageOnline. My first post to the list was the first time I'd admitted my struggles with same-sex attraction to anyone. I was moved by the warm, caring, genuinely Christian responses I received! Suddenly, I wasn't alone, I wasn't evil, I wasn't a "freak. " CourageOnline has been crucial to my spiritual growth ever since I first signed on.
Thanks to a few special friendships that have grown from my participation in the list, I have almost completely conquered the habits that ruled my life and made me miserable. I recently went to confession and, for the first time, told a priest of my SSA(Same-Sex Attraction) related sins; a real spiritual victory for me. Before discovering CourageOnline, I felt distant from God and depressed about the sad future that seemed to stretch out in front of me. Today, I'm excited about where my walk of faith may lead me next! I know God had a hand in leading me to Courage.