A felicitous environment for children Essay Sample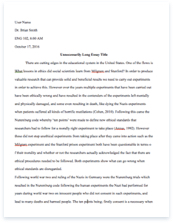 The whole doc is available only for registered users
OPEN DOC
Download Essay
A limited time offer!
Get a custom sample essay written according to your requirements urgent 3h delivery guaranteed
Order Now
A felicitous environment for children Essay Sample
According to Dr. Montessori, "A felicitous environment that guides the children and offers them the means to exercise their own faculties permits the teacher to absent herself temporarily. The creation of such an environment is already the realization of great progress."
Montessori believed that children should be given an environment that allows them freedom from the adult, i.e. she described a prepared environment as one, where the adult provides for necessary activities and materials according to the child's individual needs, and allows the child sufficient independence and control to make his own choices and carry out the work with as fewer adult interruptions as possible.
Development
Ideally, the Montessori prepared environment must comprise of the following basic elements: Freedom: Montessori believed that children must be allowed to follow their natural impulse and must be given an environment that allows them to be guided by their own will and choice. She observed that if children were to reveal their true self to the teachers, they needed an environment where they felt freedom.
To provide the teacher an opportunity to observe the child's psychic behaviour, it is vital to place them amongst surroundings which are not intimidating for them. By giving the child freedom to explore, to carry out social interactions, to move about in his space, to access everything according to his own needs, essentially he is empowered to make his own decisions. Several factors can be considered while creating an environment that enhances freedom:
Providing child size and height furniture and materials, so the child feels loved and secured.
Giving the child ample opportunities to perform independently the activities for which he does not require adult intervention.
Teaching self-help skills to promote independence relating to performing tasks such as dressing, undressing, buttoning, zipper, wearing shoes. Instilling the understanding of good and evil and thereby providing the opportunity to self discipline. Grouping materials according to developmental levels corresponding to the child's requirements.
Teaching the child to admire his environment by treating physical objects with care and exhibit behaviour showing respect and courtesy towards other children, teachers. Acquainting the child to all the material and its correct use, without creating an interruption for others.
Providing the child with a wide array of activities designed for self-correction, enabling him to choose according to his liking for enhanced concentration. There is no concept of rewards or competition, thus allowing each child to take their required time for each activity, hence eliminating any mental conflicts, and providing them freedom to develop at their own pace.
Enabling the children freedom to interact with each other solely upon their willingness to do so. Children are not pushed subtly or coercively to be a part of any groups or communication that they may not be ready for. This provides them the freedom to willingly be part of a social group with much more enthusiasm and interest.
Teachers must always be alert regarding potential dangers while children are using materials, and train them about safety and the appropriate way to use the objects.
All children must be given a sense of feeling loved, because only when they are cared for, will they be able to learn to give respect and love to others. Keeping the child free from pressure to meet any expectations, allowing them to reflect upon their own actions, to decide upon consequences for himself and for others. By doing so, the child is able to discover his strengths and weaknesses by developing knowledge about self.
Structure & order: Montessori observed that from age 1 to 3 years, children develop sensitivity towards order in the environment. They begin to establish relationships among various things and how they relate to them. In the event that this order is not present, they have a distorted view of themselves and the surroundings. For this purpose, Montessori advocated that the classroom should be a reflection of the structure and order we see in our universe. This helps the child to find a stable foundation upon which he builds his knowledge world.
When children find materials of their choice arranged according to interest and sequenced according to level of difficulty, they are conceptually given the ability to prepare a framework to be able to complete the activity cycle at their own pace. As long as all the material are present and they can be found easily based on the order of arrangement, they develop freedom of choice.
Reality & nature: Montessori believed that in order for the child to actively observe the environment, and be able to explore freely, it was vital that the Montessori environment be based on reality and nature. She also believed that children must be provided opportunities to connect with nature through interaction with plants and animals. For example, in order to keep them close to the reality of their external world, children are provided with appropriate sized real looking materials, like rakes, shovels, buckets, garden hose, so they can interact with nature at their own ease.
Atmosphere & Beauty: Montessori believed that the environment must be one of peace and tranquillity. She believed that an uncluttered, well maintained environment, is more inviting and reflects upon the attitude of both children and teachers. There should be a positive zest reflecting the harmony of a simple environment that is relaxing, yet interesting and appealing.
Montessori materials: Montessori advocated materials primarily with the aim of fulfilling the child's inner needs and leading him towards self construction. For this purpose, the primary objective of the teacher is not regarding the "correct usage" of the material, but with allowing freedom to explore the material as the child deems necessary.
The material is presented to the child, by means of a "fundamental lesson", wherein the teacher takes the opportunity observe the child and discover about his inner development in order to determine his actual stage of development. In order for the material to be rightly used, it is imperative that the teachers must have thorough knowledge of it and should be trained to present it to the child in fewer words, with ease and accuracy.
Development of Community Life: The Montessori environment is one of harmony and promotes working together in groups, by helping the children to develop a good sense of morals. For this purpose, the children are first provided a sense of ownership. By giving them materials correctly sized for them and making them responsible for its handling, they achieve a sense of control.
Secondly, all children are provided freedom to interact socially, leading to spontaneous interest towards each other's problems and situations. Hence, develops an inherent desire amongst them to help one another. In addition, the Montessori environment comprises of children from different age groups, providing the young kids to role model from the elder ones, and it benefits the older ones as they are given a chance to strengthen their concepts and ideas, boost self-confidence, by turning to be the problem solvers for the young ones.
Conclusion
"Parents, other members of the family and teachers may feel great pride and joy in providing for the children and doing things for them. However, just as no parent would want to keep holding their child in their arms when he wants to walk and stop him from learning to walk.
Similarly, it should be comprehended that children 'need' to learn to do things for themselves and if we do not let them, then we are depriving them.  It must be remembered that it would be greater service to them if they are 'helped to help themselves'. In this way, children will become more responsible, independent and productive members of the society, even when they have grown up"(http://internationalmontessorifoundation.blogspot.in/2014/05/exercises-of-practical-life-epl.html)
Bibliography
1. Montessori, Maria The absorbent mind
Kala Kshetra Publications 2006
2. Montessori, Maria The Child, Society and the World Clio Press, 1989
3. Internet http://montessoritraining.blogspot.in/2009/03/principles-of-montessori-prepared.htmlhttp://www.greatthoughtstreasury.com/author/maria-montessorihttp://internationalmontessorifoundation.blogspot.in/2014/05/exercises-of-practical-life-epl.html