A Journey Essay Sample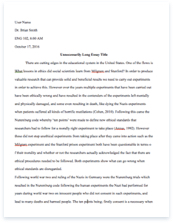 The whole doc is available only for registered users
OPEN DOC
Pages:
Word count: 1600
Category: life
Download Essay
Get Full Essay
Get access to this section to get all the help you need with your essay and educational goals.
Get Access
A Journey Essay Sample
A. Essay
Life is challenging. It doesn't always turn out the way we thought it would – sometimes it turns out for the better sometimes for the worse. Due to these challenges life put upon us we once in while have to stop and ask ourselves whether or not the decisions we've made in life were right or wrong and wonder how life would have been if we had acted differently. At some point in life we all have to make such sentimental self-realization. In the short story "A Journey" by Colm Tóblín from 2006 the main character Mary finds herself in such situation. She is in a position where she feels forced to consider the way her life has developed and how she wants to continue it.
Mary deals with great challenges in her life, with a depressed son and a paralyzed husband, she feels alone, unappreciated and confused – she wonders where it went wrong? The short story covers the period and journey from when Mary picks up her son from the hospital to when they arrive at home. Along the drive home, with David, her son, crucially silent on the back seat, she tries to reconstruct her life and remind herself about the actions that might have caused the way things have turned out. Through a 3.person narrator whose point of view is stapled to Mary and we therefore get an insight in Mary's many concerns in life. We become aware of her thoughts and memories and it becomes clear that Mary finds herself at a turning point of realization. In flashbacks Mary tries to put her life in perspective and find answers to what she could have done differently. She tries to expose the reason for her and her family's condition, where particularly her son is a concern. Even though she knows that David's depression is an actual illness, she can't help blaming herself and her husband Seamus.
She slips back in her memory and tries "…to pinpoint the day it had started, the day she first noticed that David had grown beyond their reach and become sullen and withdrawn"[1] and she ask herself whether or not her and Seamus is to blame. In an attempt to explain her aggravated relationship to her son, who at this point doesn't speak to her, she doubtfully starts questioning the way she has acted through life. Should she have been more at home with her son instead of letting the neighbour, Mrs. Redmond, baby-sit him or should she have been worried about the fact that David in an early age showed interest in death? She even questions the selling of her father's old shop. She wonders a scenario of how things would have turned out if she hadn't sold the shop. David could have worked there and she would have been able to make sure that he was all right. She would have been more in control with the situation.
Her line of thoughts indicates that beyond the actual physical journey she experiences a mental journey herself. A journey, where she ponders her position in life and tries to clarify what to do – furthermore this explains the title "A Journey". Mary's mental journey is beside the insight into her thoughts also reflected in her conversation with David. Several times she attempt to make contact to him by encouraging him to sit up front and by casually questioning him about his stay at the hospital, but without success: "I don't know. Just don't ask me anything, is that agreed? Just don't ask me anything."[2] The depressive tension between the two of them is furthermore emphasized by the surroundings and how Mary relates to them. Mary is driving in the dark something that she's not used to.
"She found it difficult to concentrate, and even though she knew the road very well, she had to drive slowly." The quote can be interpreted directly as an expression of Mary and her son's relationship. Mary knows that David is suffering from an illness, but she doesn't know how to act upon it. Should she encourage him to talk or just leave him in his silence? The son she thought she knew is now distant and unknown to her and she therefore has to move slowly to make improvement. "She wanted to ask him something else, but she stopped herself, she did not want to irritate him"[3] This quote is very similar to the mentioned quote above. Mary's having trouble concentrating in the dark likewise she's having trouble how to respond to her son's disease.
Her attempts to make contact are met with unwillingness and sickening silence expressed in David's cigarette smoke: "Mary found the dense cigarette smoke in the car almost sickening"[4]. Still she doesn't give up trying. During her journey both physical and mental she realizes that she has to stop and take control of how her life should go on. Instead of torturing herself in bitterness and regret she tries to do something about her situation and her relationship to her son. This is very similar to the poem "Lucinda Matlock" by Edgar Lee Masters from 1916. Lucinda is described as a woman who has had both harsh and good experiences through life. Even though she carries a loss of 8 children the writer, Edgar L. M., provokes the reader in the end of the poem by writing "Life is too strong for you – It takes life to love life"[5].
His agenda is here to make us realize that life at some point will be harsh but that you yourself are the only one to do something about it. It is the essence of this message that becomes clear to Mary during her journey. She comes to a halt and makes one final attempt to safe her relationship with her son, which is shown and symbolized in the scene where Mary asks David for a smoke. The act shows that Mary finally tries to take matter in her own hands. Though she in many ways feels unappreciated and ignored, not only by her paralyzed husband, who barely talks or looks at her, but now as well by her son, she knows her life hasn't always been like this which is why you may think she hasn't acted sooner.
Her journey has made her realizes that her view upon life perhaps have been covered by her memories of how her life used to be. The people she loved may have turned out not to be the ones she thought they would be. This is something she accepts when she turns to her son for a cigarette. It becomes clear that she maybe doesn't know him ass well as she thought she did and now she has to reconnect with him in another way.
Her journey is therefore to be seen as self-realization. A self-realization, that can bee portrayed as the untitled painting by Sergio Gonzales. The painting shows a woman looking at her self in some kind of mirror or window, but her mirror image doesn't show the woman looking into the mirror – which means she has a different self-image. Mary's condition is very much a like. She has had an idea of how her life have been which is shown in her flashbacks, but her journey has made her realize that her life doesn't seem to be what it used to be. Due to this self-realization, she knows at the end of the short story that she, and only she, is the one who can make the changes that are needed to fulfil her life.
B. Short essay
A flashback gives you an insight in events that have happened earlier in time. It's a literary instrument, which is used to provide the reader with information that might be important for the general understanding and interpretation of the characters and their actions. The use of flashback is often necessary why earlier incidents may have impact on the characters' behaviour in the present. In this short story flashbacks appear commonly and they have great influence on the interpretation of the theme. The flashbacks are related to Mary. They appear without any oblivious order and aren't commentated by the writer, which is why it is up to the reader to figure out what meaning they have for Mary and her journey. First flashback describes how Mary experienced her son's childhood; by including such episode the reader becomes aware of the fact that things in Mary's life have change and how she starts questioning the way she has raised her son.
Another example of the use of flashbacks is when Mary pictures her and Seamus's first sight of their house, furthermore she pictures how Seamus and herself used to ride bicycles into the town enjoying each others company – all flashbacks reveals moments that have been important to Mary, moments that are looked back at with tenderness. The flashbacks are in contrast with her present life and they become the reason why Mary becomes aware of the fact that her life is no longer how she thought it would be. Despite this acknowledgement, instead of dying away in the memories of her old life, she stops and ends the story with a look into the future. "She was struck for a moment by a glimpse of a future in which she would need to muster every ounce of selfishness she had. She shut her eyes before she turned around to face him". She has a decision to make.