A low-fare airline company Essay Sample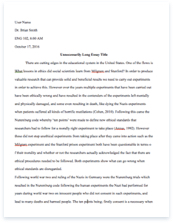 The whole doc is available only for registered users
OPEN DOC
Pages:
Word count: 987
Category: airline
Download Essay
A limited time offer!
Get a custom sample essay written according to your requirements urgent 3h delivery guaranteed
Order Now
A low-fare airline company Essay Sample
JetBlue is a low-fare airline company which main base in John F. Kennedy International Airport. In this case study illustrates that JetBlue Airline has reached a goal since 1999. They has 1. 1 million followers on Twitter as the strongest U. S brand, even beating Apple. Valentine's Day in 2007, they had trouble which was hit by a typhoon. Some people think that the airline will be stopped, althought they not only continues to be active but also grows a few years recently. JetBlue totally can overcome the trouble and become one of most companies for greatest care customers service.
Things like legroom, comfortable leather seats, snack, LCD screen at every seat and free e-mail onboard that the customer feel special. All the action that the airline are encouraged the customer follow the slogan "Happy Jetting" what aims they still keep in touch with consumers.
II. Analysis Question 1: Give examples of needs, wants, and demands that JetBlue customers demonstrate, differentiating these three concepts. What are the implications of each for JetBlue\'s practices? Needs, wants and demands which are three of factor basic principles of marketing.
First of all, needs are basic requirement include physical needs such as food, clothing, warmth; social needs for belonging and affection; and individual needs like knowledge and self-expression. (Phillip, K. and Gary, A. 2012. Principle Of Marketing. 14th ed. Prentice Hall: Person Education). According to the case study, some examples of needs use by JetBlue is good foods and beverage. But most likely core need here is long distance transportation. Wants are shaped by culture and by personality.
Some customers want comfort in airline such as coffee juice and snacks, comfortable seat with "three more inches of legroom than average airline seat". In addition, the entertainment as a LCD every seats and customers can watch 36 channel on Direct TV or listen music on more 100 channel on XM radio. Besides, JetBlue offers free WIFI services in the terminal and instant message sending and receiving during the flight. Demands – the willingness and ability to the certain product. JetBlue provide low cost flight relative to all services.
In fact, in many case, they cost less, This isn't a case where people are willing to pay a certain amount in order to get the amenities. They may actually save money and still get all the good stuff.
Question 2: Describe in detail all the facets of JetBlue's product. What is being exchanged in a JetBlue transaction? In some perspective, people are exchanging money, the time and effort to book a flight, and the opportunities to travel with some other airline for all the facets of this airline offering. Thus, JetBlue's combination of products, services and experiences can be listed.
They implement a lot of things that others airline does not have such as a comfortable seats set further apart, gourmet snacks, in-seat entertainment, etc. ) and in the terminals such as more security lanes, high-end dining, wide array of mall stores, play zone, work space, etc. They offer variety of beverages and snacks all free. They also clear and firm strategy with slogan: "Delighting Customers Through Happy Jetting".
Question 3: Which of the five marketing management concepts best applies to JetBlue? There are five concept of marketing which are are production concept, societal concept, marketing concept, sales concept and product concept. Product concept – customers favor only those product and services which offer the augmented quality, effective, performance or innovative features. Production concept is oldest concept which based on the fact consumers prefer which product are variety used in market and are economical price. The selling concept which holds that consumers will not buy enough of the firm's product and the company must have promotion effort.
The marketing concept which focus on needs, wants or target markets and delivering the desired satisfaction better than competitors do. The social marketing Concept that the task of the business organization should deliver value to customers in a way that maintains or improves both the consumer's and society's well-being. (Phillip, K. and Gary, A. 2012. Principle Of Marketing. 14th ed. Prentice Hall: Person Education). In five marketing concepts, in my point of view, I consider the best concept of JetBlue's marketing management is Societal Marketing concept which there may be some who argue that JetBlue exhibits this concept. There is some evidence that JetBlue's approach to treating customers is most popular society best interest.
Question 4: What value does JetBlue create for its customers? JetBlue is a company which always give extra value for customers. For instance, customers say that they would like comfortable seats but they give a leather seats and legroom for customers with more a few dollars. JetBlue delivers greater some value to clients. Therefore, it seems be almost customers, given choice which JetBlue would be chosen as a available for route they need to go.
JetBlue spent a lot of time and energy for building trust with customers. Especially, if they accumulate point as a membership, they can use some service to be free or with a low price such as a meal or snack. The incentives go a long way to make a trust to customers that they are member of an airline. In 10 years, JetBlue has defeated Apple and has proven to everyone.
Question 5: Is JetBlue likely to continue being successful in building customer relationships? Why or why not? The relationship between JetBlue and customers are close. Hence, there are no reason why they continue being successful in building customer relationships. The airline has the infrastructure to provide the services and value that can make strong relationship with customers.
Besides, there is only issue that whether or not they continue to provide all the nicetest service at low prices. However, JetBlue has a managment for lower cost per available seat mile. Thus, the Southest Airline cost is even higher than JetBlue. Some larger airline has be beginning to adopt JetBlue's model of customer relations in a way of building positive image among airline industry.