A Personal Model of Helping Essay Sample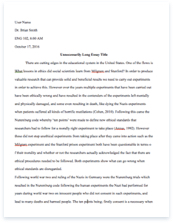 The whole doc is available only for registered users
OPEN DOC
Pages:
Word count: 2162
Category: family
Download Essay
Get Full Essay
Get access to this section to get all the help you need with your essay and educational goals.
Get Access
A Personal Model of Helping Essay Sample
The personal model of helping I currently use with my clients is based on the cognitive theory, family system theory, and the behavioral therapy. Cognitive theory deals with how a person thinks and how their thinking patterns control their actions (Parrott, 2003). The family system theory deals with being a part of a family and knowing your role within the family (Parrott, 2003). Behavior therapy include different types of conditioning, such as conditioning through stimuli, positive and negative reinforcements, punishments, and modeling (Parrott, 2003). From these three theories I have developed the Family Inspiring Therapy, also known as "FIT". Family Inspiring Therapy is a model that uses both emotional and physical therapy to help dysfunctional families. View of Helping
In our society the word helping is obsolete. People are not as generous as they use to be and if they do help they are looking for something in return. While working with different families I have noticed that family members are in competition with one another they fail to lend a hand when needed. I view helping as a way to show love and thanks to people whenever a person is capable of doing so. Helping should be taught as a child, reinforced throughout adolescence and teen years so that people would have the art of helping mastered when they reach adult hood. Parents should take more responsibility when it comes to teaching helping skills because when the child is older it looks bad if they never take the time to offer or engage in helping others. Helping is especially important within the family unit because at some point in life there will come a time that the dynamitic of the family will change requiring that another family member lend a hand. From a personal experience seeing my mom struggle has shaped how I feel about helping. How and Why I Formed this Viewpoint
As the youngest of three children my mom did her best with helping her children finish school and make something of our lives. She was a single mother and often she lacked financial help for outside sources. My mom has a heart of goal and whenever she received a call she was always willing to help. Her passion for young girls that had become teen moms pushed her to start a non-profit organization called the "Moms program". She collected donated baby clothes, car-seats, food, and diapers and made sure young moms could take care of their babies. Seeing the smile on her face and how happy she would get at the thought of helping others made me want to be that type of person. From the time I was able to understand what helping was I made sure that when I could my hands were at work. As I ventured into my teen years I found that my passion was seeing others happy and a lot of time that meant listening and giving healthy advice. Adulthood took me to a place of helping families stay together. My mom was married and was divorced and my dad got married and suffered serious issues in his marriage. When I married my husband I knew that divorce would never be an option and the family unit was important to me. From my personal viewpoint I have been able to develop how an effective clinician and participant relationship works. The Relationship between the Clinician and the Participant
An effective clinician should be one that is known as a self-actualized counselor. A self-actualized counselor has many traits or qualities that add to their relationship with their clients. Some of these traits are reality-based, accepting of others, problem-centered, and nondiscriminatory. They should have a sense of humor, be compassionate, and highly ethical (Parrott, 2003). Counselors that are self-actualized have a better relationship with their clients. Clients are willing to open up and share issues that painful to deal with and they do not feel ashamed or threaten in any way. The atmosphere in the office is relaxed and mellow giving both the clinician and participant peace about any issue or about talking to each other.
In this model clinicians are required to go the extra mile for all participants. They are involved with the client several times and week. On days they are not seeing clients they give a courtesy call to check on them. All participants understand that they cannot contact counselors after hours to ensure that the counselors are getting time away from the job that they need. This keeps the clinicians from getting burned out and it allows them to stay energized and alert for the client. Using the FIT therapy clients are able to relate with counselors they have been the same or similar situations that they have been in. Through constant role and dialog counselors and clients are able to build long lasting healthy friendships that reflect how members within the family should interact. The Populations This Model Can Help
This Model has no limits as to the population of people it can help. Its unique style can reach children, teens, and adults. The dynamics of the family can vary requiring that all members of the family to seek counsel. At one time a family use to mean a husband, wife and child (ren), but now it has taken on a whole new meaning in our society. A family can be a single mother or father with her children or a biological parent with step-parents involved. In any one of these groups this model is designed to provide help so that each member knows his or role. While this model is not limited to one group of people it has been proven to work well with "blended families". After years of studying it has been proven that step-parents and step-children are often the ones to suffer when it comes to finding their place in a family. "The unique challenges that blended family members face influence how these families develop" (Braithwaite, Golish, Olson, Soukup, Turman 2001, p. 225). In an attempt to reach all people the model was created to appeal to all cultures. Multicultural Issues
The United States is a land of multicultural people who speak various languages, look different, and have different issues within their culture. Issues that arise are ones that have been around for years. Personal biases, stereotyping, and language barriers are three important issues that often arise in environments. The counselor can rely on stereotypes and not be able to provide effective services to the client. Another way cultural biases can interfere with effectiveness in counseling is if the counselor already has a preconceive notion on how the client is because of where they come from. This could be their social status or finical status.
If a counselor has social bias he or she may terminate a client early or refuse to take the time to see what issues the person has. Language barriers have caused uproars among cultures because it causes a breakdown in communication. If counselors get a client that speaks another language it can be stressful on both parties involved. It is important that interrupters are present to intervene when they are needed. Resolving this issue can mean that the counselor repeat the question multiple times or ask the client to write down the message they are trying to convey. It is important that the counselor is aware of potential multicultural issues and do whatever it takes to understand different cultures. This ensures that they are effective in their approach to helping their clients. Counselors may be required to change techniques or approaches. Techniques or Approaches to Change
Cognitive theory helps the counselor find out what the client is thinking and how those thoughts are played out in their lives. This technique or approach will remain the same with a minor exception. That is thought patterns will focus on individual family members currently living in the home. For younger children the counselor will use a vivid approach which will allow them to draw a picture of how they are feeling. The family system theory focuses on the function of the family, how the family interacts, and understanding the family cycle. Combining behavioral therapy provides clients the ability to change negative behavior and allows them to work towards changing unwanted behavior. One approach is using a behavioral assessment, "The goal of a behavioral assessment is to understand what the client does in particular situations" (Parrott, 2003, p.277). Some techniques and approaches can limit the effectiveness and take away from the strengths of this model. Limitations and Strengths of the Model
Using any type of model has it limits and strengths. Limitations of this model can be determined by the counselor or the client. Counselors that are not properly trained make it difficult for clients to receive the full benefits from this model. Limits can also be placed by counselors when they refuse to do extensive research on clients so that they can understand the client's needs. Limitations are also caused when clients fail to be truthful about their issues. Clients may not receive the full benefits of the model is they fail to comply with treatment orders. For example not attending sessions, avoid outside help, and shutting down from the counselor by not receiving advice given. This model if taken seriously will produce effective results. Counselors are able to diagnose the issue, find ways to use positive and negative reinforcements as a way to change a client's behavior. In a family this model will help members think before they react and find ways to get along and avoid being dysfunctional. This model when effectively administered helps families come together and thrive. Understanding of the Material Presented
My personal model of helping is called Family Inspiring Therapy. It is a combination of three theories from the course. This model is centered on helping the family stay together and be effective with living with each other. The role that cognitive of therapy plays is important for all members of the family. It helps the counselor and client work together to identify and solve problems by changing thinking patterns and changing their emotional responses. Cognitive interventions "are based on the simple principle that thinking (an internal behavior) controls overt actions (external behavior)" (Sullivan, 2001, p.4). Family system theories help families change roles effectively when life forcers them to do so. This can be due to an illness or job change and in the worse case death. Behavioral therapy is also used for this model for families to focus on interactions between family members and how to reverse negative behavior so that the family is balanced. According to Friedberg (2006) behavioral therapies emphasize the reciprocal interaction of family members' cognitions, emotions, actions and relationships". Original Thinking
This course has given me a ton of insight on how helping is used by human service workers in different places. Counseling involves many theories that are used to help clients get better. Before going through this course the job of a counselor seem to be easy and less stressful. Family system theory was most beneficial to me because I have a better understanding of the role that each family member plays. There were some family system tools that I have used in my family and I know that it will help in the long run. All theories discussed in this course can be used to evaluate relationships in a working environment and those within the home. Creating my own personal helping model open my eyes to see just how much I value the "family" and will go above and beyond to make sure families are successful. Conclusion
Helping is not a word that people use often or that many Americans practice. In this personal model of helping my goal is to help family members of all ages and colors understand their feelings and find a healthy way of displaying how they feel. Using the cognitive theory, behavioral theory, and family system therapy the model helps families that are dysfunctional become well. The goal is to equip each member with knowledge and techniques that will allow them to work as a unit within the family. Family members will know that helping is important to ensure the family works well together. In the future helping will no longer be an action in the past but people over the world will work together and encourage others to lend a helping hand.
Reference
Braithwaite, D. O., Olson, L. N., & Golish, T. D. (2001, August). "Becoming a Family" Developmental Processes Represented in Blended Family Discourse. Journal of Applied Communication Research , 29(3), 221-247. 360 Link. Friedberg, R. D. (2006, December). A Cognitive-Behavioral Approach of Family Therapy. Journal of Contemporary Psychotherapy, 36(4), 159-165. Retrieved from http://search.proquest.com.ezproxy.apollolibrary.com/docview/217674916 Parrott, Les III (2003). Counseling and Psychotherapy (2nd ed.). Sullivan, N. (2001, December). Cognitive Behavioral Interventions. Standard Operating Procedures, Retrieved from http://www.doc.state.nc.us/rap/CBI_SOP.pdf