A Précis on Negotiating with Learners Essay Sample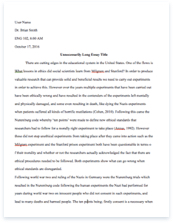 Pages: 8
Word count: 2,137
Rewriting Possibility: 99%

(excellent)

Category: knowledge
Get Full Essay
Get access to this section to get all help you need with your essay and educational issues.
Get Access
Introduction of TOPIC
This report focuses on the findings that relate to negotiating with learners, inclusive learning, integrating functional skills into your subject area and communication. Methodology
The research has been carried out by reading of related bibliography (listed at the last page of this assignment) and publications from old and new education government bodies such as the Quality Improvement Agency (QIA) and the Department for Education and Skills (DfES). An internet search proved fruitless so I decided to make use of the printed available material only. Approach
I have gathered the main ideas for this research from the discussions that took place in classroom during the sessions. At home, after reading the books and publications I had available, I went on to select the passages that I considered most relevant and worth of quotation. I have, then, tried to break down the idea contained in those passages with my own words which proved immensely helpful when assimilating and consolidating my understanding of what was cited.
Negotiating with learners
"Goals and targets, usually recorded on the ILP, are best negotiated. This will aid ownership of the targets and create useful discussions to inform the most appropriate targets for the learner" (Wilson 2006, p146). Negotiating with learners means establishing what to achieve, how to do it and when, in a way that best suits teacher and learners and this practice will ensure those targets are actually met. Geoff Petty cites 'putting the learner and the learning first' as a value by which teachers must be inspired in order to become effective and make a difference to students' lives. (PETTY, G. 2004, p529). Putting the learner and learning first requires getting to know the learner as an individual and how learning works for that particular person. Aspects such as course content, its methodology and assessment process need to be flexible enough to allow changes that will accommodate the learners' particular needs. But negotiating with learners is not limited to one-to-one scenarios. Management of the classroom through control and discipline can also benefit from negotiation between the teacher and the learners as a group.
"Ground rules should be agreed by the whole group rather than imposed by you. By showing an interest in their decisions, you are communicating with your learners that they are valued as individuals, who bring useful skills and knowledge to the sessions." (Gravells & Simpson 2008, p14). Other means to negotiate with learners include induction (Initial assessment), planning and recording learning goals. Initial assessment is the process through which a learner's skills are identified against a level or levels within the national standards. It aims to place learners in appropriate learning programmes at an appropriate level after a comprehensive diagnostic assessment where several influencing factors are taken into consideration. It is the instance along the learner's journey into achievement when the learner, the teacher and the curriculum are combined (Wilson 2006, p134).
Often considered to be the critical start point, assessment of literacy, language and numeracy will identify strengths and areas for development but a fully detailed learner profile needs to incorporate previous experiences of learning, preferred learning style, learning difficulties, personal circumstances as well as psychological and physical aspects. Gravells & Simpson (2008), assert that "Induction and the initial assessment of your learners could be a key area of your responsibility. By the end of this process both you and your learners should be confident that they are on a programme appropriate for them with a positive outlook towards achieving their learning goals." The procedures involved in this process and aspects such as the length of the induction period or what should be covered will vary and different organisations may take different approaches. It is the teacher's responsibility to familiarise with the documents and procedures used keeping in mind that the whole process has to meet the demands of the learners. Wilson (2006) notes that "Once a teacher understands what is making their learners tick then progress can begin".
To understand someone's needs can be a complex task especially in a context where crucial decisions are to be made. Administering the initial assessment tools require training that may include interview training, work-shadowing and observation of experienced teachers. Effective initial assessment activities employed during induction and undertaken by learners could include literacy, language, numeracy and ICT assessment mapped to the core curriculum levels; programme based diagnostic assessment, discussions with the learners about their learning history and preferred modes of learning and induction assignments. If during these activities there are signs that a learner may have a specific difficulty such as dyslexia or dyscalculia, a specialist must be brought into the team. (Lawton and Turnbull 2007 p.11).
Inclusive learning
Wilson (2006), defines inclusion as "creating interesting, varied and inspiring learning opportunities for all learners; ensuring all learners contribute and are never disadvantaged by methods, language or resources. This is described in other
ways such as differentiation or 'meeting individual needs': both of these terms tend to refer to
the mechanics of inclusion". This inclusion can only be achieved by taking individual learner needs into account and getting familiar with the wide range of support and guidance facilities available within organisations or outside. All learners must be valued individually and equally and be taught in a purposeful learning environment where they feel safe, secure, and respected. Communication strategies must be put into practice and delivered in a way that meets the results of a learner's initial assessment. Cultural history and previous educational experience, for example, will reflect on the needs of an individual learner. Some learners who are new to education in the UK may need explanations on the reasons why a particular activity has been chosen and the rationale behind it. Diversity among learners requires the use of an extensive variety of methods in the delivery of learning. Teachers need to include in their lesson plan methods that will appeal to all different kinds of learners.
They can choose from whole group teaching, embedded learning, problem solving, workshop practice, individual and pair work, group work, just to name a few (Lawton and Turnbull 2007 p.27). The term 'differentiation' has been adopted to express the way many differences
between our learners affect their learning. (Weston, P. 1992) defines it as "The process of identifying with each learner, the most effective strategies for achieving agreed targets" (Cited in Lawton and Turnbull 2007). Learners may differ in terms of their motivation, prior experience and knowledge, learning support needs, cultural expectations, literacy, language, numeracy and ICT levels. Differentiated learning can be challenging as it takes all this variance into consideration and therefore teachers need to work in partnership with their learners and other teachers to ensure learning is effective. When devising schemes of work and lesson plans, teachers need to consider the outcomes of any initial assessment carried out and his/her lesson plan will justify choices made to accommodate the demands that derive from that assessment (Lawton and Turnbull 2007 p.28).
Integrating Functional Skills into your subject area "Integrated teaching and learning combines the development of literacy, language numeracy and ICT with vocational and other skills. The skills acquired provide learners with the confidence and motivation necessary for them to succeed in qualifications, in life and at work". Department of Education and Skills/The National Research and Development Centre (NRDC), 2004. Integrating functional skills means bringing together the vocational or host subject with literacy, language, numeracy and ICT teaching. This approach has been recognised as "…one of the most effective drivers for learning for work and life. Through such embedded approaches, the dual goals of learners' main course and literacy, language, numeracy and ICT development can be achieved". (Lawton and Turnbull, 2007). The relevance of this approach and its effectiveness has been confirmed through a research published in 2006. The report from the NRDC recognised the higher retention and increased success rates where the integrated approach had been put into practice. It also highlighted the increased learner achievement in numeracy, literacy, ESOL and ICT.
Gravells & Simpson (2008) remind us that "Improving your skills in these areas will enable you to consider how best to teach your subject in ways that support the development of your learners' skills. It is important for you to acknowledge that literacy, language, numeracy and ICT are crucial for the achievement of your learner's qualification". It is vital for teachers to make sure their own personal skills are updated and adequate if they want to develop those of their learners. To be successful skills integration needs a team approach. It means that schemes of work and lesson plans must be devised by teachers as a group to ensure literacy and numeracy skills and vocational work are closely related. There is not a best model of delivery and education provider needs to focus on results rather than on the means through which integration is delivered (© Quality Improvement Agency for Lifelong Learning (QIA) 2008, Improving learner success by embedding literacy, language and numeracy p. 9).
Communication
Communication is the art of passing messages and can occur mainly by written, verbal and non-verbal methods (Wilson 2006, p206). Shannon and Weaver suggested, in 1949, a basic model of communication that involves an encoder, a message, a channel, a decoder and a receiver. This model explains how communication is transmitted but fails to suggest how messages need to be understood in order to be effective. It also lacks an explanation on how individuals apply their own interpretation on messages. Saying or writing something does not mean that what has been said or written has been received and understood. Wilson (2006), acknowledges a series of skills that must be considered when communicating such as comprehension, speaking, negotiating, empathising, networking, assertiveness as well as listening, speaking, reading and writing. Inspired by Freud, Eric Berne developed his theories of Transactional Analysis in the 50's. More often associated with relationships rather than the process of communication, his theories are still widely accepted today and its application can be found in medical research, personality analysis and management development. According to Berne, communication is at the centre of human relationships and that communication is natural.
His theory says we will always speak when spoken to. Our responses will always vary according to our 'alter ego states'. There are three alter ego states: The parent; our voice of authority, the adult; our independent state and the child; our independent state. To Berne, effective communication is when states are equal. Communication happens all the time in the teaching and learning environment. PETTY, G. (2004) states that "Achieving the two-way flow of communication which learning requires is no easy matter. In practice, a number of barriers present themselves, preventing or inhibiting effective communication". "Your communication strengths are central to your work with learners. Being a good communicator is at the heart of teaching and coaching, and your skills will also enable you to act as a role model for learners. At the same time, you always have to be conscious that some learners may find these aspects of communication difficult – it can be hard to understand why people find difficult the things that you find second nature" (© Key Skills support programme 2004. Supporting communication: guide to good practice, p.3).
Bibliography
* CASEY, H. (2003). Embedding literacy, language and numeracy in post-16 vocational programmes: the impact on learning and achievement. London, National Research and Development Centre for Adult Literacy and Numeracy.
* Department for education skills UK. (2006), Good practice guidelines for the skills check and initial assessment. BTL and AlphaPlus Consultancy Ltd.
* ELDRED, J. (2005). Developing embedded literacy, language and numeracy: supporting achievement, NIACE lifelines in adult learning no. 21, National Institute of Adult Continuing Education, Leicester.
* GRAVELLS, A., & SIMPSON, S. (2010). Planning and enabling learning in the lifelong learning sector. Exeter, Learning Matters.
* © Key Skills support programme 2004. Supporting communication: guide to good practice.
* Lawton, T. and Turnbull, T., Lifelong Learning UK (LLUK), corp creator. (2007) Inclusive learning approaches for literacy, language, numeracy and ICT.
* PETTY, G. (2004). Teaching today: a practical guide. Cheltenham, Nelson Thornes.
* © Quality Improvement Agency for Lifelong Learning (QIA) 2008. Improving
learner success by embedding literacy, language and numeracy
* WILSON, L. (2009), Practical Teaching: A Guide to PTLLS and DTLLS. Andover: Cengage Learning EMEA.
* Weston, P. (1992). A Decade of Differentiation, British Journal of Special Education.