A review of the literature Essay Sample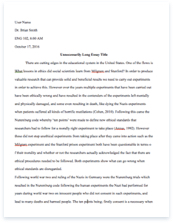 The whole doc is available only for registered users
OPEN DOC
Download Essay
A limited time offer!
Get a custom sample essay written according to your requirements urgent 3h delivery guaranteed
Order Now
A review of the literature Essay Sample
A review of the literature to critically explore the value and purpose of reflective practice. Reflective practice is essential in any working environment, when referring to it professionally it can be described as a tool to develop knowledge (Parker,2005). During professional practice, with children, improvements can always be made. By reflecting, a practitioner can effectively establish what improvements can be made for when the same situation arises (Paige-Smith and Craft, 2011).
Definitions of what reflection is can vary from every practitioner, some believe it is learning directly from what a person experiences (Spalding,1998) while others believe it's something that occurs from deeper thinking about the experience (Tickle,1994). However, most definitions of reflection can usually be categorised similarly. The practitioner must be able to critically analyse their own actions to be able to improve practice continuously throughout their career.
One of the first to identify and give meaning to what reflection is was Dewey (1933) and he concluded that it was a way of thinking in a specialized way. He saw reflection as a different way of thinking, it is looking back at what the specific outcomes of our actions are aided in moving further from everyday thinking (Colwell and Pollard, 2015). For Dewey (1933) successful reflection comes from being able to look at an experience and make connections of what has been done and what were the consequences of these actions (Dewey, 1933).
However, his theory was limited to the problematic situations that occurred and gave no room to positive reflections to what was successful. In contrast to Dewey, Pollard believes that reflection doesn't just happen naturally, but it is more complex and involves monitoring, evaluation and revision. It occurs from using different frameworks to scaffold learning as well as having a focus to colleague input (Çimer, Çimer and Vekli, 2013).
Furthermore, in the 1990's Mezirow started to theorize about reflection and why it is a useful tool by focusing on our initial thoughts towards a situation. He concluded that success comes from critical reflection and not experience. People are judgmental due to the way their surroundings because they need to give meaning to a situation. He believed that learning from reflection can only occur if people can transform from it and change judgement (Dirkx, Mezirow and Cranton, 2006). On the other hand, reflection has been criticised as being no more that basic level of thinking that is directed in changing actions (Moon, 1999).
Undoubtedly, many different practitioners have developed theories and models as to why reflection is beneficial. These models and theories come from a range of different periods in time and all vary (Kreber 2004). Due to this wide range of theories, certain practitioners have argued that the concept of reflection isn't defined well enough (Moon,1999). Unlike theories which explain what reflection, models help give an insight to the process that is undertaken. Exploring Brookfield and Gibbs's models of reflection givens an interesting insight to the two different ways reflection can occur and how both can share similarities and differences.
Firstly, Brookfield's (2017) theory demonstrates the idea that critical reflection is a way of checking the accuracy of out assumptions on how students learn. It works on the idea that teachers are there to change the world and provide the best experiences for pupils. Like Mezirow (2006), he believed that people make assumptions based on situations without reflecting on exactly what had happened. Assumptions are hard to understand as it is coming from directly one person's point of view and is influenced by culture and society. However, in contrast to Mezirow (2006), Brookfield's (2017) idea involved looking through four lenses and using other thoughts and opinions to critically reflect.
The first lens is the student lenses, Brookfield (2017) believes that it is important to grasp how children experience learning themselves and practitioners must know how their classes learn as well as individuals. Educations have the power to heavily influence children and using this lens can help identify to what extent this is done (Brookfield, 2017). However, many ask the question, can you look through the student lenses without making your own judgement on their opinions? Furthermore, having a reliable network of colleagues and friends who can critically feedback is crucial when looking through the lens of colleagues.
It allows for experiences to be shared and helpful advice to be given. Many practitioners believe that working with colleagues can be beneficial on its own, yet it can still be a bias opinion (Colwell and Pollard, 2015). The third lens is looking at personal experience which can often be criticized as it is not academically recognized even though it can give insight to real life experience. Individual situations have universal similarities (Brookfield, 2017).
The final lens it the theoretical literature lens that help put situations into context, as sometimes it can be difficult to explain things so by using relevant literature practitioners can develop understanding. Many interpret these four lenses as being 5 different ways of reflection. Modifying practice by experimenting and investigating what works best. However, while being a strength to his model it can also be a weakness and it can involve risk taking (Larrivee, 2000).
In contrast to Brookfield's model (2017), Gibbs (1988) uses a cycle to reflect – this cycle is continuous. Firstly, starting with the description of the event and understanding the context of what the reflection will be on. It then goes on to asking about thoughts and feelings on the situation. Which is like Brookfield's (2017) lens of personal experience, but it directs it in a form of a question. Furthermore, it moves on to evaluation, understanding the strengths and weaknesses of the experience and understanding any judgement that has occurred.
Thus, concluding to recognize what else could have been done to improve. Finally, an action plan can be made, and the practitioner can understand what they would do to change. After this is all starts again on to the next action (Gibbs, 1998). This cycle of reflection is extremely clear and helps clearly give connotation to a situation and the biggest strength to the cycle is that it is never ending. This is what most believe is successful to critical reflection.