A Study Of Paul Baumer In "All Quiet On The Western Front" Essay Sample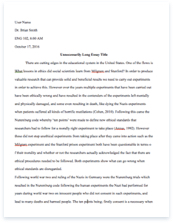 Pages: 3
Word count: 741
Rewriting Possibility: 99%

(excellent)

Category: novel
Get Full Essay
Get access to this section to get all help you need with your essay and educational issues.
Get Access
Introduction of TOPIC
All Quiet On The Western Front is a novel which gives an account of a generation destroyed by war, even of those who did not take part in the fighting itself. The novel is written in a first-person view through the eyes of a German named Paul Baumer.
Paul Baumer is a sensitive twenty-year-old who has written poems and a play (entitled Saul). Baumer reaches adulthood during three years service as a soldier in the Second Company of the German army in the First World War. His loss of innocence during this period is the focus of the author's anti-war sentiment.
Baumer must learn to sway with violent forces in order to remain firmly in reality and to survive the buffeting that besets the German camp. His thought processes are continually pulled back and forth, from the romantic notions of war he learnt in school to the horrific lessons he discovers through war's random destruction of his friends. Not capable of Muller's pragmatism, he nonetheless adapts to war and passes along the training he gains from Kat and from personal experience to raw recruit who does not respond quick enough to the poisonous gas. Paul's delicacy and understanding extends to advice about throwing away the underpants soiled by the young soldier during his first bombardment. From this, the reader can see that Baumer has also suffered this unbridled terror and loss of bodily control.
At the age of twenty, two years into the war, Baumer feels "cut off from activity, from striving, from progress" and acknowledges that he no longer believe
s in the values he once held so dearly. Helpless before the relentless war machine, like the rats he
and the others kill, he runs from cover to cover, protecting himself from and avenging himself on the faceless enemy he encounters. Whilst on a mission, he comes face to face with a French soldier named Gerard Duval.
He initially does what he can to protect himself, but as Duval is lying in front of him, he is overcome by an enormous feeling of guilt. He tends to Duval during his final moments by loosening his tunic and bandaging the wound. When the man dies, he searches Duval's body for identification. As soon as he discovers the French soldier's name, Baumer addresses the corpse, and begs forgiveness. Bullets pin him into the crater from around him and he eventually calms himself down by talking to himself. When he finally reaches his platoon, he observes the precision with which Sergeant Oellrich picks off enemy soldiers. Baumer is finally able to forgive himself and concludes pragmatically, "After all, war is war." Although this is easy to say in words, it fails to prove that Baumer has hardened into a killer like Sergeant Oellrich.
His compassion for others often surfaces, particularly when comrades on whom he depends sustain wounds and when their deaths move him to sincere grief.
He returns home on furlough and tries to rekindle his enthusiasm for books; however, the effort is futile. His mind is so over-charged with front-line survivalism that he is unable to recollect the simple idealism common to adolescence. After his harrowing experience with hand-to-hand combat and sharing a crater with a corpse, Baumer embraces comradeship as his one salvation. Later, when recovering in the Catholic hospital, he comments that: "I am young, I am twenty years old; yet I know nothing of life but despair, death, fear, and fatuous superficiality cast over an abyss of sorrow." This shows how the youth of this era were destroyed by the war, and that those who lived were permanently scarred. He concludes that he has prepared himself for the business of killing and wonders, "What will happen afterwards?" By the end of the novel, just before he dies, he is reduced to the bare bones of survival.
The novel ends immediately the death of Baumer occurs, which gives the reader a great sense of finality and a shock of how sharp the ending of life can be in war. His last words, "I am so alone", summarise the treachery of war, an insidious malaise that obliterates all ties with life, leaving an empty, dehumanised shell with no will to live.