A Study on Budget and Budgetary Control Essay Sample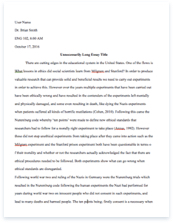 The whole doc is available only for registered users
OPEN DOC
Download Essay
A limited time offer!
Get a custom sample essay written according to your requirements urgent 3h delivery guaranteed
Order Now
A Study on Budget and Budgetary Control Essay Sample
The best method to monitor variance between actual and budgeted performance is "Budgetary control". According to Brown & Howard, "Budgetary control" is "a system of cost control based on comparing actual performance with the budgeted and acting upon results to achieve maximum profitability".
Monitoring the organization's performance by continuously comparing the actual results with the budgeted figures is of vital importance in any manager's role. The main objective of this comparison is to identify discrepancies, which are known as "variances".
(Definitions: http://www.yourarticlelibrary.com/organization/budgetary-control/budgetary-control-meaning-objectives-and-essentials/53355/).
A "budget variance" can be defined as "a periodic measure to quantify the difference between budgeted and actual figures". A "favorable budget variance" is a "positive variance that happens when revenues come in higher than budgeted or expenses are higher than predicted". An "unfavorable budget variance" is "a negative variance that happens when revenues are lower than budgeted or expenses are higher than predicted" (Definitions http://www.investopedia.com/terms/b/budget-variance.asp & http://www.investopedia.com/terms/u/unfavorable-variance.asp).
As explained in our Workbook, the variances can be classified as sales, material, labor or expenses variances and they are mainly due to "price factors" or "volume factors". The formulas used to calculate the variances are the following:
Revenue variance to budget % = (Actual Rev – Budget Rev) : Budgeted Revenue
Revenue variance to last year % = (Actual Rev – Last Year Rev) : Last Year Revenue
Expense variance to budget % = (Budgeted Exp – Actual Exp) : Budgeted Exp
Expense variance to last year % = (Last Year Exp – Actual Exp): Last Year Exp
The results are in percentages in order to give more context and make it clear if it is a positive or negative result (improved or worsened performance).
In order to get an overall picture on how the organization is performing against the budget, it is crucial for managers to proceed with a "variance analysis", which means "calculating and recording the variances, but also investigating deeper in order to identify the causes behind of these variances".
Causes of variance can be both internal or external to the organization (taken from our Workbook):
– Changes in environmental, economic, social, legal and political conditions;
– Changes in the number of customers or in their average spending;
– Changes in supply conditions;
– Changes in operations and purchasing;
– Complaints and negative reviews;
– Poor marketing;
– Overpricing;
– Over-optimistic budget.
As explained in the ILM 2017 Good Practice articles, after having investigated what has happened to cause the variances, it becomes crucial also establishing if remedial/corrective actions will follow. For example, if there is a negative variance in expenses (overspent), managers will investigate in order to find the cause (price or volume reason) and if needed a corrective action will follow, that can be reducing wastage or getting better deals with suppliers.
Reviewing variances serves as an early warning mechanism so that the organization realizes timely if the budget is not realistic and it assists putting the financial performance back on track. The finding from the reviews must be considered and included in the budgeting process for the next financial years. As a manager, it is very important being prepared to attend review meetings after having conducted a variance analysis and being able to explain what has caused them and what corrective actions have been taken.
In the hotel where I work, Head of departments of the Room Division receive reports that enable them to control the budget and monitor the business' performance, such as:
– Daily Availability & Revenue Report, in which are indicated the daily and month-to-date Room nights on the books and pick-up, occupancy in %, Revenue per Available Room, Average Daily Rate and Total Room Revenues. The month-to-date figures are compared with the forecast, budgeted and last year figures. The variances between them are indicated in both value and percentage;
– Monthly Profit and Loss Statement, in which revenues, costs, and expenses incurred in each specific month are summarized and compared with budgeted and last year's figures. Variances are shown in both amount and percentage.
As an example, I have reported a screenshot of the hotel P&L for February 2017.
ROOM REVENUE
February 2017
Actual Budget Variance %
£792,828.00 £873,724.00 – £80,896.00 -9.26%
Actual Last Year (February 2016) Variance %
£792.828.00 £1,624,000.00 – £831,172.00 -51%
The hotel started an extensive renovation project in September 2016 which has entailed the closure of half of the building. The inventory has gone from 200 to 100 rooms/suites available to sell. Hence, the extremely unfavorable variance resulted comparing the revenue figures of 2017 with the ones of 2016, which are obviously justified and do not need further investigation.
It is clear that the renovation impact had already been considered when budgeting for 2017.
However, there is still an unfavorable variance of – 9.26% (- £80,896.00) that results by comparing the actual figures with the budgeted ones for February 2017. This variance requires management's investigation to establish the causes. Was the budget not realistic? Was the renovation's impact stronger than expected? Were received more complaints than expected that caused room rate reductions? These questions must be answered and if necessary corrective actions must be taken.
In conclusion, the budgetary control and its five stages (Determination of variances, Analysis of significant variances, Determination of causes and problems to solve, Action to correct problems) is the best method to monitor performance.