A Summary of the 21 Irrefutable Laws of Leadership, by John C. Maxwell Essay Sample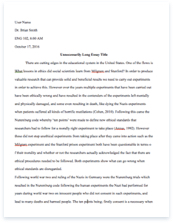 The whole doc is available only for registered users
OPEN DOC
Download Essay
Get Full Essay
Get access to this section to get all the help you need with your essay and educational goals.
Get Access
A Summary of the 21 Irrefutable Laws of Leadership, by John C. Maxwell Essay Sample
John C. Maxwell's book, The 21 Irrefutable Laws of Leadership, Follow the Rules and People Will Follow You, is a discussion of rules that can help any aspiring businessperson become a true leader in business.  John Maxwell gained his expertise in the field of leadership through his work as a religious leader. It is apparent that he has made a careful study of the behavior of groups, and the leaders within those groups. In this paper I will summarize his 21 Laws one by one, and give brief examples as they apply in the business world.
Law number one is the Law of the Lid. The lid of a pot or pan is the top part, above which contents cannot escape. In a similar manner, the ability to lead others is the lid over a person's success in business. In other words, one will only be as successful in business as their ability to lead others will let them be. Their limit in leadership ability is their limit to their success. To succeed, one needs to lift their leadership "lid."
As Maxwell states, "You can find smart, talented, successful people who are able to go only so far because of the limitations of their leadership." (10).  He gives the McDonald brothers, Dick and Maurice, as examples of people who were good workers but ineffective leaders. Their ability in the restaurant business made their company, McDonald's, a relative success. But it was the person they teamed with, Ray Kroc, who was able to make McDonald's Corporation the astounding success it is today. This success is due in large part to Kroc's leadership lid: it was extremely high.
Law number two is the Law of Influence. This law states that a person's ability to influence others is the only true measure of their ability to lead. As Maxwell says, "Leadership is influence — nothing more, nothing less." (17). He gives the example of leaders in volunteer church groups. In these groups, people are unpaid and really will only do the work that they are persuaded to do. People who are the best persuaders, or have the greatest ability to influence others, are the ones who become the leaders of these volunteer groups, and by extension, of business groups as well.  These leaders are not always the people who have the designated leadership title. The title can be awarded on a person, but leadership influence must be earned.
Law number three is the Law of Process. In this law, Maxwell compares achieving leadership to selling well in the stock market. Neither field is something that one can get into quickly and get back out with success. Instead, one must apply oneself daily to learning more about leadership. Only by seeing leadership as an ongoing process and treating it that way can one succeed in it. As Maxwell asserts, " The goal each day must be to get a little better, to build on the previous day's progress." (24). He believes that there is no such thing as an overnight success. One must persevere in the development of his leadership skills.
Law number four is the Law of Navigation.  This law states that leaders are the people who prepare for their leadership. They have a plan, and execute it carefully. Maxwell compares the leader of today to the old ship's captains, who had to navigate carefully to lead a ship safely. The biggest facet of navigating properly is preparation, which Maxwell feels is key. "When you prepare well," he states, (42) "you convey confidence and trust to the people. Lack of preparation has the opposite effect."
Law number five is the Law of E. F. Hutton.  There was an old television commercial for the broker, E. F. Hutton, which closed with the line, "When E. F. Hutton speaks, people listen." Maxwell states that the true leaders in society are the people who others naturally tend to agree with and listen to. These leaders are not always the people who are the people with the title of leadership, but are the ones who actually lead people.  Maxwell believes it is important to influence these leaders and let them lead the group. In this way you can become the force behind the leader.  He gives an example of his own history, when he was a pastor and prepared to lead his first board meeting.
As the meeting went on, it was clear that though he was the leader in title, a parishioner named Claude was the actual leader. Claude arranged everything that needed to be done, while Maxwell sat at that first meeting. Maxwell later learned that to get things done around the church, he needed to bring them up with Claude first. Because Claude was the true leader of the people, he could get the items done. As Maxwell states, "If you see a disparity between who's leading the meeting and who's leading the people, then the person running the meeting is not the real leader." (48).
Law number six is the Law of Solid Ground. Maxwell states that the foundation of leadership is trust. People will look up to and trust leaders, as long as they believe the leaders have strong characters. When people demonstrate flaws in their characters, however, they will lose their position as leader. Maxwell compares leadership standing to having change in one's pocket. A leader can start to lead a group with a certain amount of "change", or respect from those he leads. Mistakes can mean change out of one's pocket. The worst mistake to make is the lapse in character. As Maxwell avers, "Character makes trust possible. And trust makes leadership possible. That is the Law of Solid Ground." (58).
Law number seven is the Law of Respect. Maxwell states that people will naturally follow others who are stronger than they. The people who have strong skills are looked up to, and they will have a natural following. The weaker people cannot earn the respect that the natural leaders have from others.
Also, it is apparent during group meetings who exactly has the natural strength of a leader, and who does not, and people will shift their alliances early on as they see the strong leaders emerge.  He gives Harriet Tubman as an example of an unlikely leader. She was powerful, though, because of the respect accorded to her as she led other slaves to freedom. She was a natural leader and earned people's respect. As Maxwell puts it, "People naturally align themselves and follow leaders stronger than themselves." (72).
Law number eight is the Law of Intuition. Leaders evaluate anything they face with a sort of leadership filter. In other words, they face events and people with an innate understanding of the big picture, and of what is needed in a leadership capacity at any given time. They know how to handle their people, and their available resources. It seems like something innate, but Maxwell believes it can be learned as well. As he says, "Natural ability and learned skills create an informed intuition that makes leadership issues jump out at leaders." (82).
Law number nine is the Law of Magnetism.  Maxwell states that we attract people to us who are most like us. If we want quality people in our organization, therefore, we may need to improve ourselves. It can be very difficult to attract people who are unlike us. We attract who we are. This is the magnetism, we are a magnet for similar others. As Maxwell puts it, "It is possible for a leader to go out and recruit people unlike himself, but those are not the people he will naturally attract." (92).
Law number ten is the Law of Connection.  Maxwell believes that effective leaders are the people who can connect with others on an emotional level. People sometimes have the mistaken idea that it is only followers who connect with their hearts and emotions. Maxwell states that this is not true. He believes that entire organizations can be affected by their topmost leaders' abilities to connect with people under them. This connection can inspire loyalty to the leader, and makes workers work harder for the leaders.  And this desire to connect with others must come from the leaders themselves even it is difficult, for as Maxwell states, "A leader has to do it no matter how many obstacles there might be." (104).
Law number eleven is the Law of the Inner Circle. This law states that to be the most effective leader, one must fill their group of closest colleagues with the best employees. When a great team is created, only then can a leader truly shine. If he is alone, or leads people who are only half as strong and capable as they should be, he is not leading well and will never succeed. Leaders should acquire the best talent, and then let them develop their talent and get even stronger.  As Maxwell says, "There are no Lone Ranger leaders. Think about it: If you're alone, you're not leading anybody, are you?" (113)
Law number twelve is the Law of Empowerment. Maxwell feels that the strongest leaders are the ones who, paradoxically, insist on the empowerment of others' strengths. He believes that job security as a leader comes when you have trained your people well enough that they can handle anything they need to, even without your input on a situation. This paradox, of being completely needed when you are least needed to get the immediate job done, is at the core of the law of empowerment. Maxwell states it like this, "But the truth is that the only way to make yourself indispensable is to make yourself dispensable." (126).
Law number thirteen is the Law of Reproduction. Maxwell believes that a strong company of leaders can only arise when the original leaders in the group are training others below them to do what they have done. They are "reproducing" themselves much as you would make a reproduction of a piece of art. When current leaders train new leaders, the entire company can be successful. By the same token, when current leaders do not train others well, the entire company can fail. As Maxwell says, "If a company has strong leaders–and they are reproducing themselves–then the leadership just keeps getting better and better." (140).
Law number fourteen is the Law of Buy-In. In this law, Maxwell states that would-be leaders often make the mistake of believing that their employees will only back them, or "buy in" to their programs and ideas, if the ideas are good enough on their own merits.
Maxwell believes, however that followers buy in to the leaders themselves and their personalities, and not the ideas. It's a classic which comes first situation, and Maxwell says being willing to work for the leader is what comes first. The ideas the leaders present are what come second. Get people invested in you first, then they will come around to your ideas. As Maxwell puts it, "Your success is measured by your ability to actually take the people where they need to go. But you can do that only if the people first buy into you as a leader." (151).
Law number fifteen is the Law of Victory.  Maxwell believes that strong leaders simply will not accept defeat. They don't have a Plan B, or an escape plan, or anything other than a desire to win. They will shift their plans as needed to reach this goal of success. These are the ways that natural leaders will act in shifting situations, because their competitive natures come to the top at those times. Their nature will not let them do anything else. As Maxwell says, "Leaders who practice the Law of Victory believe anything less than success is unacceptable."  (164).
Law number sixteen is the Law of the Big Mo. To Maxwell, "Mo" is short for momentum. He states that leaders are the individuals in the company who can bring change effectively. They are the ones who can almost harness the wind of change, and can create their own momentum. With momentum, or the company's direction going in a positive manner, obstacles which once would have seemed huge become easy to overcome. The positive momentum convinces followers that the leader's plan will be effective. And because they are convinced and work well with the leader, it becomes true.  It pays to have momentum on one's side, or as Maxwell puts it, "Momentum really is a leader's best friend." (171).
Law number seventeen is the Law of Priorities.  In this law, Maxwell states that true leaders are the people who can focus their followers on the most rewarding and potentially successful activities. Activity in and of itself is not what makes a company run well; it is rather activity that has been guided by a leader who has prioritized his people to work on the best projects at the time.  As Maxwell states, "My three Rs are requirement, return, and reward." (177). He means that to prioritize for an organization, it must be determined if an activity is required, if there is an effective return when doing it, and enough of a reward to make it worth it.
Law number eighteen is the Law of Sacrifice. Maxwell believes that the true nature of leadership is not success and power, as many people believe, but sacrifice. He believes that people who are willing to sacrifice are the ones who will be the most effective leaders. They are willing to give up things, including sometimes taking cuts in pay, for the ultimate good of the team or company. By giving up things, paradoxically, only then can they gain. Maxwell realizes that people often think that leadership means power. They are wrong, he says, "They don't realize that the true nature of leadership is really sacrifice."  (188).
Law number nineteen is the Law of Timing. Maxwell believes that timing is very important to leadership. It is not always the action that a leader takes, but rather when he takes it that is important. Maxwell believes that if someone can act properly at a critical time, by realizing the importance of the time and doing what is necessary at the time, "incredible things can happen." (198).
Law number twenty is the Law of Explosive Growth.  This law points out that leaders should lead other leaders, not just followers. By leading leaders, one's personal success is multiplied, because one is in effect leading other whole teams. The leaders one leads have their own followers, so one is at the top of a much larger group than if he just led followers. To have true success, Maxwell asserts that one should promote connections to other leaders lower on the corporate ladder. As he puts it, "You will go to the highest level only if you begin developing leaders instead of followers." (212).
Law number twenty-one is the Law of Legacy. In his final law, Maxwell states that what leaders must keep in mind is how their leadership of today will have impact on tomorrow. In other words, they must be sure to take actions which will benefit the group or company later, as well as today. Maxwell believes that an individual's leadership will only be effectively assessed in the future, when the effects of the plans they initiated can be seen.  He tells his readers, "You will be judged by how well your people and your organization did after you were gone." (224).
Some may say that John C. Maxwell writes simply in his book, The 21 Irrefutable Laws of Leadership. Although the rules appear to be simple on the surface, however, they are more complex than they seem. Maxwell obviously has made a careful study of groups and group leadership, and this book contains principles that will stand the test of time and be accurate for years to come.
Works Cited
Maxwell, John C.  The 21 Irrefutable Laws of Leadership, Follow Them and People Will Follow You. Nashville, Tennessee: Thomas Nelson Inc., 1998.