A teenage girl Pregnancy Essay Sample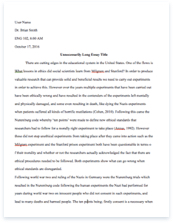 The whole doc is available only for registered users
OPEN DOC
Download Essay
A limited time offer!
Get a custom sample essay written according to your requirements urgent 3h delivery guaranteed
Order Now
A teenage girl Pregnancy Essay Sample
Over the years, the teenage pregnancy rate has gradually declined in the United States. However, it is still an reoccurring issue happening in our society today.
Teen pregnancy is defined as a teenage girl, normally within the ages of 13 to 19, who becomes pregnant. In everyday speech, the term refers to women who have not yet reached legal adulthood, which varies across the globe, who become pregnant.
Finding out that you are pregnant, especially if it's unexpected or unintended, can be unbelievably stressful for a young teenage girl and her family. This can cause feelings of confusion, fear, or happiness and excitement. Either way, teen pregnancy stirs up a whirlwind of emotions. Teenagers experience different influential issues that impact the amount of time necessary for making decisions regarding their pregnancy. They must think about their relationships between their family, and partner, if they have one. They also must consider their responsibilities, future plans, and personal rights. Being a teenage mother may lead to numerous issues, such as difficulty gaining an education, finding a job, and balancing responsibilities. It is also a challenge to maintain financial stability, as child care is barely affordable. It is difficult for teen moms to cope with finding balance their lives with a child in their hands, making it a possible challenge to finish their education, or work or find a job.
Teen pregnancies may be caused by a number of different reasons with many contributing factors, such as poverty, peer pressure, lack of education, incorrect use of contraception, sexual abuse leading to rape, traditions involving early marriage, or exposure to abuse, violence, or family strife. Drug or alcohol intake is also a major factor that can influence a teenager to participate in sexual behaviors. The rate of teen pregnancy amongst teens who do drugs or drink is higher than ones who do not participate in such activity. Recent statistics show that an estimated 560,000 give birth every year — eight in ten of which have resulted from an unintended pregnancy.
Being a teenage mother puts essentials of life at risk, such as education, unemployment, poor living conditions, life on welfare, and mental illnesses that may further lead to suicide. Unexperienced teens are at a higher risk of developing depression, regarding their fear, lack of social life, and lack of knowledge on how to properly take care of a child. The child of the mother is at risk of living in poverty, growing up without a father or male figure, performing poorly at school, becoming influenced by drugs or alcohol, or following their mother's footsteps and become a teen mom themselves. Physical health is also an essential factor that is put at risk for both the mother and baby. The earlier a baby is born, the more the risk there is of respiratory, digestive, vision, cognitive, and other problems ("Teen Pregnancy: Medical Risks and Realities" , 2005-2012). Teenage females aged 14 years or younger risk an undeveloped pelvis, which may lead to difficulties of childbirth.
Following that, females between the ages of 15 and 19 may die through complications during pregnancy and delivery, doubling the likelihood of death in childbirth during their 20s. Teenagers have higher rates of complications during pregnancy and childbirth compared to adult women, which automatically adds the risk of PPD, or postnatal depression; a type of mood disorder associated with childbirth. Teenagers have higher rates of complications during pregnancy and childbirth compared to adult women, which automatically adds the risk of PPD, or postnatal depression; a type of mood disorder associated with childbirth. As a result of unprotected sex, young women are at risk of receiving Sexually Transmitted Infections, or STIs, and HIV. Worldwide, the rates of STIs are the highest among young people between the ages of 15 and 24. Globally, two in five new HIV infections occur in young people between the same ages. Excluding HIV, an estimated 500,000 become infected daily.
It is important for young women to be given adequate information, advice, and support, regarding pregnancy options. It is also crucial to seek medical attention, as continuing to delay seeking help risks missing important antenatal care, the routine health control of presumed healthy pregnant women without symptoms.
Before making a decision, pregnant teenagers need to be exposed to different options to take into consideration, such as continuing the pregnancy and raise their child either with a partner or on their own, continue it followed by adoption, or go through the process of termination; ending the pregnancy.