Abdominal pain: Causes, Symptoms and Diagnosis Essay Sample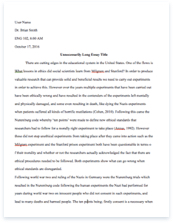 The whole doc is available only for registered users
OPEN DOC
Download Essay
A limited time offer!
Get a custom sample essay written according to your requirements urgent 3h delivery guaranteed
Order Now
Abdominal pain: Causes, Symptoms and Diagnosis Essay Sample
A patient is rushed to the emergency room complaining of being dizzy and having pains in their abdomen, A Pathologist will step in and do everything they can to solve the problem. The pathologist will take blood samples and study them closely. If surgery is needed, they will take tissue samples and examine them to hopefully find the issue and know what to do to fix it. The definition of Pathologist is "a scientist who studies the causes and effects of diseases, especially one who examines laboratory samples of body tissues for diagnostic or forensic purposes." To be a Pathologist you must be determined to get to the bottom of things. You must go through many years of school to achieve the mandatory degrees. It all starts in high school, be willing to take AP classes like biology, chemistry, and calculus. Sign up for Phycology to learn more about the human nature.
To become a Pathologist it is required to have four years of medical school and four years of on the job training. In most jobs you have to be board certified. In the first two years of medical school I will spend my time learning the body systems and major diseases completing pre-clinical courses, the last two years I will be introduced to an actual hospital environment and will be treating people along the side of a Pathologist.
Then i will have a four year residency. The residency will allow me to practice biotechnological concepts that will include image analysis. As a resident I will receive multiple benefits, like medical insurance and stipends. After my residency, if i want to focus on one specialty in the field of Pathology, I will need to complete a fellowship. As a fellow i can pick a specialty such as Pediatrics. The median salary of a medical Pathologist is $191,098.
For as long as I can remember my favorite TV shows have always been shows like CSI: Crime Scene Investigation, NCIS, or Blue Bloods. I've always been interested in forensics and how/why people died. I want to be able to be a part in solving crimes and putting criminals where they belong. Forensic Pathologists, or Medical Examiners are specially trained physicians that examine the bodies of people that died unexpectedly, or violently.
The pathologist is the person that determines the identity, time, and the cause of death. They determine this by studying the victim's medical records, collecting evidence from the corpse, performing an autopsy, and evaluating the crime scene as well as eye-witness statements. To have this job you must have a strong stomach because sometimes it can get gruesome. It can also get very smelly. It's not easy to become a Pathologist. After high school you must go through at least thirteen more years of school. But while you are in High School it is suggested to take advanced math, science, and writing. It is also suggested to be comfortable with public speaking.
Once you reach college you must pick a major, you must have a humanities degree, already look into the math courses and science courses that are required for medical school, and create experiences that will expose you to all types of cultures. Keep in mind that you must have AT LEAST twenty-four accredited semester hours of biology or chemistry. A Forensic Pathologist can earn over $200,000 a year. It depends on their experience.
A Speech Pathologist is another job that I would consider. A speech Pathologist is a highly trained professional who evaluates children and adults who have difficulty with speech or language. Although speech and language sound like they are the same thing, they are actually completely different. Speech refers to the sound that comes out as you say something, but language refers to a whole system of words. I would achieve this job by applying to the UF speech pathology program. I would have to earn a bachelor\'s degree in communication sciences and disorders, then i would have to work on to a graduate degree in speech-language pathology. To have this job you must be very patient and caring. The average pay for a Speech Pathologist is $73,410.