Able Danger Essay Sample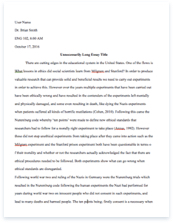 The whole doc is available only for registered users
OPEN DOC
Pages:
Word count: 1116
Category: terror
Download Essay
A limited time offer!
Get a custom sample essay written according to your requirements urgent 3h delivery guaranteed
Order Now
Able Danger Essay Sample
Able Danger was a classified military planning effort created in early October 1999 to develop an Information Operations Campaign Plan against terrorism. Able Danger gained notoriety when claims that Lt. Col. Anthony Shaffer, among others, claimed that they have identified the leader (Mohamed Atta) of the 9/11 plot, as well as three other cohorts as possible members of an al Qaeda cell related to the World Trade Center bombing prior to the attack. Republican Representative Curt Weldon, vice chairman of the House Armed Services and House Homeland Security committees extensively investigated on this but an investigation by the US Senate Intelligence Commitee concluded that the assertions could not be confirmed.
Keith Phucas, a reporter from The Times Herald first reported the early identification of the 9/11 terrorist attack on June 19, 2005, his principal source being Curt Weldon. On june 27, 2005, Weldon gave a speech in the Congress detailing Able Danger:
"Mr. Speaker, I rise because information has come to my attention over the past several months that is very disturbing. I have learned that, in fact, one of our Federal agencies had, in fact, identified the major New York cell of Mohamed Atta prior to 9/11; and I have learned, Mr. Speaker, that in September 2000, that Federal agency actually was prepared to bring the FBI in and prepared to work with the FBI to take down the cell that Mohamed Atta was involved in in New York City, along with two of the other terrorists. I have also learned, Mr. Speaker, that when that recommendation was discussed within that Federal agency, the lawyers in the administration at that time said, you cannot pursue contact with the FBI against that cell. Mohamed Atta is in the U.S. on a green card, and we are fearful of the fallout from the Waco incident. So we did not allow that Federal agency to proceed. (Weldon, 20055)."
In this speech, Weldon essentially claimed that Able Danger identified the 9/11 hijackers and prevented from passing this information to the FBI. What followed next was a long series of investigation and media frenzy.
Sometime in the course of the investigation, Weldon also asserted that the 9/11 Commission ignored the information provided by Able Danger. The 9/11 Commission of course denied this allegation claiming that prior to 9/11, the 9/11 Commission has not learned of any information concerning the terrorist activities of 9/11 prior to September 11, 2009. They have also indicated that after 9/11, they have heard about the Able Danger program, requested some information from them but did not obtain any information that is close to what Weldon is alleging.
Weldon, of course responded to the claims of the 9/11 Commission. He promised to continue with his investigation until it is clarified why the Department of Defense was not able to pass information dug up by Able Danger to the FBI and why the 9/11 Commission failed to be vigilant on following up the information they were given on Able Danger.
Naturally, the 9/11 Commission had to respond and their response was different from the original one. Initially, they denied that they were briefed about Able Danger and Mohammed Atta, but in this response, they acknowledged that a briefing was made about both Able Danger and Mohammed Atta. In addition, the 9/11 Commission did receive documents about Able Danger from the Department of Defense.
Weldon actually wrote and published a book about Able Danger entitled Countdown to Terror. In this book, a chart was mentioned identifying Atta and the other terrorists and this book was then presented to the Deputy National Security Advisor (Jim Steinberg) at the time. He also asserted that he, Weldon, presented the chart to the then National Security Advisor (Stephen Hadley) days after the attack. Note however, that later, after the publication of this book, Weldon Asserted that the chart does not contain Atta's name.
On August 14, 2005, a The (Bergen) Record  columnist, Mike Kelly, described a telephone interview, arranged by the staff of Weldon, with a member of the Able Danger team, who asked to be anonymous. The man asserted that his team had identified Mohamed Atta and three other hijackers as likely al Qaeda terrorists operating in the USA, but government lawyers prevented them from passing this information to the FBI. He claimed also to be snubbed by 9/11 Commission staff when, on two occasions, he tried to describe Able Danger's work.
On September 15, 2005, Weldon claimed that he had identified an employee who destroyed 2.5TB of information about Able Danger two years prior to the 9/11 incident. To date, no electronic or paper trail can be shown to prove any connection of Atta prior to the 9/11 attack. There is no single email to or from the Able Danger team who made a reference to Atta nor do any other papertrail. No notes taken at any pre 9/11 meetings between the Department of Defense and FBI, or interoffice Department of Defence meetings, show any mention of Atta or a terrorist cell in New York.
The case was concluded by The Department of Defense investigation as follows:
The anti-terrorist program, Able Danger, did not identify Mohammed Atta or any other 9/11 terrorists before the 9/11 attack.
Able Danger members were not prohibited from sharing intelligence information with law enforcement authorities or other agencies that could have acted on that information. In fact, Able Danger produced no actionable intelligence information.
The destruction of Able Danger documentation at LIWA and Garland was appropriate and complied with applicable DoD regulations.
The Able Danger program was not terminated prematurely. It concluded after it had achieved its objective and its work products were used in follow-on intelligence gathering efforts at USSOCOM.
Works Cited
9/11 Citizens Watch. "Weldon Responds to Omission of ABLE DANGER From 9/11 Report". Press release. 12 Aug. 2005.
Alleged Misconduct by Senior DOD Officials Concerning the Able Danger Program and Lieutenant Colonel Anthony A. Shaffer, US Army Reserve, 69. Report. 28 December 2008.
 Andrews, Wyatt; The Associated Press. "New Pre-9/11 Intel Questions". Special Report: War on Terror (CBS News). 9 Aug. 2005.
Bennett, Brian; Timothy J. Burger and Douglas Waller "Was Mohammed Atta Overlooked?". Time (Time Warner). 14 Aug. 2005
 Jehl, Douglas; Philip Shenon, Eric Schmitt. "Four in 9/11 Plot Are Called Tied to Qaeda in '00". New York Times. 9 Aug. 2005.
Kelly, Mike. "Deadly tale of incompetence". The Record (Bergen Co., NJ) (North Jersey Media Group). 14 Aug. 2005.
Phucas, Keith  "Missed chance on way to 9/11". The Times Herald (Shelley Meenan). 19 Jun. 2005.
Weldon,Kurt. Countdown to Terror: The Top Secret Information that Could Prevent the Next Terrorist Attack on America…And How the CIA has Ignored it. Regnery, 2005.