Abortion Patients in the Philippines Essay Sample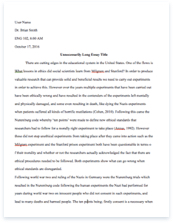 The whole doc is available only for registered users
OPEN DOC
Pages:
Word count: 930
Category: abortion
Download Essay
A limited time offer!
Get a custom sample essay written according to your requirements urgent 3h delivery guaranteed
Order Now
Abortion Patients in the Philippines Essay Sample
For this assignment, I was assigned to make a report about a case of human rights violation from anywhere around the world. In this report, titled "Abortion Patients in the Philippines", we shall be talking about violation of women's rights not by the government but by the general medical community. This is not a talk about abortion and this report will try to avoid discussing and taking sides in this particular issue. What follows is a case of human rights violation which I hope will draw the understanding of my target audience, irregardless of their position on abortion.
The controversy surrounding abortion is nearly universal. We have all seen how abortion is a divisive issue in the US, with mainstream politicians being expected to have a stand on the issue. In abortion, you are either on one of only two sides – pro choice for those who are in favor of abortion and pro-life for those who oppose the legal status of induced abortion.
The Philippines is a deeply religious country. More than 80 percent of the population are members of the Roman Catholic church – a remnant of the time when the Philippines was a Spanish colony (Conde). The Catholic Church has always opposed all forms of artificial contraception, especially abortion. Pope John Paul II declared in 1995 that the Church's unchangeable stance on abortion is that it "constitutes a grave moral disorder" (Carr). This stand of the Catholic Church has undeniably affected the government's stance in the Philippines. Academics from the University of the Philippines have criticized local Catholic leaders in their supposed use of the pulpit to direct social policy. One such use of the pulpit appeared recently as a local Archbishop directed parish priests to deny communion to politicians supporting an abortion bill (Ertelt).
Unsurprisingly, abortion is prohibited by the law in the Philippines. Women who undergo intentional and even unintentional abortions can be punished by imprisonment. Physicians who perform an abortion and pharmacists who happen to prescribe drug combinations which lead to an abortion are also liable for imprisonment (Singh., et al). The only legal case for abortion is to save the mother's life. Even in cases of incest or rape, abortion is prohibited. However, in spite of the severity of the law, abortion cases are rarely prosecuted (UN Population Division).
Even if abortion is not prosecuted, women who undergo illegal abortion procedures are still penalized by society. Abortion is widely practiced with women having to resort to fly by night masseuses and abortifacent herbs to induce miscarriages            (Conde). This clandestine operation leads to lots of complications with eight out of ten abortions developing complications. This number goes higher for women from the lower echelons of society – who are unfortunately the majority of women who undergo abortions (Singh, et. al.). Nearly 80,000 women are hospitalized each year due to complications from covert abortions (Crimmins).
Here is where the human rights violation happens. Due to the social stigma with regards to abortion, many women who develop complications from abortion are denied treatment by doctors and hospitals. Patients are treated roughly and are sometimes denied painkillers while doctors scrape the remaining tissue from their cervix and uterus – a conscious effort to punish these women in the hospital (Conde). There are even instances wherein women who have genuinely miscarried have been ignored by hospitals because they bear the same symptoms as women who have had an abortion (Crimmins). A survey conducted among doctors found that around half of them consider the women who come in for post-abortion complications as "criminals".
This is clearly an unacceptable policy. Even if they consider these women as "criminals", it is not up to the doctors to set the punishment for these women. In prisons, inmates are given medical attention when they need it, what more outside prison, for women in a dire situation where the lack of treatment can and has had lead to death?
I would present this story as a slide presentation which follows the outline of this report up to this point. The story of Philippine attitudes towards abortion is just as important as the story of the women themselves. Without discussing the prevalent culture, there would be no context for the human rights violations being done to these women. I would probably use graphs and figures to illustrate my case – depicting abortion trends in the Philippines to show that it is usually the disadvantage who suffer the most. Lastly, I believe that it is a good idea to have the picture below of a fly-by-night abortionist to drive the point of the dangers these women face when having their clandestine abortions.
Figure 1: A hilot (traditional medicine woman) performs an illegal abortion in a Manila backstreet (Crimmins)
Bibliography
Carr, Bernadeane. "Abortion." Catholic.com. 10 August 2004.  Catholic Answers. 9 August 2008. <http://www.catholic.com/library/Abortion.asp>.
Conde, Carlos. "Philippines Abortion Crisis." International Herald Tribune. 16 May 2005.  New York Times. 9 August 2008. <http://www.iht.com/articles/2005/05/15/news/phils.php>.
Crimmins, Carmela. "Abortion in the Philippines: a national secret." Reuters. 5 September 2007.  . 9 August 2008. <http://www.reuters.com/article/worldNews/idUSMAN29804620070905>.
Ertelt, Steven. "Philippines Abortion Advocates Blast Catholic Leaders on Abortion-Communion." Life News. 15 July 2008.  . 9 August 2008. <http://www.lifenews.com/int826.html>.
Singh, Susheela., Fatima Suarez, Josefina Cabigon, Haley Ball, Rubina Hussain and Jennifer Nadeau. "Unintended Pregnancy and Induced Abortion in the Philippines ." Guttmacher Institute. August 2006.  . 9 August 2008. <http://www.guttmacher.org/pubs/2006/08/08/PhilippinesUPIA.pdf>.
United Nations Population Division. "Abortion Policies – Philippines." UN Population Division. n.d..  . 9 August 2008. <http://www.un.org/esa/population/publications/abortion/doc/philippines.doc>.