About the book – AD Miller Essay Sample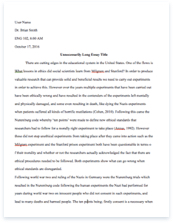 The whole doc is available only for registered users
OPEN DOC
Download Essay
A limited time offer!
Get a custom sample essay written according to your requirements urgent 3h delivery guaranteed
Order Now
About the book – AD Miller Essay Sample
In the "Crucible" by Arthur Miller, Miller introduces us to the Puritans, men and women who had sailed to America in the 1630s. Unlike the Pilgrims, they left because they felt that the Church of England was still too "catholic" and sought to reform it to match their own idealistic views. They were persecuted for their opinion in England and even considered a cult. Upon their arrival in the Americas, they built a colony named Salem, which harbored the events known as the "Salem Witch Trials" in 1692 that Miller depicts in his book.
One might think that all these men left with noble hearts to pursue their faith, but the Puritans were still human. Even though they were all christians, the Puritans had flaws and some positive aspects to them which included their belief in god and the bible, their one-dimensional views, and their need to keep a respectful image as a christian. \"They [the puritans] set up a communal society [… ] an autocracy , by consent, for they were united from top to bottom by a commonly held ideology whose perpetuation was the reason and justification for all their sufferings\" (Miller 6).
One of the most marking aspects of Puritan culture was their belief and faith in the bible. The core of Puritan lifestyle, as Arthur Miller said, was based on theology and christianism. To a Puritan, the holy spirit and his teachings were the core of their lifestyle. Puritans were required to know their ten commandments, be able to recite them, and go to church. When Hale questions Proctor concerning whether or not he is a good christian, the questions he asks are things your average Puritan is expected to know and do.
The Puritans are expected to all go to church on Sabbath day, but Proctor only went twenty-six times in seventeen months, a very troubling amount of times for Puritans. He argued that he prayed at his house and that his wife was sick but Hale answered, "And yet, Mister, a christian on Sabbath Day must be in church" (Miller 65). This quote points out that to Puritans, their christianity takes precedence over everything no matter what. This is the very belief that led them to leave England in the 1630 and it has stayed with them up to this date.
Even though religion can have an important effect on people, it can also have some negative effects, such as showcased with the Puritans. While religion brought them values, it also gave them a one-dimensional view on things. When John Proctor came to judge Danforth with his case, the judge said, "you must understand, sir, that a person is either with this court or he must be counted against it, there be no road between" (Miller 94). It never occurred to judge Danforth in the slightest that one could stay neutral.
In today's society, there are many different religions, but there are still some people who don't believe in religion. That would have been impossible in Puritan time simply for the reason that all those that weren't christian and with the church were considered to be in alliance with the Devil. This one dimensional view narrowed down their acceptance of other people and different customs as can be seen when they forced some natives to take on their religion without their consent.
To the Puritans, anything that was not something they acquainted with was witchcraft or the devil's work and they tried to "fix" it, which is quite ironic as they left England for free practice of religion but refused to grant that opportunity to others. \"Postponement now speaks a floundering on my part [… ] and an ocean of salt tears could not melt the resolution of the statutes\" (Miller 129). As Danforth speaks, we can see an additional important aspects of the Puritan\'s mindset and values, their feeling of pride.
The puritans are all about their image, being a good christian and following that. While all Puritans lived together as a community, it was still every man for himself. Everyone lived in the fear that his neighbour would accuse him of being a witch or not being a proper christian. This fear led everyone to try their best to keep the image of a model christian, a model Puritan. Any weakness in their image is terrible for a Puritan and as Danforth said, it would \"speak a floundering on my part\" (Miller 129).
In addition to trying to be a model christian, the Puritans saw themselves as a model to others. This is further illustrated with John Winthrop's "A City on a Hill" sermon. Their inherent and strong belief that they are god\'s followers, messengers, and spokesmen adds onto their task of maintaining their image. They believe that they are to set an example for others because God has chosen them to follow him and that they speak in his stead, with resolution and unwavering conviction.
The Puritans were different from other colonies, not only because they left for different reasons, but also because of their theology, approach of ideas, and their never ending need to fit into their ideals. All these aspects have caused the Puritans to become a cluster of people trying to live together all the while keeping tabs on each other. While their christianity created a stable government, it has stopped the community from gaining a real sense of companionship or mutual understanding amongst one another.
The settings the Puritans chose led to the acts of the Salem Witch trials with their fear and gullibility because everyone was afraid of anything different and as seen through humanity's history, when challenged with something different, human's try to destroy it out of fear (witches) or submit it to themselves (the native americans). One thing the Puritans were effective at was staying true to themselves, but clearly it hindered the population from moving forward, and instead of trying to fix it or think outside the box, they fell into a trap they had set for themselves with no easy way out.