Academic Integrity in a Cultural Context Essay Sample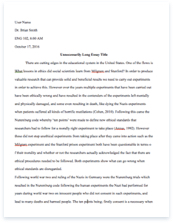 The whole doc is available only for registered users
OPEN DOC
Pages:
Word count: 542
Category: idea
Download Essay
A limited time offer!
Get a custom sample essay written according to your requirements urgent 3h delivery guaranteed
Order Now
Academic Integrity in a Cultural Context Essay Sample
After having worked in many countries—Indonesia, Qatar, the USA, Egypt, the Philippines, Australia, and Papua New Guinea— I have learned that my specialized industry must always challenge and monitor itself when it comes to integrity. A delicate or specialized service or product always depends on singular customs concerning integrity and spirit. Inspiration is certainly achievable, and incorporating someone else's inspiration in the creation of a new concept does not necessarily reproduce what that person has done; it can be a step in contributing one's own ideas in the process of provicing others appreciation and development.
The originator does not need to worry about retaining ownership of his individual conceptions. As an example, the theories of Ferran Adria, the great Spanish chef, have been shared the world over through his books and the media, and his molecular gastronomy cuisine concept has been copied by many young restaurateurs and chefs. Of course, this led him to halt his business operations and look for more original ideas. I remember the CNN interview in which he said he did not have any new concept, so he was shutting his restaurant down to search for fresh ideas. Being honest with yourself means having personal, primary moral guidelines for doing things yourself, for making your own creations. ACADEMIC INTEGRITY
Not long ago the management of our company, Beach House Collections, decided to restructure its policies and procedures of entitlement. However, well before management implemented these, one of our executive team disclosed this information and created unnecessary dissatisfaction. I believe that academic integrity has several principal rules: honesty, dependence, loyalty, mutual respect, professionalism, lawfulness, and confidentiality. If we apply these practices and principals in daily life, we awaken and energise our intellectual capacities as well. In addition, if we can learn from others, we can also recreate their ideas and embrace a fuller understanding of our profession. In some parts of the world, survival and responsibility are ruthless.
Every employee has a contract, and to the extent that we understand and adhere to their business policies and guidelines, we are required to uphold such an affiliation with every team member and guest that we deal with. In our hotelier industry, Heston Blumenthal's cuisine techniques have recently come to notice as being very similar to those of Ferran Adria. Some of his staff formerly worked under Ferran Adria, and who knows whether they might have unrightfully disclosed information. Not long ago, I myself discovered that after a senior team member had left us, one of my signature dishes was copied: the menu of his new organisation presented our recipe idea under a different name. Or consider the recent global-scale case of Apple vs Samsung smart phones: iPhone 4S information was revealed online by Apple factory staff before its launch. Workers readying a new product must respect the company's integrity when considering the release of any information. A professional approach is one of academic integrity, even though the organisation must of course do market research and consider possible competitors when considering the launch of new-concept products.
References:
http://www.telegraph.co.uk/foodanddrink/9428852/What-next-for-El-Bulli-mastermind-Ferran-Adria.html http://www.guardian.co.uk/lifeandstyle/hestonblumenthal
The International Center for Academic Integrity (ICAI)
George Ubbelohde (CHA, CHE, CHT, CGSP – Professional Development Executive, Certified Hospitality Administrator, Educator and Trainer, and Excellence Advisor)