Accrual Basis and Cash Basis Accounting Paper Essay Sample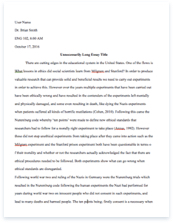 The whole doc is available only for registered users
OPEN DOC
Download Essay
A limited time offer!
Get a custom sample essay written according to your requirements urgent 3h delivery guaranteed
Order Now
Accrual Basis and Cash Basis Accounting Paper Essay Sample
Pretty much any and all businesses need feedback to see how they are doing and determine if any changes are necessary. This information comes as a result of accounting practices. This information is so crucial that a set of rules have been established to make sure that the information is not only properly represented but in a uniform that is easy to understand for all concerned parties. These rules are commonly known as generally accepted accounting principles or GAAP.
For the accounting information to conform to GAAP standards, several characteristics need to be present: relevance, reliability, comparability and consistency. If the information is lacking any or all of these characteristics then it most likely cannot be trusted. For the information to be relevant is all about timing, the accounting information is only relevant if it can be used to make decisions for the benefit of the company. The main thing is that the accounting information is relevant if it can help predict future events or provide feedback as to the company's standing. Reliability is as the word implies that the information can be counted on, for the information must be verifiable to ensure that it is mistake and error free.
Also the information must be biased free or neutral, so that only the cold hard facts are represented and not the opinion of any outside parties. Comparability is that the information must be easily comparable between companies; General Electric needs to be able to compare their financial information with their top competitors like Siemens. So the data must be presented in a uniform way that makes for easy comparison, which is one of the main benefits of the GAAP in that it provides a guideline for the companies to use. And the final characteristic, consistency; this is where the company uses the same accounting methods year by year so that the information provided as a flow to it, That way any person that wishes to analyze the company can see patterns in a more comfortable way than it would be if we had say three different years which different methods.
The revenue recognition principle is a rule that requires that companies recognize any revenue in the period in which it was earned. Take the example of a service company, if Snoopy babysitting services provided a service this week and was paid accordingly then the revenue must be noted in this period. It cannot be held back for a future period or reported in a past one. The same goes for expense recognition, expenses must be recognized in the period that they occur; using the same example if Snoopy babysitting had an operational expense when they sent the nanny for four hours to babysit then they must report it in that period accordingly. These two factors join together in the matching principal, where expenses (efforts) must be match with the revenues (accomplishments).
This all forms the basis for what is known as accrual based accounting which means that any transaction that changes the company's financial statements must be recorded in the periods in which the events occurred. The fun part of accrual basis accounting is that because of the matching principle even if service was not paid for yet, the effort happened hence it is still noted in the same period. So going back one last time to Snoopy babysitting, say that the effort (service) occurred in May 2010 but they did not get paid until Feb 2011 for one reason or another both the revenue and expense are noted as of May 2010 because of the matching principle. Under cash-basis accounting, companies record revenue only when cash is received. They record expense only when cash is paid. The cash basis of accounting is prohibited under generally accepted accounting principles. Why? Because it does not record revenue when earned, thus violating the revenue recognition principle. Similarly, it does not record expenses when incurred, which violates the matching principle.
References
Kimmel, P. D., Kieso, D. E., & Weygandt, J. J. (2010). Financial accounting, tools for business decision making. (6th ed.). Hoboken, New Jersey: John Wiley Publishers.