Administrative Medical Assistant Essay Sample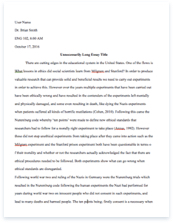 The whole doc is available only for registered users
OPEN DOC
Download Essay
A limited time offer!
Get a custom sample essay written according to your requirements urgent 3h delivery guaranteed
Order Now
Administrative Medical Assistant Essay Sample
My very first job was volunteering in a medical office being responsible for everyday duties such as: filing, inputting data in a computer, taking messages. I never realized all the jobs I would have after that I would end up in this field. I received plenty of on the job training throughout my employment, though there is no education required, I decided to get a certificate and an associate's degree to improve my office skills and have better job opportunities. I'm currently in my second year enrolled at a community college where I'm taking my general education classes and taking office technology courses. This career has a high percentage rate in job opportunities in the medical field especially in the government field with the opportunity for advancements and better benefits.
Education is not necessary, although there are programs that provide a certificate and a degree. A certificate requires taking office technology classes, which include the basic learning of computer programs for example; Microsoft Word, Excel, and Access for writing those medical documents and doing administrative tasks. Medical office Management software is a course taken to learn how to enter patient information, understand how medical insurance is billed and learn procedural and diagnostic codes as well as post charges and payments and generate payment reports. Medical Administrative Assistant is a course to learn to schedule appointments, take down phone messages, and transcribe medical dictation, it also teaches important qualities like integrity, interpersonal skills, and organizational skills, and some writing skills to maintain a professional tone, which are important in all work places.
Typing at least 45 words a minute is a job requirement and learning some medical terminology can a requirement in the medical field. All these office technology classes are very informative in the work place and knowing the basics will help a great deal when on the job. Some community colleges offer courses to get an associate's degree, which take up to 1-2 years("Administrative"). That involves taking general classes for instance; Math, English, and Communications and more, it also takes more time, but is well worth it. Having education in your profession proves competency to employers (U.S Bureau of Labor Statistics).
"The duties of an administrative medical assistant typically do the following, but is not limited to answer telephones, take messages or transfer calls. Schedule appointments take simple medical histories of patients, arrange for patients to be hospitalized and update event calendars. Handle incoming and outgoing mail and faxes. Prepare memos, invoices, or other reports. Edit documents, maintain databases and filing systems, whether electronic or paper transcribe dictation and perform basic bookkeeping as well as process insurance payments. Administrative assistants perform a variety of clerical and administrative duties that are necessary to run an organization efficiently.
They use computer software to create spreadsheets; manage database; and prepare presentations, reports, and documents also need to be familiar with medical terminology and codes, medical records and hospital or laboratory procedures," (U.S Bureau of Labor Statistics). Job openings are expected to rise due to the need of replacing administrative assistants who leave the occupation (U.S Bureau of Labor Statistics). Openings as an administrative medical assistant can be found in just about anywhere, hospitals, clinics, private dr. offices, specialists even in the Federal field working in the Department of Veterans Affairs to work in their medical clinics or hospitals.
As a VA employee the openings are limitless, it's the largest advanced integrated health care system in the Nation("Medical Administration"). It's a full time position with a benefits package including; health coverage, dental, vision, etc.., paid vacation and paid sick leave, as well as a retirement account and much more. An administrative medical assistant can earn $30590 annually("Administrative") and in the federal department can earn between $44899 and $58373 annually("Medical Administrative"). People with an education and experience that can perform documents in a word program and create spreadsheets have better job prospects, (U.S Bureau of Labor Statistics).
The chances of getting a job in this career field is a good one. Replacing employees and new medical offices opening there are plenty of job opportunities available. Education and experience together are all advantages to better administrative opportunities and advancements to better pay.
Works Cited
"Administrative Medical Assistant." Study.com, 2003, www.study.com.Accessed 29, Sept.2017.
U.S Bureau of Labor Statistics. " Secretaries and Administrative Assistants." U.S. Bureau of Labor Statistics,17 Dec.2015, www.bls.gov. Accessed 29 Sept 2017.
"Medical Administrative Assistant." usajobs, 2017, www.usajobs.gov. Accessed 29 Sept. 2017.