Adolescence and Adulthood Developmental Stages Worksheet Essay Sample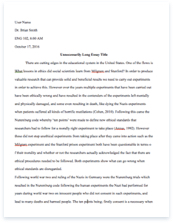 The whole doc is available only for registered users
OPEN DOC
Download Essay
Get Full Essay
Get access to this section to get all the help you need with your essay and educational goals.
Get Access
Adolescence and Adulthood Developmental Stages Worksheet Essay Sample
Using the text for this course, the University Library, the Internet, and/or other resources, answer the following questions. Your response to each question should be at least 250 words in length.
WHAT ARE THE MAJOR MILESTONES RELATED TO THE PHYSICAL DEVELOPMENT IN ADOLESCENCE? BRIEFLY DESCRIBE THESE MILESTONES.
There are many major physical changes that take place during the course of adolescence. Many would argue that the most prominent changes involve puberty and the endocrine system. The various endocrine glands present in the body begin to secrete hormones that influence puberty and initiate physical changes such as: brain development, the development of secondary sex characteristics (including breast development in females, changing of pitch in the voice in males, and the growth of body hair for both sexes), the development of the menstrual cycle in girls, and physical maturation (more defined muscles and height and weight increases for example) (Boyd & Bee, 2006).
Secondary sex characteristics typically occur in specific stages, first introduced by J.M. Tanner. The pituitary gland will begin secreting increased gonadotrophic hormones (which are responsible for 'sex hormones' – testosterone in males and estrogen in females), along with thyroid stimulating hormones and general growth hormones. The hormonal changes brought on by these hormones are the 'trigger' for the broad changes in sex organs and changes in the brain, bones, muscles, and other body organs (2006).
Other physical changes involve primary sex characteristics. These changes involve things like: the growth of the testes and penis in males, and the growth of the vagina, ovaries, and uterus in females (Boyd & Bee, 2006).
More physical changes that occur in the brain, skeletal system, muscular system, heart, and lungs allow adolescents to develop new cognitive and motor skills (Boyd & Bee, 2006). Changes in the brain include two major growth spurts occurring between the ages of thirteen and seventeen. During this period, the cerebral cortex becomes thicker and neural pathways become more efficient – this allows adolescents to think in abstract terms, to reflect on their cognitive processes, and to develop more efficient problem solving skills (2006).
WHAT ARE THE MAJOR MILESTONES RELATED TO THE COGNITIVE DEVELOPMENT IN ADOLESCENCE? BRIEFLY DESCRIBE THESE MILESTONES. HOW DOES COGNITION CHANGE FROM LATE CHILDHOOD TO ADOLESCENCE?
Along with the physical changes experienced during adolescence, there are many cognitive changes that occur as well. Teens begin to gain independence and become sensation-seeking (a desire to experience increased levels of arousal), risky behaviors become more common, sexual behavior becomes more likely, and drugs or alcohol may become more appealing. As teens continue to experience cognitive changes, eating disorders may become more likely, body image is highly influenced by peers and self-image, and depression may be experienced (Boyd & Bee, 2006).
Many changes in thinking and memory also occur. These cognitive milestones were first introduced by Piaget (who also conceptualized the Formal Operational Stage of Development). According to this theory, new types of thought occur between the ages of twelve and sixteen – Typically, this stage is defined as the period during which adolescents learn to reason logically about abstract concepts (Boyd & Bee, 2006). The elements to this particular theory include: systematic problem solving (the ability to methodically search for answers to problems) and logic (the ability to derive conclusions from hypothetical premises) (2006). Formal operational thinking also allows teens to understand figurative language more quickly.
Another major cognitive change during adolescence involves advances in information processing – teens can process information faster, use processing resources more efficiently, understand their own memory processing better, and have more knowledge (Boyd & Bee, 2006). Working memory functions more efficiently and different strategies help with memory and the understanding of complex information. Metacognition and metamemory skills continue to increase and the ability to strategize increases. Another surprising change in cognition involves the processing of and memory for text (2006).
3. WHAT ARE THE MAJOR MILESTONES RELATED TO THE PHYSICAL DEVELOPMENT IN EARLY, MIDDLE, AND LATE ADULTHOOD? BRIEFLY DESCRIBE THESE MILESTONES.
There is a major difference between the studies of infancy; childhood, adolescence, and adulthood because doctors and researchers begin to investigate the loss of function, rather than the major increases of function seen in earlier years.
EARLY ADULTHOOD: Major physical changes that occur in early adulthood include changes to the brain and nervous system, growth spurts, sex differences, declines in physical functioning, changes in the heart and lungs, changes in strength and speed, reproductive capacity, and immune system functioning. Within the brain and nervous system, most functions have become localized in specific areas of the brain, new synapses continue to form, myelinization is occurring, and old connections are dying off (Boyd & Bee, 2006). Surprisingly, recent research has suggested that some parts of the brain produce new neurons to replace those that die (even within the brains of those in the early adulthood stage).
The loss of physical functioning affects almost every major organ in young adulthood. More specifically, declines are seen in vision, hearing, smell, taste, muscles, bones, heart and lungs; the nervous system, the immune system, the reproductive system, cellular elasticity, height, weight, skin, and hair.
MIDDLE ADULTHOOD: Changes in middle adulthood are similar to that of the changes that occur in early adulthood. These changes involve the brain and nervous system, the reproductive system, the skeletal system, and vision and hearing. Within the brain and nervous system, synaptic density begins to decline (around age thirty), brain weight lessens, and new synapses continue to form (although they do so slowly and more synapses are lost than formed). It is also argued that behavioral choices and mental health affect the adult brain in middle adulthood. Cognitive tasks seem to activate a larger area of brain tissue in middle adulthood compared to adolescence and seem to respond differently to sensory stimuli (Boyd & Bee, 2006). Finally, it has been suggested that middle age adults have less control over attention processes due to an inhibition of brain stimuli to irrelevant stimuli (2006).
Within the reproductive system, many changes are seen in both males and females. Males will experience a slow decline in reproductive capacity, viable sperm numbers decrease, the testes shrink, and the volume of Seminole fluid decreases (Boyd & Bee, 2006). Testosterone levels begin to slowly decline, instances of erectile dysfunction begin to appear, and impotence becomes more common. In females, reproductive changes in early adulthood include: declines in sex hormones (leading to menopause), lower estrogen levels, and a decline in sexual activity.
LATE ADULTHOOD: There are several physical changes that affect all adults in late adulthood. These changes include: the brain and nervous system, vision, hearing, taste, smell, and touch. Within the brain and nervous system, there appears to be a decrease in dendrite connections, along with decreased brain weight, a loss of gray matter, and slower synaptic speed (Boyd & Bee, 2006). It has been suggested that education is the cause of the reduced atrophying of the cerebral cortex. Synaptic speed decreases as a result of a loss of dendrites, plasticity decreases and reaction time increases. The loss of neurons also occurs in late adulthood – 'computational power' declines and symptoms of old age appear.
Vision in late adulthood can result in several defects – presbyopia, decreased blood flow to the eye, 'blind spot' occur, the pupil does not widen or narrow as quickly, and diseases of the eye (such as cataract) become more common (Boyd & Bee, 2006).
Hearing in late adulthood also suffers – hearing loss (also called presbycusis) occurs, high-frequency sounds become harder to hear, and word discrimination becomes difficult. In addition, many adults in late adulthood find it more difficult to hear in noisy situations. Mild hearing loss and tinnitus can also occur.
WHAT ARE THE MAJOR MILESTONES RELATED TO THE COGNITIVE DEVELOPMENT IN EARLY, MIDDLE, AND LATE ADULTHOOD? BRIEFLY DESCRIBE THESE MILESTONES. HOW DOES COGNITION CHANGE FROM ADOLESCENCE TO ADULTHOOD?
There are many major milestones related to cognitive functioning in early, middle, and late adulthood. Piaget argued that cognitive development ended with the formal operational stage that becomes apparent in late adolescence, but there is increasing evidence that cognitive development continues far into adulthood.
EARLY ADULTHOOD: Researchers have suggested that cognitive functioning is at its peak in early adulthood and that cognitive decline occurs much more slowly than originally thought. Formal operational thinking is at its peak in early adulthood – Gisela Labouvie-Vief argues that once an adult has mastered the skills of formal operational thinking that, he or she no longer needs this particular skill and that adults trade the deductive thoroughness of formal operational thinking for contextual validity (Boyd & Bee, 2006). Verbal abilities grow in early adulthood, while spatial skills tend to decrease. IQ scores remain stable, along with memory skills and intellectual abilities show essentially no decline.
MIDDLE ADULTHOOD: It has been suggested that some cognitive function continues to increase in middle adulthood, while some cognitive function decreases. Nancy Denney suggested that cognitive changes in middle adulthood follow a typical curve, but that the height of the curve varies from each individual person, depending greatly upon the amount an individual exercises a particular skill or ability (Boyd & Bee, 2006). Memory function in middle adulthood is not well understood, so it is assumed that the middle-aged adults' memory performance falls somewhere between very young adults and late adults. Forgetfulness becomes more of an issue in middle adulthood and
episodic memory decreases. Middle-age adults tend to shy away from the formal operational approach (which dominates thinking in adolescence) and lean more towards schematic processing (2006). A final cognitive function that changes in middle adulthood is creativity and productivity. Creativity tends to peak in middle adulthood (at least for adults in challenging jobs).
LATE ADULTHOOD: I was surprised to read that most adults in late adulthood do not suffer from an impairment of cognitive functioning – although intellectual skill tends to decrease in the very old. Memory and forgetfulness become more profound, short-term memory (or working memory capacity) decreases, the ability to apply cognitive strategies automatically lessens, and everyday memory may be less accurate (Boyd & Bee, 2006). There are some cognitive skills that improve with age in late adulthood. These include things like wisdom and creativity.
WHAT ARE THE MAJOR MILESTONES RELATED TO THE SOCIOEMOTIONAL DEVELOPMENT IN ADOLESCENCE? BRIEFLY DESCRIBE THESE MILESTONES. HOW DO PEER RELATIONS CHANGE DURING ADOLESCENCE? WHAT TYPE OF STRATEGIES CAN BE USED TO HELP ADOLESCENTS WITH THEIR PROBLEMS?
There are many milestones related to the socioemotional development in adolescence. These major milestones include: identity formation, self-concept and personality development; sex-role identity, development of self-esteem, ethnic identity, and the locus of control. Although it is thought to continue throughout a person's lifetime, identity formation is especially important during the adolescent years. According to Boyd and Bee (2006), identity is defined as: "an understanding of one's unique characteristics and how they are manifested across ages, situations, and social roles" (pg. 355). If an individual is troubled by a lack of identity, this can result in an identity crisis.
Peer relations tend to change dramatically during the adolescent years due to an increased understanding of other people and of social situations. These changes lead to relationships with peers being far more important than during any other period of development. Shared activities and interests continue to be important in choosing friends, along with those who share similar beliefs. Friendships become more intimate and are more stable than those developed in childhood. Reasons for ending friendships formed in the adolescent years typically reflect the influence of individual differences – and the rate of development with regard to social skills (Boyd & Bee, 2006). Peer groups also become relatively stable during adolescence. The structure of peer groups; however changes dramatically during adolescence. 'Cliques' and 'Crowds' become more important and often go from single-sex groups to groups mixed in gender and race. Romantic relationships experience the most profound shift during adolescence.
Strategies that can help teenagers with their problems begin with his or her families own strategies modeled by a primary caregiver. Family support and the support of social support networks can both be beneficial strategies that can help a teen deal with problems.
WHAT ARE THE MAJOR MILESTONES RELATED TO THE SOCIOEMOTIONAL DEVELOPMENT IN EARLY, MIDDLE, AND LATE ADULTHOOD? BRIEFLY DESCRIBE THESE MILESTONES. WHAT ROLE DOES ERIKSON'S STAGE OF GENERATIVITY VERSUS STAGNATION PLAY IN THE SOCIOEMOTIONAL DEVELOPMENT OF ADULTS?
Erikson's Stage of Generativity versus Stagnation plays a very important role in the socioemotional development of adults. According to Coy Stoker (2008), "Erikson believed that during the young adult years a person faces an intimacy versus isolation crisis, that during the middle adult years people face a generatively versus stagnation stage, and that during the late adult years the crisis pertains to ego integrity versus despair" (pg. 16). During the young adulthood stage, intimate relationships are formed (that traditionally lead to marriage and children), bonds are formed with others, and social isolation can be chosen. During the middle years of adulthood, a person faces the task of turning outwards in his or her approach to social interaction or occupying his or her time with the needs of the self (which can include things like raising children, mentoring, or taking on roles in the community). Generative behavior is highly correlated with mental health and life satisfaction in middle adulthood. Finally, during late adulthood, ego identity comes into play because essentially, a sense that one's life has been useful can only be achieved once the bulk of a person's life has been lived. This largely involves becoming comfortable with achievements, shortcomings, mistakes, accomplishments, and successes (Stoker, 2008).
References
Boyd, D., & Bee, H. (2006). _Lifespan Development_ (4th ed.). New York: Allyn & Bacon.
Stoker, C. (2008). _Adolescence and Adult Developmental Stages_. Retrieved December10, 2009, from http://stokercg2913.spot.com/2009/10/adolescence-and-adulthood-developmental.html
Sweeney, J. A. (2004). Maturation of Cognitive Processes From Late Childhood to Adulthood. _Child Development_, _75_(5), 1357-1372.