Adult Learning Theories: the Self-Directed of Learning Essay Sample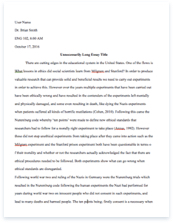 The whole doc is available only for registered users
OPEN DOC
Get Full Essay
Get access to this section to get all help you need with your essay and educational issues.
Get Access
Adult Learning Theories: the Self-Directed of Learning Essay Sample
The objective of this paper is to present a brief overview of the methods of self-directed learning and the probability of its success in an adult learning environment. In addition, this paper will observe the benefits of self-directed learning in a secondary school environment as well.
Exactly what is Self-Directed Learning?
Self-directed learning, which began with adult education, is a particular method that's had its effectiveness tested on learners of all ages, from elementary to high school and beyond. There are different methods between the two, but a review of the subject identifies several beliefs that are common to the theory.
Self-directed learning sees learners as people that take ownership of and control their respective learning process. Responsible is the key word because there is not always a direct contact with the facilitator/instructor, as there would be in a regular "brick & mortar" type classroom. Self-directed learning fits one's self-interest with one's self-monitoring (this includes monitoring, evaluating and regulating their learning methods).
The majority of self-directed learning facilitators understand the meaningful part of self-motivation and the ability to initiate and maintain the learner's energy. The decision to participate in learning is usually driven by motivation, and additionally the will is sustained until the task's goals are reached.
The power to instill learning in self-directed learning gradually shifts from teachers to the respective learners. Learners display (and act on) a superb amount of independence in stating their goals of learning and choosing the learning style most applicable to them and how they should jump at the learning task, and obviously within the allotted time given to finish said task. Self-directed learning increases the scope of the subject knowledge and allows the learner to apply actual knowledge to fresh ideas/learning. It also encourages a "bridging" of the gap amongst typical school learning and some of the so called "real world" problems by allowing a study or translation of how real people learn in real life.
What are the Benefits?
Self-directed learning offers benefits most easily explained by the method it develops the learners. Studies about this subject describe that this type of learner usually possess an awareness of their responsibility that is vaster and allows for a more meaningful learning experience. They are also better at monitoring themselves and being able to "look within", so to speak.
These type of learners are inquisitive and open to new ideas, they view challenges as a good thing and not a problem, open to change (and usually want it), and overall they value that they are reasonably learning new material; whereas, in a classroom-type structured setting, the learning is seen more as a chore, or task. Self-directed types are self-motivated and tenaciously continue (despite problems). They tend to be independent and goal-oriented. To me, these qualities alone are a perfect reason why more institutions should instill some type of self-directed learning environment.
It is noted that the leadership patterns of self-directed learners are more advanced and they're also more effectively able to create and change their own learning rules. This of course requires the right planning and installation, but is easily done due to the learner's ability to work independently and creatively. Experts in any professional field would agree that these are some of the most sought after qualities in a potential employee.
How to sustain/maintain self-directed learning
It is important that instructors/facilitators, who want to encourage a self-directed learning style within their course, must release their preconceived notions of constantly tracking and correcting every little mistake, which could de-motivate a self-guided learner.
There has to be a larger acceptance of unpredictability and there should be more encouragement to take risks in the learning environment. Also, benefitting from a learner's strong point vice emphasizing all the weak points will establish a wider success in goals that are imperative to the learner and instructor. Exploring ideas collaboratively through group discussions becomes an encouraging process that can produce new and useful perception.
Instructors should copy particular learning methods such as predicting, questioning, clarifying, and summarizing, so that students will acquire the competence to utilize these methods themselves. Additionally, instructors shall insist specific learners approach an assignment in a distinct way utilizing different methods.
Conclusion
Researchers have found that as people get older, we yearn for a more independent lifestyle, or way of life. Self-directed learning appears to be an outstanding method to embrace and empower that natural craving to assist in achieving a significant learning experience that should encourage all persons, young and old, to achieve a higher level of education, regardless of their social or financial status.
References
Leonard, D. C. (2002). Learning theories, A to Z. Westport, Conn.: Oryx Press. Merriam, S. B., Caffarella, R. S., & Baumgartner, L. (2007). Learning in adulthood: a comprehensive guide (3rd ed.). San Francisco: Jossey-Bass. Moore, M. (1983). Self directed learning and distance education. Hagen: Zentrales Inst. f. Fernstudienforschung, Fern-Univ.. Publication manual of the American Psychological Association (6th ed.). (2010). Washington, DC:
American Psychological Association.