Advantage and Disadvantages of Different Retail Business Essay Sample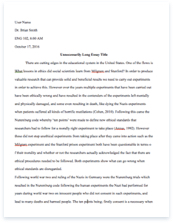 The whole doc is available only for registered users
OPEN DOC
Pages:
Word count: 1234
Category: brand
Get Full Essay
Get access to this section to get all help you need with your essay and educational issues.
Get Access
Advantage and Disadvantages of Different Retail Business Essay Sample
There are various forms of retail and among them classification based on ownership seems quite popular. There types based on this are independent, chain and franchise retailer. Personally the example of independent retailer (small retail outlet) is one near my house which owned by a Gurung couple and is a small store that sells variety of food products from vegetables to small candies such as coffee bite and so on. The major advantages of them in view are that they can control over whole management of the store such as planning, organizing and so on making decisions very easy to perform. Furthermore, they are usually at the front desk so they have an usual interaction so there would most certainly be high customer relationship mad sometime may result in loyal customer followings. Also I think that the profit they receive goes to themselves only and to no one else, so less sharing and initial I also think that they had easily opened up their shop which less hassle. In addition I also believe that they can change their layout at will and also can develop themselves, further i.e. character wise such as in leadership.
On the flip side, being such a small retail outlet means the couple who own cannot bargain with powerful suppliers such as Coke, Wai wai and others. Also all the shifting of goods and all the menial labor has to be conducted by themselves and if labor is hire extra cost is there. And also when either of the couple is sick or unhealthy or is busy with family the chop closes so which means valuable business time and customers may get lost this is I think is the most harming disadvantage business wise. In terms of chain retailer (many outlets)the example that comes to mind is big mart which has outlets in Lazimpat, Baneshwor and inside City centre. And is a store that provides wide variety of products from food to clothing and other miscellaneous stuffs as well. And there various advantages of having such retail outlet the major being the range of customers are widened. Another advantage of it is that many sophisticated technologies such as bar code scanner, software are used in maintaining the inventory thus, ensuring efficiency in providing products in required time frame. Also if the ownership is of single nature then certainly the profits or gains will be received by that single owner.
Furthermore, such establishment may have been created with a look to the future or in plain words done for a long term goal in mind. Moreover, with a single ownership mean the decision conducted can be simple as only one makes important decisions. Finally it also means that this store has a greater bargaining power over supplier if it is a big store which I think is. But the downside of having such a outlet is threat there is less chance to make good decision for instance if Big mart recently bought a land and established a store in that land, but if was later found that the land next to is cheaper . This forms some sort of dilemma in decision making. Another disadvantage or in my view the major one is that the investment cost or the capital required is extremely high as many outlets need to be opened. Also for these many outlets many staffs are needed meaning more control so it is always tough for a single person to look after all efficiently.
Lastly, the most common of franchise (different ownership, parent's company's brand image, product is used.) in Nepal, is Pizza hut. Its major advantage is of its famous brand name as people flock to it due to its reputation of serving great pizzas. Also the franchisee (individual that runs parent business), needs low amount of capital to start but has to abide by the condition of the franchisor (parent business). Furthermore, the franchisee also learns about new operations of running the business as well as how to manage it efficiently. Moreover, marketing is somewhat easy due to the high brand image as people or potential customers are attracted towards it just by its logo or name. Finally the most important advantage of it is that per unit cost become less costly because some financial help or any other help is given usually by franchisor. However, it does come with it s own disadvantages as well.
The most common one is that the terms or condition by the franchisor is set to high to meet and thus, making it problematic for the franchisee. There is also the case of over saturation meaning the hype is there but only for a certain time but after some time staleness begins to occur. Furthermore, "the royalties" are based on sales and thus, profits became very less or non-existent if the required sale figure is not met. Finally, the contract can be terminated as per the wish of the franchisor. The above mentioned advantages and disadvantages of mentioned organizations hold mostly true for most individual retailer, chain retailer and franchisor. Although all seems to be appropriate, if one has to open any sort of such business then the disadvantages or probable disadvantages of opening it should also be understood. My decision making process regarding my chosen product
The product that I have recently had craving for was apparel that was a jacket but more particularly for summer as heat is slowly rising up. The material may be of cotton or any other product that is good for such a season. For such a quest I ventured out to my favorite shopping destinations in plazas or malls, but for jackets I usually go to People plaza. If one has been to that place before then one know that there are variety of shops and especially apparel shops. So, being somewhat of a rational buyer I checked out whether they had my required product but I am also very brand conscious so more appealing the brand the more chance of me buying it. Well, the shops did have that product of some famous brands, so I checked with most stores however, I was attracted towards the jacket that was displayed in the top floor and store name was " Men's collection".
Thud, upon inspecting the jacket which was green in color and was of "super dry" brand which is a good brand and also upon trying it on. I felt satisfied with the quality and brand plus the high discount rate had me going as well. So, I made the purchase. Moreover, I also tried it at home and was fully satisfied with the price I had paid for this jacket as it was really good. If I have to explain the above situation with the traditional approach of decision making process for buyers, then at first the need for jacket was recognized by me recently and due to fast approaching summer. In case of the search of needed information the browse around the various apparel stores of the supermarket was enough for me. Next up, the evaluation of different jackets based on quality and brand was made by me. So when I found the needed one or most satisfying one I purchased it. Lastly, the post purchase evaluation that I made was trying out later at home and being content with the product.