Advantages And Disadvantages Of Being A Franchise Essay Sample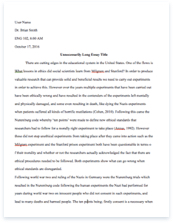 The whole doc is available only for registered users
OPEN DOC
Download Essay
A limited time offer!
Get a custom sample essay written according to your requirements urgent 3h delivery guaranteed
Order Now
Advantages And Disadvantages Of Being A Franchise Essay Sample
The main advantage of being a franchise is that the company is already well known and people trust it while no one knows of Deb's café yet because it hasn't gone viral. The company will tell her the best place to locate her business it will be a better. Franchises offer important pre-opening support:
Site selection
Design and construction
Financing
Training
Grand-opening program
Franchises offer on-going support:
Training
National and regional advertising
Operating procedures and operational assistance
On-going supervision and management support
Increased spending power and access to bulk purchasing
DISADVANTAGES
The franchisee is not completely independent. Franchisees are required to operate their businesses according to the procedures and restrictions set forth by the franchisor in the franchisee agreement. These restrictions usually include the products or services which can be offered, pricing and geographic territory. For some people, this is the most serious disadvantage to becoming a franchisee. In addition to the initial franchise fee, franchisees must pay on-going royalties and advertising fees. Franchisees must be careful to balance restrictions and support provided by the franchisor with their own ability to manage their business. A damaged, system-wide image can result if other franchisees are performing poorly or the franchisor runs into an unforeseen problem. The term (duration) of a franchise agreement is usually limited and the franchisee may have little or no say about the terms of a termination.
The key attributes of a successful franchisee are well-known:
•Passionate about franchise product/service – knowing your franchise, the market and its competitors
•Good motivator
•Possess business acumen and awareness
•Organised
•Effective time-management skills
•Articulate
•People-person
•Good listener
•Effective communicator
•Professional in outlook and appearance
•Open to advice and guidance
Subway franchise:
The total initial investment will depend on many factors including location, rent, outlet size and equipment. The franchise agreement is for 20 years and renewable for 20 years
An important consideration in purchasing your first SUBWAY® outlet is how to finance your investment. A good arrangement is to have 50% of the total capital requirements available in cash and sufficient collateral to obtain funding for the balance. Below are links to lenders that can offer support.
Royalties and fees paid to the brand are based on gross sales minus sales tax. The royalties are 8% to the brand. A 4.5% advertising fee is paid to the 'Franchisee Advertising Fund. Franchisees in some markets may vote to increase the marketing fee percentage for local advertising purposes.
The franchise fee of €10,000* for outlets is one of the lowest on the market, despite the size of the chain.
One reason the costs are so low is that outlets feature a very simple operation. No cooking is involved so franchisees don't have to invest large sums in expensive grills and fryers. Also, the décor package is streamlined so that money isn't wasted on non-recoverable assets. ® means a trade mark and that the company own the name and no one can use it.