Advantages & Disadvantages of Including Property in an Investment Portfolio Essay Sample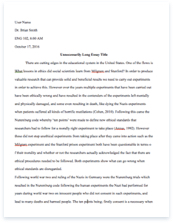 The whole doc is available only for registered users
OPEN DOC
Download Essay
Get Full Essay
Get access to this section to get all the help you need with your essay and educational goals.
Get Access
Advantages & Disadvantages of Including Property in an Investment Portfolio Essay Sample
Introduction
Reduction of risk is the principal motive in keeping a diversified investment portfolio. The amount of risk associated with the portfolio does not only depend on the number of financial instruments held in the portfolio, in fact the risk of each individual instrument and the extent to which these risks are inter-reliant plays an important role. Investing in Property is considered as a well known form of diversifying an investment portfolio away from traditional investment instruments such as stocks and bonds. As with all investment forms, at the same time as it is vital to be acquainted with different techniques of putting funds to work in order to make profit, it is in the same way very essential to have knowledge of the relative pros and cons of each avenue. Advantages and disadvantages of having property in a diversified portfolio are discussed below:
Advantages
Property is considered as a low risk and one of the most secure and reliable wealth generating investment prospects in the world. It is a well known fact that property values become double in a number of years.
Property usually generates a higher Return on Investment than other investment instruments. The reason for this is that funds can be borrowed from a financing institution in order to purchase the property and the liability can be secured against the purchased property. This is not the case with other forms of investment such as shares and bonds. Banks at times are hesitant to keep shares as security in view of the fact that they are, characteristically, fairly unpredictable, not just can their value go down but, in certain cases whole of the share value can be lost.
As with shares, the investor only looks towards appreciation in the price of the stock, and conceivably dividend earnings. Investors holding bonds earn income with the interest paid by the bond. Another advantage of having property in the portfolio is the ways profit can be generated from property investments. Be it by means of rent, refinance, or the appreciation of the value, property investments are considered as the emperor in profit generation.
After the ownership of a property for a number of years it is usually possible to refinance it and get funds out of it at the same time as still having the complete advantage of the property investment and its succeeding appreciation of value. This is considered as another major benefit of having property in the investment portfolio. The additional benefit for the investor in this case is that funds taken out in such a manner are not tax deductible as these funds are not counted as income and nor as capital gains. Once more this way of obtaining funds in a tax free way cannot be achieved with other investing instruments. In order to obtain the raise in value of stocks and shares they must be sold and the investor is liable to pay tax on the earnings.
Last but not least property does not require such continuous concentration as the value of the property is not likely to vanish in value immediately.
Disadvantages
The major disadvantage of having property in an investment portfolio is that property is not a liquid asset as other forms of investment. Selling a property usually takes a long time and hence cash is not easily accessible, when it is required by the investor.  Property investment generally requires an approach which is more tilted towards long-term as property is unlikely to appreciate in value in short term.
There is an intrinsic risk linked with taking a loan to fund an investment. While gains on the borrowed funds can be amplified through gearing, this can also result in huge losses in unfavorable conditions. In most cases, investors who have the financial power to absorb the consequences of possible losses in investment values, and an amplified cost in interest payments, should think about negative gearing.
Another disadvantage of investing in property is that there is a very high entry cost in the property market. While shares and bonds can be purchased with small amount of investments, property involves a very high amount.
Property investment is vulnerable to zoning changes and developments near the property in which the investment has been made. These changes have a major affect of the value of property.
Conclusion
Investment in property is a great way to diversify an investment portfolio, either by means of appreciation in value or revenue prospects. With property investments, an investor should not keep unrealistic expectations. Limitation with regards to liquidity, likely cost overruns and the suspicions of particular geographic markets need to be considered when adding property to a portfolio. The results will obviously depend on smart decisions i.e. buying at the right price and selling at the right time.
References
Hartzell, D.J., J.S. Hekman and M.E. Miles. (1986) "Diversification Categories in Investment Real Estate." American Real Estate and Urban Economics Association Journal, Vol. 14, Summer, pp. 230-254.
Eichholtz, P.M.A., R.J. Mahieu and P.S. Schotman. (1993) "Real Estate Diversification: By Country or by Continent?" Paper presented at the international Real Estate Conference, Mystic, Connecticut, October 7-9.
Fogler, R.H. (1984) "20% in Real Estate: Can Theory Justify It?" Journal of Portfolio Management, Vol. 10, Winter, pp. 6-13.
Ibbotson, R.G. and L.B. Siegel. (1984) "Real Estate Returns: A Comparison with Other Investments." American Real Estate and Urban Economics Association Journal, Vol. 12, Fall, pp. 219-242.