Aeta in Botolan Essay Sample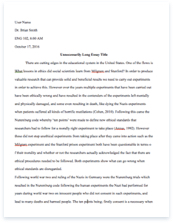 The whole doc is available only for registered users
OPEN DOC
Download Essay
A limited time offer!
Get a custom sample essay written according to your requirements urgent 3h delivery guaranteed
Order Now
Aeta in Botolan Essay Sample
Presently, the Aeta community are also known by names such as "Ayta", "Agta", "Atta", "Ati" and "Ita". All of which are based on their history, their location or their relationship with other people (David, 2011). According to Tevez (2004) they belong to one of Philippines' major ethnographic groups, the Negrito group. The typical Aetas may be characterized are semi-nomadic. Their mobility is only subject to their village and the sites that they work at. They do not extend to the cities and the lowlands, unless needed. Shimizu (1989) and Brosius (1990) explains that the Aetas' institutional structure has three levels. First is the nuclear family. Second is the family grouping or camp and third is the village. According to our interviewees, there are six of them in the family. Rosa Abraham, 52 year-old, the mother, Danilo Abraham, 66 year-old, and their children, Frankie, 36 year-old, Rosabel, 20 year-old, Erwin, 15 year-old and Maricel, 12 year-old comprise their family and all of them are "kulot". The nuclear family shares in household and socio-economic activities, primarily in clearing and working. Mang Danilo and Ate Rosa both get their livelihood from fishing and acting as tourist guides. They are also hunter-gatherers. They sell the fish and other produce to the whole neighbourhood.
They dig for buloy (kamote) during the morning with their children and this will be their food for the whole day. In Fox's research on Aetas' diet in the 1950s, it revealed that 70% of it was consisted of New World crops and 53% was even derived from a single New World crop, which is sweet potato. On the other hand, Shimizu (1989) observes that contemporary Aetas now consider root crops as their major source of food. Although Ate Rosa's family has a means of living, Ate Rosa said that the Php 150 they get from their work as tourist guides and their food produces are not enough to sustain their needs as a family. Second among the levels of institutional structures is the family grouping which may be composed of a single household or a group of households, including parents and their married children. They also collectively share food and work. In the case of Ate Rosa's family, their family grouping only consists of a single household. Third is the district level or the village which refers to the entire Pastolan Village. The members of the village are mostly blood-related. Kulots are the dominating group among the district.
In the political aspect of Pastolan, the village is governed by a "kapitan. With the help of the "kagawad" or elders who are "kulot", he makes rules as to how the community must be led. He acts as the intermediary in conflicts, both internal and external. The whole community conducts two assemblies every week but only the "kulots" are allowed to speak up and stand for what they believe in. They tackle things such as how the village must be governed, how their barrio would be more beautiful and pleasing, how criminals will be punished. Among the most common punishments are to be put into the "tipo's jail" once caught.
The social set-up of the Aeta community in Pamulaklakin depicts how ideal community chracteristics such as family-orientedness, mutual cooperation and interdependence. But as we observed, Kulot Aetas have a certain degree of mistrust and doubt among the Aetas who are not related by blood or marriage. In the spiritual dimension, we were able to note the differences of what we researched about their religion and of what Ate Rosa described. Tevez (2004) stated that Aetas' religiousness is best exemplified in their concept of health and disease of which the most important ritual is the curing ritual. He added Aetas had a belief that a person's souls is a separate entity form his/her physical body. An illness or a disease in the body is connected to the weakening of the soul.
They also believe that there are existing environmental spirits and creatures living with them that's why they treat their surroundings and territory with extreme care and caution. However, according to Ate Rosa, Aetas in their village are either Catholics or Bon-Agam. Majority of the people belong to the latter. They also believe in one God. They celebrate Christian practices and traditions in their church like that of the Solemnity of the Mother of God every January. According to her, there is really an extravagant celebration. Alongside, they celebrate the "Pyesta ng Pastulan". Aetas in their village hear the mass every Sunday of which is led by a "kulot" priest and in Ambala language.
These differences of religion perspectives were a big surprise to our group. We were expecting that they are still inclined to practices and rituals related to the supernatural world. Perhaps because these differences may be attributed to the influences of the different colonizers in the country and the vast changing world. Technology had imposed new ideas for human living. Different concepts and beliefs emerged through the years and though believed as resistant to change, Aetas may have acquired these new concepts.
References:
Brosius, J. (1990). After Duwagan: deforestation, succession and adaptation in upland Luzon. Michigan : Center for South and Southeast Asian Studies, The University of Michigan David, M. E. (2011). Aeta Mag-anchi's Cultural History, Concept of Time and Territoriality: Its Implications to Education. Tarlac, Philippines: Tarlac State University Shimizu, H. (1989). Pinatubo Aytas. Quezon City: Ateneo de Manila University Press Tevez, A. M. (2004). The Aetas Land and Life. 122-A Matahimik St., UP Village, Quezon City, Philippines: Project Development Institute