Ages and Stages Essay Sample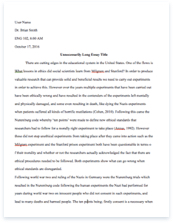 The whole doc is available only for registered users
OPEN DOC
Pages:
Word count: 489
Category: gender
Get Full Essay
Get access to this section to get all help you need with your essay and educational issues.
Get Access
Ages and Stages Essay Sample
Authors: Jodi Putnam with Judith A. Myers-Walls and Dee Love Researchers who have observed how children begin to understand gender agree that children begin this process at a very early age. Children seem to have an understanding of gender by about age 7, but there are several stages they go through along the way. It is important to have realistic expectations about gender related issues and to understand typical development and when to get more help.
The following outline describes how children understand gender at different ages.
7 months
Infants can begin to tell the difference between male and female voices. Infants can tell the difference between their mother's and their father's voices. They will often turn their heads toward mother or father when he or she is talking.
12 months
Infants begin to tell the difference between male and female faces. Infants will also spend more time looking at their mother and/or father than other less familiar people. At this age, infants will turn to a woman's face if they hear a woman speaking. They will look at a man's face if they hear a man talking.
2 years
Toddlers begin to use gender stereotypes in their play. Young girls begin to play with "female toys," and young boys play with "male toys." Parents also may treat their children differently. Many young girls are dressed in "pretty" clothing and treated very delicately. Young boys are often dressed in "cute" clothes that are easy to move around in. Boys are often encouraged to be active and strong.
2-3 years
At this age, young children are developing "gender identity." This means that they begin to label themselves and others as male or female. They can use words to label friends, family, and themselves as a boy or a girl.
3-4 years
Children at this age begin to use "gender typing." They like putting things in categories, and gender is one way to do that. For example, a three-year-old child may think that trucks are male toys, because boys usually play with trucks.
4-6 years
Children at this age begin to understand and use "gender scripts." This is another way to put things in categories. Instead of grouping things, they put events or activities in groups related to gender. For example, a five-year-old child may think that a person putting on make-up has to be a female. That child may also think that only males lift weights, so everyone lifting weights must be a male.
6-7 years
Before this age, boys might think that they will grow up to be women. Girls might think they will be daddies when they are older. By age 6 or 7 though, most children understand and believe that a person's gender is constant. They know it will not change throughout life. Most children this age also know that a man is still a man, even if he dresses like a woman |