Alamo Drafthouse Essay Sample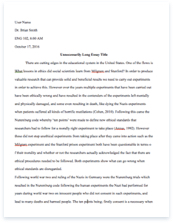 The whole doc is available only for registered users
OPEN DOC
Download Essay
A limited time offer!
Get a custom sample essay written according to your requirements urgent 3h delivery guaranteed
Order Now
Alamo Drafthouse Essay Sample
Start doing exit interviews for customers to see what the age gap is and find their personal opinions, or USE technology and email all of these customers surveys and see the general ages and genres of these customers BUILD a database
To attract the audience they want they want to appeal to they can get a local census and post these people information on films they may be interested in Develop a marketing plan/hire a marketing team with clear objectives and strategies to target more consumers At point of sales offer more products (food, another film)
Introduce the live music again which generated profit for their first failing business QUANTITATIVE RESEARCH METHODS include surveys, questionnaires etc.
"Manufacturing strategy is viewed as the effective use of manufacturing strengths as a competitive weapon for the achievement of business and corporate goals"
Brown, S. et al (2005) Strategic Operations Management. 2nd ed. Oxford: Butterworth-heinemann.
Winning customers in the marketplace:
Identify the service qualifiers
Winners and service losers for Alamo drafthouse
Are the Alamo purchase decision criteria appropriate for the multiplex mobie theatre market? What do you conclude?
Service qualifiers – Cleanliness of the place/toilets-hygiene Long table for food so customer can eat and watch a film
Warm atmosphere/happy GOOD atmosphere
Good films / LATEST MOVIES
Serve beer and alcohol
Customers don't have to go to the lobby, waiter comes to them and takes their paper Assortments of foods, wines and desserts, customers have 2 options of being served in the lobby or whilst watching the film
Service Winners- used for customers to make a choice amongst other competitors, this includes the PRICE of how much the ticket and food is sold for, DEPENDABILITY – having shows playing on time CONVENIENCE – for people who are looking to socialise or who are bored…form of entertainment, as well as location and being located centre of downtown in Austin located near night life, no need to get up in the middle of the film to order food…waiter comes and takes paper Short walk from restaurants and main clubs
Personalization- where by the entrepreneur speaks to customers after films and answers questions personally through emails REPUTATION- personal word of mouth is the best form of advertising Speed – queues are dealt with reasonably, as on a Friday the busiest days more staff are working to serve customers
Service losers
No free parking
Little street parking in the vicinity as well (convenience)
Targeted specifically 25-40 year olds "sophisticated taste" Fewer rows of seats
Alamo offers half the seating of most auditoriums
If younger audiences were appealed to like in the multiplex, they would make money!! CULT FILSM PLAY Thursday Friday and Saturday at midnight