Albatross Anchors Essay Sample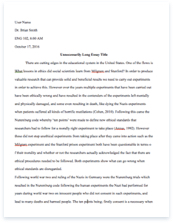 The whole doc is available only for registered users
OPEN DOC
Download Essay
A limited time offer!
Get a custom sample essay written according to your requirements urgent 3h delivery guaranteed
Order Now
Albatross Anchors Essay Sample
Albatross Anchors can change several things to make their business more productive than it has been. They opened in 1976 with only four family members and now employ 130 people; this alone shows massive growth over the past 35+ years. By only selling at a wholesale level, this means that they produce and sell in mass amounts and therefore their supply chain and manufacturing process is extremely important for the company to make succeed. As of right now, Albatross Anchors is not only disorganized but they do not meet the US Safety and Environmental Standards. Albatross Anchors needs to adjust their operations in order to run smoothly and expand their business. Question One
Carefully review the assignment scenario/case study. From the limited information in the scenario/case study, along with your answers to the unit three written assignment, identify at least three direct and specific long-term and three direct and specific short term operations changes that Albatross Anchor must make to gain a clear and sustainable competitive advantage (provide detailed information to validate and support each recommended change) Long-Term Operational Changes
(01)
One of the first things that Albatross Anchors should do is to change their location and find a plant that is more than double the size than their current location. Since their business has expanded they need to expand their plant and find another location with more space. They produce two types of anchors and need to have the space to produce them at the same time instead of sharing equipment. In addition, their current manufacturing chain is also not running as smoothly as it should be with bottlenecking in the receiving and shipping departments. If Albatross Anchors were to find a location that is larger they will be able to not only streamline their production process they will also be able to separate their administrative offices from the rest of the plant. (02)
Another thing that Albatross Anchors should do long-term in order to improve operations is to update the technology in the entire plant, even the administrative offices. By updating their technology, they will be able to produce their anchors at a faster rate than they currently are and this will allow their administrative offices to become organized and run the office more smoothly. This will allow them to expand their productivity rate and with that, handle a larger customer base; therefore, allowing them to take the lead in the industry. (03)
Lastly, by adopting six-sigma Albatross Anchors will be able to completely refine their manufacturing process and be able to take over the industry. Six-sigma is a way to strive for perfection by eliminating defects within the manufacturing process and while it can be costly to implement, it will save Albatross Anchors more in the end. Several successful companies, such as Ford, have adopted six-sigma and have been very successful because of it. Six-sigma is a very detailed process that takes several years to master, so it is in Albatross Anchors best interest to adopt this process immediately. By implementing these three long-term operational changes, Albatross Anchors will not only streamline their process but they will in turn gain a higher profit and even have the opportunity to produce different types of anchors. (Adopting Six Sigma, n.d.) Short-Term Operational Changes
(01)
Until Albatross Anchors can effectively implement the long-term changes, they should at least bring their safety and environmental standards up to date. "In 1970, Congress passed the Occupational Health and Safety Act to encourage employers and employees efforts to reduce the number of occupational safety and health hazards at their places of employment" (OSHA Regulations, n.d.). Companies need to take responsibility for the safety of their employees, and by making sure their safety and environmental standards are up to date, they will be able to comply with the law. (02)
Another short-term operational change that needs to be implemented is how the shipping and receiving departments operate. Currently, the shipping and receiving departments have materials coming in and going out at the same time. With the rail handling shipping and receiving, this is creating a bottleneck of materials. By creating certain shipping and receiving times that do not conflict, this will allow for a smooth process that will help the supply chain. (Russell, R., et al., pg. 423) Not only does the actual manufacturing process need to run smoothly, but the shipping and receiving of materials needs to run the same. (03)
Finally, the administrative office should completely revamp their office. While waiting on the new location, they need to clean up and streamline their process. Then, will not only the manufacturing process run smoothly, but also the administrative offices will run smoothly as well. The technology upgrade will give them an opportunity to computerize their process and this will help declutter and organize the limited office space they currently have now. The administrative staff needs to be prepared for new software and the learning process that will come with it. While it may take some time to learn the new process, eventually it will save them more time in the end. Question Two
From the list of ten operational issues in the Unit 6 assignment instructions select four operational issues. For each of the four operational issues explain in detail that operational issue will help Albatross Anchor improve; 1) job retention, 2) employee morale, and 3) employee dedication.
Operational Issue One:
The first operational issue that needs to be addressed is cross training. By cross training the employees, the employee will not only learn a new skill but they will be knowledgeable in case a department is short staffed or a new job opportunity opens up. This will show the employees that there is trust in their abilities as well as show them how important they are to the company. This will also prevent boredom for the employee and prevent them from finding a job with another company. Operational Issue Two:
Another operational issue that should be addressed is offering the employees profit sharing. With the company expanding their operations, giving the employees a piece of the pie, so to speak, will definitely raise morale and show them that the company is on the rise. The employee will want to stay with Albatross because they have a direct impact on how well they benefit. There is also the tax deduction; by using the 401K on their personal income taxes, they can reduce the adjusted gross income. This in turn will raise their amount of taxes owed to the government. Operational Issue Three:
Thirdly, when reorganizing a company you need to address the operational issue of worker analysis. By determining if the employee has the characteristics needed to perform the job properly, the management will know that they have hired the right staff. When employees are suited to the position they were hired for, they will be happier, more productive and stay in their position much longer. In order to meet industry standards and to keep the process running smoothly, you need to have happy employees and by making sure that the employee fits the position, this will prevent a high turnover rate. Operational Issue Four:
Lastly, Albatross Anchors needs to address the environmental concerns. Environmental analysis is extremely important to any company in making sure they have met the OSHA standards for manufacturing. The current building they are in is old and run down and instead of spending the money on the current place, Albatross Anchors needs to upgrade to a larger location that meets the environmental and safety standards. Until the move can be made, they need to make sure the working conditions are safe for the employees and find low cost temporary solutions until more permanent ones can be made. Conclusion
Albatross Anchors has several issues that need to be addressed. In order to stream line their manufacturing process and turn a higher profit for the company, they need to start implementing changes that identify with the short and long-term operational changes. Changing 35+ years of operations is not going to be easy; however, the company will be able to finally achieve the industry standard and eventually become the leader in their industry.
References
Russell, Roberta S. & Taylor III, Bernard W. (2011). Operations Management: Creating Value
Along the Supply Chain. John Wiley & Sons: Hoboken, NJ. Adopting Six Sigma. (n.d.). Retrieved January 22, 2013 from http://www.sixsigmaonline.org/six-sigma-training-certification-information/articles/adopting-six-sigma.html OSHA Regulations. (n.d.). Retrieved January 22, 2013 from http://www.manufacturing-
safety.com/OSHA_Regulations.html