Alice Walker Story "Everyday Use"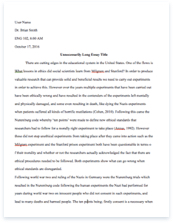 The whole doc is available only for registered users
OPEN DOC
A limited time offer! Get a custom sample essay written according to your requirements urgent 3h delivery guaranteed
Order Now
The lives of the characters in Alice Walker's story "Everyday Use" have quite big differences. The three main characters are "Mama," Maggie, and Dee. The events that occurred in each other's lives developed growing up in a unique setting. Mama never made it out of the second grade so therefore she was less educated. Dee made it to college and was always smarter than Mama and Maggie. Maggie was always self-conscious growing up because of the scars and burns she received from the fire. Mama was not the traditional mother. Instead of being in the house raising the children, cooking and cleaning, she was a strong built mother. She milked the cows, bragged about how good of a hunter she was, and how fast she can clean the dead animal.
"In real life I am a large, big-boned woman with rough, man-working hands." (Walker 5) It shows how strong of a woman she is after being hooked by a cow. "I used to love to milk till I was hooked in the side in '49." (Walker 13) Her daughter Dee was the complete opposite. Dee had very high self-confidence, and thought she was better than Maggie and Mama. Her self-confidence gave her the ability to "stare down any disaster." "She thinks her sister has always her life in the palm of one hand, that "no" is a word the world never learned to say to her." (Walker 2) Dee has strong hatred for the house from all of the bad memories she had growing up as a child, and how she resented Mama because she was pushed to do everything. Another difference that sets aside Dee from her mother and Timler 2
family heritage is when she asks Mama for the quilts. Throughout the story Dee only cares about herself so there must be a reason she wants the quilts. It isn't because she wants to keep her families' heritage going, it is most likely for some kind of display. Mama offered Dee a quilt before she went off to college, but Dee refused to accept it. In my opinion she only wants one now in order to benefit her in some way. Maggie is a very shy, self-conscious individual. "She has been like this, chin to chest, eyes on the ground, feet in a shuffle, ever since the fire burned the other house to the ground." (Walker 9) Maggie is jealous of her sister Dee and how everything was so easy in life for her. Maggie is a kind person and it shows when she was willing to let Dee take the quilts when Mama said no and Maggie dropped the plates out of anger.
The physical setting of the story gives us a mental illustration of how important family heritage was to the family and ancestors. This setting reflects the attitudes of Dee and Mother fairly well. Dee is more in tune with the educational side of history and heritage while Mother only has a second grade education. Mother wants stuff to stay in the family and if Dee really wanted the quilts she would have accepted one when she went away to college. Walker emphasizes the detail of their heritage through the furniture, quilts, and the house. Another thing that Dee wanted to take was the dasher. "It was beautiful light yellow wood, from a tree that grew in the yard where Big Dee and Stash had lived." (Walker 54) It says that Mother deliberately turned her back on the house, but I think she just said that because she was ashamed. She didn't want to feel ridiculed when Dee came back to the house. Dee says she would manage to come see Mother and Maggie no matter where they choose to live. Mother and Dee both contradict themselves in the story by describing parts of the house and yard that they like, and parts that they hate. The author doesn't indicate that one or the other is entirely correct about their feelings for the house and yard.
Related Topics