American Federation of Labor Essay Sample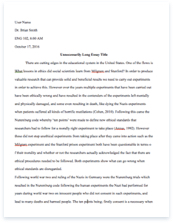 The whole doc is available only for registered users
OPEN DOC
Pages:
Word count: 327
Category: labor
Download Essay
A limited time offer!
Get a custom sample essay written according to your requirements urgent 3h delivery guaranteed
Order Now
American Federation of Labor Essay Sample
The industrialization and mechanization which took place in United States between 1845 and 1900 gave rise to big businesses and monopolies. This also resulted in the concentration of industrial capital and power into few hands. Although labor played an important role in this process of industrialization and emergence of big business, the manufacturers and entrepreneurs reduced their wages, increased their working hours and appointed and dismissed laborers at will. This inevitably forced the laborers to join hands and act collectively. Various others factors contributed toward the growth of labor movement. But development this labor movement and union came in spurts. The strike strategy of Knights of Labor turned violent and ultimately the collapse of the KOL but it paved the way for a more organized effort for collective action. This resulted in the formation of a new organization-the American Federation of Labor (AFL) which was in favor of old federative plan and was opposed to the idea of one big union, made its appearance.
Originally, the Union was set up under the name of "Federation of Organized Trades and Labor Unions of United States and Canada" by a New York cigar maker Samuels Gompers. American Federation of Labor was an entirely different kind of organization. It was not composed of workers. Instead it was a federation of the national crafts unions. AFL achieved various triumphs in the early twentieth-century and its memberships arose in the 1890s with the collapse of the Knights of Labor. But AFL faced various difficulties as it was unable to tackle the racial issues and the state opposition to trade unions in the South. Furthermore, it was poorly equipped and financed to combat with large and technologically advanced industries, corporations and businesses. But it survived and serviced through collective action and the charismatic leaderships of its leaders. During World War I, AFL augmented its strength due to Wilson's administration approval of unionization in return for their support in the war.