American Vaudeville Essay Sample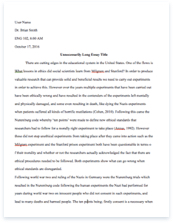 The whole doc is available only for registered users
OPEN DOC
Download Essay
A limited time offer!
Get a custom sample essay written according to your requirements urgent 3h delivery guaranteed
Order Now
American Vaudeville Essay Sample
Some may ask what Vaudeville is, as for me I didn't know the word even existed. It is sort of a variety show with many different acts seeded within it. The American Vaudeville Theatre was one of the most prominent Vaudevilles because since August 1996, the American Vaudeville Theatre has presented hundreds of top flight variety artists which have entertained the audiences to the very last moment of each show. A typical show consisted of between 8 and 20 different acts, ranging from silent pantomime, animal tricks, and singers to contortionists, comedy acts, and monologues. American Vaudeville Theatre was an important achievement for America.
Vaudevilles were created around the 1800s because during that time many new American citizens were plagued with problems and this variety show was one strong way to relieve all the stress. The actual word "vaudeville" was coined from an area in France known for its ballads and entertainment. The average salary for performers in Vaudevilles was approximately $15 a week, which was an excellent income in the mid-19th Century. The Vaudevilles gave starting actors, comedians, or special performers a chance to become known and travel around the country performing their acts. Before American Vaudeville, entertainment existed on a whole different scale. Of course variety theatres existed before the 1860s but none could even compare to Vaudevilles which possessed acrobats, singers, dancers, comedians, and all you can imagine all in one evening. Each act was about 20 minutes long and the performers were only shown once in the show. This way the performers had only one time to get it right and had little room for mistakes and blunders. In other words they were expected to be perfect.
The known "Father" of American Vaudeville is Benjamin Franklin Keith. He had begun his career in show business working as a grafter and barker in traveling circuses or dime museums. Then he had come up with his own brilliant idea, to build his own museum, which he did call the Bijou Theatre. He also created rules of cleanliness and order. He wanted decency in his theatre. Keith's idea revolutionized variety entertainment. Within a few short years, imitators sprung up around the country. By the 1890s, vast theatre circuits spanned the whole country. America didn't know what had hit it.
Many Vaudevilles were mostly created in New York where "Show Business" most occurred. By the turn of the century, more than 2,000 Vaudeville theaters were spread across the US and Canada. Nearly every town had at least one barn, bar, or even a church that was converted into a theater to accommodate the numerous traveling productions, and buildings were often so packed during performances that the audience spilled out into the street. The New York Times called the American Vaudeville Theatre "The best entertainment deal in town." Vaudevilles were hits all around the country. Vaudeville was the most popular form of live entertainment in the United States. A show was a succession of seven to ten live stage acts, which included comedians and musicians, together with novelty acts such as dancers, acrobats, trained animals, and magicians. It was like a circus but much much more. The growth and popularity of vaudeville reflected with the rise of urbanization and industrialization in America.
There were thousands of performers hoping to be spotted and become famous. There were approximately 20,000 vaudeville performers working in the 1920s. Many of the performers were recent immigrants to American who viewed a vaudeville career as one of the only ways to succeed as a newcomer in America, for example Bob Hope a vaudeville veteran. Vaudeville performers were often from the same working-class and immigrant backgrounds as their audiences.
The Vaudeville was definitely the heart of nineteenth century show business. During this time period, a lot of money was spent on leisure to relieve stress. The Entertainment business boomed and this helped put people in good spirits. The Vaudeville was a great source of amusement for all ages, from children to seniors. The audiences were often in awe and thrilled by the stunts and tricks they saw through these shows. Vaudeville was the prime way to receive some real live enjoyment. Vaudeville was a distraction that diverted citizens' attentions from their own problems in their lives that is most likely why it was so pleasurable and such a big hit.
One performer that did extremely well was Bob Hope and the Vaudeville was his training ground. He honed his abilities as an actor, comic monologist, dancer, singer, sketch comedian, and master of ceremonies. Those traits made him one of the most popular entertainers of the twentieth century. He was extremely successful and became well known on the variety stage. He had been an immigrant and had succeeded. He had an extraordinary professional career of about seventy years which probably made him famous beyond his wildest dreams. He made an appearance all over the world and so everyone knew who he was. Bob Hope is just one of the many successful Vaudeville performers.
Vaudeville was an amusement for all audiences, but it wasn't just a leisure activity, it was the first form of entertainment to the cross the boundaries of class and race. Vaudeville attracted customers of all different ages, race, size, and color. Now it was a part of American life, everyone came to see it. The producers discovered that the wider the audience it meant more income.
Vaudeville slowly became American culture and was a theatre where beginning performers could come to try for. Vaudeville is as much a part of history as the constitution or the founding fathers. Vaudeville has molded American society and the custom ways of life. Its impact hit America fast and hard and will not be forgotten anytime soon. Because of Vaudevilles the world got a small taste of all the special talented performers in one evening. This was a very special method of helping civilians enjoy pleasure and also learn about different customs. Vaudeville will always be remembered in American history as the Variety Show that rocked the world.