An Analysis of Five Guys Essay Sample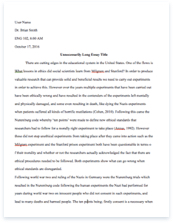 The whole doc is available only for registered users
OPEN DOC
Download Essay
Get Full Essay
Get access to this section to get all the help you need with your essay and educational goals.
Get Access
An Analysis of Five Guys Essay Sample
Five Guys Burgers and Fries (hereafter, Five Guys) opened in 1986 with a philosophy of always having fresh ingredients, employee satisfaction, and catering to customer needs. These basic tenants became the standing philosophy of the successful franchise. The company quickly stood apart from competitors in the fast food industry. By examining the values of Five Guys, it is evident how the company has been able to rapidly grow in only a few decades. Finally, assessing the culture of Five Guys demonstrates how the strength of their ethical and social practices has contributed to the success of the company. The original philosophy of Five Guys was to offer a fresh product, focus on employee satisfaction, and cater to the customer (Welch, 2010). By offering a high quality fresh product throughout all stores they differentiate themselves. Jerry Murrell, the founder of Five Guys stated: Sell a really good, juicy burger on a fresh bun. Make perfect fries. Don't cut corners.
The meat for the burgers—80 percent lean—is always fresh, never frozen. At Five guys, they soak the fries in in water so when the fries are pre fried, the water boils, forcing steam out of the fry…the fries don't absorb any oil, and so are never greasy (Boone & Kurtz, 2012, p 78). Some fast food chains strive for fresh products but do not compare to the overall quality that Five Guys provides. For example, Five Guys ensures the buns are fresh every day, even if the store is hundreds of miles from a bakery (Boone & Kurtz, 2012, p. 78). By having fresh ingredients in all facets of the operation, the company is a minority within the fast food industry. While many fast food chains boast of fresh products, they typically have many menu items that are premade or frozen. Due to their philosophy of providing fresh ingredients, customers frequently return to the establishment for the taste and quality.
Five Guys has also acknowledged the importance of keeping their employees happy and feeling valued in order to maintain expectations of quality and productivity. Twice a week, stores are randomly evaluated to determine performance. If employees are working at company expectation, they will receive a monetary bonus (Boone & Kurtz, 2012, p. 78). The company takes 1.5% of the profits from stores to pay the incentive, rather than using the funds for marketing (Welch, 2010). Though it is a small monetary amount taken from the company, the hardworking employees benefit greatly and the standards for services remain high. Marketing to the customers needs is another key factor that has led to the success of Five Guys. Initially, recommendations from satisfied customers encouraged new people to try the food (Boone & Kurtz, 2012, p. 78). After building some popularity, Five Guys used social media to market the restaurant.
Compared to many other fast food establishments that have couches, televisions, or wireless internet to attract customers, Five Guys has simple décor. The restaurants typically have tile flooring, seating, and lack play zones for children. The company's marketing philosophy is to focus on the food experience while dining at the establishment. Restaurant critic Jared Garrett stated, "This simple, somewhat retro model is working well. Five Guys Burgers and Fries now has over 625 locations in more than 40 states, as well as in 4 Canadian provinces" (2010, paragraph 10). It is important to note that Five Guys does not have a drive-through window, a staple of the fast food industry. This was done to ensure that the customers are receiving quality products, rather than focusing on speed. Strong marketing of their simplicity in excellent service has been a contributing factor to the growth and success of Five Guys.
When identifying the factors that led to the success of Five Guys, it is important to consider the company's development in franchises. The Murrell family created the first store with their sons, utilizing their own savings to develop Five Guys in Arlington, Virginia (Welch, 2010). Because the family was able to independently create the restaurant without significant assistance from financial institutions, they developed a philosophy of not relying on banks with franchises. Jerry Murrell indicated, "We accept only financially sound franchisees who can weather the storms without the help of banks" (Welch, 2010). By not relying on banks, Five Guys can utilize all profits for expansion and avoid the hassles associated with loans. The Murrell family's philosophy during the development of Five Guys has led to the franchise development.
A second factor that has led to success of Five Guys has been the simplicity of food products; the franchise exclusively sells hamburgers and french fries, improving the taste and quality of a simple meal. Five Guys has tried other products, like hotdogs, before returning to the core concept that has made the franchise profitable. As Burke (2012) writes after an interview with Mr. Murrell about franchisees, "Murrell always sticks to his guns. When he analyzes the demise of franchises like Boston Market, he sees one constant: 'They all started to offer too many items and got away from their core.'" Murrell saw how different businesses started to lose profit by expanding their product lineup and chose to keep Five Guys service basic to ensure success.
A third factor that has influenced the success of Five Guys is their adherence to providing fresh and affordable product, as mentioned previously, even when ingredient prices rose. For example, in 2005 a hurricane destroyed a tomato crop and prices increased; some franchises wanted to use less tomato, but the Murrell's would not compromise the product and continued to offer customers the product, despite the price increase (Welch 2010). Additionally, Five Guys does not offer coupons to customers, unlike many other fast food chains, indicating that by reducing price too much, quality of product will be worse (Jarrett, 2010). Five Guys maintains affordable pricing and refuses to compromise the quality of a product, allowing the company to grow in profits. Five Guys practices ethical and social responsibilities in order to maintain their success. Five Guys strives to be ethically responsible by providing fresh, chemical free ingredients to their customers.
As stated by Gonya (2010): The buns are made specifically for the company, without preservatives, and, the potatoes are chosen for their ability to become the best possible fries. Peanut oil is the frying oil of choice. There is no trans-fat, and greasy fries are not an option. In regards to their social practices, Five Guys has a Facebook page, Twitter account, and uses Foursquare to promote their product. This paperless marketing allows the company to reach more customers at a minimal cost. Part of their culture also includes utilizing customers as a marketing strategy, allowing their product to speak for itself (Boone & Kurtz, 2012, p. 78). These practices contribute to the ability to provide the bonuses to their employees, as described earlier. Ensuring fresh product, limiting marketing costs, and improving quality of service through incentives has assisted in the success of Five Guys.
Five Guys started with one store in 1986 and currently has 1,000 in 47 states and Canada ("About Us: The Five Guys Story," 2013). By analyzing the philosophy of the franchise, it is evident to see how the growth was possible. The Murrells have maintained their core values throughout their expansion and have observed what practices do not work with other franchises. Their social and ethical standards have aided in their success, providing the best ingredients and encouraging good service within the restaurant. Five Guys has stayed true to their core values of fresh food, keeping employees happy with incentives, and providing customers with a great product more than twenty years after the company was founded.