An Explanation of Child Protection Essay Sample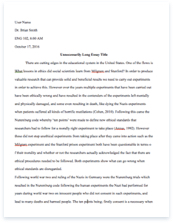 The whole doc is available only for registered users
OPEN DOC
Get Full Essay
Get access to this section to get all help you need with your essay and educational issues.
Get Access
An Explanation of Child Protection Essay Sample
To demonstrate that you understand the main legislation, guidelines, policies and procedures for safeguarding children and young people, compile a folder to include the following documents: an outline of current legislation, guidelines, policies and procedures within own UK Home Nation affecting the safeguarding of children and young people. Question 1b (Weighting: 0)
An explanation of child protection within the wider concept of safeguarding children and young people. Child protection is specifically about abuse but it comes under an umbrella term called safeguarding. Safeguarding are all the things that we do and the policies and procedures we have that help keep children safe. Child protection is part of the wider concept to safeguard and promote the welfare of children and young people. It refers to the activity that is undertaken to protect specific children who are/maybe suffering from any form of abuse or neglect.
It also involves protecting children and young people from maltreatment and preventing impairment of a child's health and development by ensuring children are raised in positive circumstances by providing safe and caring environments. Parents or carers who fail to protect or care for the children they are looking after could then be taken to court and the child may be then removed from the home and placed into care. Safeguarding a child or young person is ensuring that they have the opportunity to achieve their true potential and have the right to be protected from abuse (physical, emotional or sexual), neglect or exploitation from anyone including family, friends and any professionals working with them.
Question 1c (Weighting: 0)
An analysis of how national and local guidelines, policies and procedures for safeguarding affect day to day work with children and young people including, but not limited to: childcare practice
child protection
risk assessment
ensuring the voice of the child or young person is heard (e.g. providing advocacy services) supporting children and young people and others who may be expressing concerns
Childcare Practise – The term childcare practice applies to all those who work in schools, nurseries, and other early year's settings, child-minders and children's homes. We must be aware that we have a clear and defined role in relation to child protection. Professionals working with children/young people i.e. teaching assistants, volunteers, outside agencies will need to be CRB checked (criminal records bureau). Adults working with children should also be fully trained in safeguarding children by a nominated safeguarding adviser and have the opportunity to receive training in order to develop their understanding of the signs and indicators of abuse or neglect.
Child Protection – is the responsibility of all who work with children and you need to be aware of the school's policy for reporting and recording suspected abuse. As well as observing policies and ensuring that children are secure when on site, a procedure for recording concerns and incidents if a child discloses information that concerns his/her welfare; we must make a record of exactly what the child has said in their words as well as take notes, dates and times of any meetings that have taken place between the school and other agencies. If a pupil reports anything which is a cause of concern, the school needs to make sure that it is followed up. For child protection purposes, parents must be notified if any photographs of children are to be taken which are likely to be used or seen outside the school environment.
Risk Assessments – Individual risk assessments will need to be carried out prior to any activities where children are undertaking an activity which has the potential to cause harm. This may be a school trip or items of equipment which carry potential risk. The school will have a procedure for a risk assessment which it will need to be carry out annually on the school buildings and grounds.
Ensuring the voice of the child is heard – In cases of child protection, all agencies concerned will need to ensure that the voice of the child is considered. Advocacy services should be provided in order to support the child during a time which will be difficult and often traumatic for them.
The initial response when considering child protection and safeguarding issues should always be to listen carefully to what the child says. After reassuring the child and clarifying what has happened and explaining what action will be taken, it is important not to press for any further information or to tell them that what they say will remain confidential. This is important as the child may need to talk to other adults about what has happened.
As well as every school having a safeguarding policy of their own, your local authority will have set up a body known as the LSCB (local safeguarding children board) it is responsible for ensuring that all agencies and departments that work with children and young people in the area work in unity to support the welfare and safety of children. Children and young people attend school expecting to be nurtured and taught by people who are both paid and unpaid, these adults will provide children and young adults with opportunities to learn and gain knowledge of a range of subjects. All adults have a special responsibility to the children we work with; a code of conduct provides us with a clear guideline on the types of practice that will meet these responsibilities. Good conduct not only prevents incidents and allegations that we find ourselves being an element of, but will also help to highlight any conduct (by other people) that is unsafe and unprofessional.
Question 1d (Weighting: 0)
An explanation of when and why inquiries and serious case reviews are required and how the sharing of the findings informs practice. According to the local safeguarding board regulations 2006, serious case reviews will be required in situations where a child has died due to known or suspected abuse or neglect. Sometimes reviews may be carried out where a child has been seriously harmed or suffered life threatening injuries.
Serious case reviews are used for agencies to discuss the case together and to determine the lessons which are to be learned about the way in which professionals have worked and which can work together in the future. A report will then be written which will be made public so that recommendations are known when undertaking a serious case review. The process to follow is in the DCSF publication working together to safeguard children 2010.
Question 1e (Weighting: 0)
An explanation of how the processes used by own work setting or service comply with legislation that covers data protection, information handling and sharing. The way in which the school handles information will be covered by the Data Protection Act 1998. Under this act, information which is gathered by the school in the context of safeguarding and child protection must only be used for that purpose.
Information about children will be shared with parents but only about their child. Parents should not have access to any other child's books, marks and progress at any time, especially at parents' evening. However, parents should be aware that information about their child will be shared with the receiving school when they leave the setting.
All personal information about children, including social services records should be regarded as confidential. It should be clearly understood by those who have access to it, and whether those concerned have access to all, or only some of the information. Practitioners will not discuss individual children with people other than the parents of that child, information given by parents to practitioners will not be passed on to third parties, unless they have obtained parental consent. Should there be a child protection matter concerning the parent then the Data Protection Act allows an allegation without consent, for example to apprehend or prosecute an offender, to detect or prevent a crime.
Personnel issues will remain confidential to the people involved. Any anxieties and/ or evidence relating to a child's personal safety will be kept in a confidential file and will not be shared within the setting except for the child's key worker and Manager. Question 2a (Weighting: 0)
Understand the importance or working in partnership with other organisations to safeguard children and young people. To show your understanding of this, please supply the following: An explanation of the importance of safeguarding children and young people. Safeguarding children and young people is key for all professionals who work in all settings where they have contact with children, more so children who could be more vulnerable than others such as a child who struggles with a physical or mental disability. All children need to feel safe and secure and confident that they are being taught or mentored by adults they can trust and as professionals we have a duty of care to ensure children are protected while in our care. It is of the upmost importance that the correct people, whether they are full time employees or volunteers are given CRB checks.
All agencies involved with children (more so, vulnerable children and young people) must take practical measures to make certain that the risk of harm to children/young people's wellbeing is minimised. In a school these will include a child's physical safety and security both on site and on school trips, security whilst using the internet, staff awareness and training, monitoring and record keeping and partnership and involvement with other agencies. If there are concerns about a child/young person's welfare then action should be taken and the appropriate agencies involved. As well as including these safeguarding measures in school policies and procedures pupils should also be encouraged to think about safety both when they are in the learning environment and off site, so that they develop their own awareness of acceptable and unacceptable behaviour.
Question 2b (Weighting: 0)
An explanation of the importance of a child or young person-centred approach. It is important to centre the safeguarding approach around the child or young person, as their wishes and concerns need to be taken into account to achieve the best possible outcome for them. It is important to have a good relationship with the child so the child will feel comfortable disclosing information and conveying their feelings and points of views. Having this will mean the organisation can respond in the most accurate and appropriate way. The child can then be involved in any future decisions. The organisation and carers should be there to support and explain everything to the child to try to comfort them so the situation is not so daunting and the child can explain clearly what they want for their future.
Question 2c (Weighting: 0)
An explanation of what is meant by partnership working in the context of safeguarding. As there are number of different agencies which may be involved when working in the context of safeguarding, it is important that they communicate and work in partnership to ensure the safety protection of children. Each area of expertise may need to have an input in any once case and each should be considered when discussing issues around safeguarding. A working party meeting may be called involving a number of agencies in order to discuss how to move forward in the best interest of the child. Question 2d (Weighting: 0)
A description of the roles and responsibilities of the different organisations that may be involved when a child or young person has been abused or harmed for example: social services
NSPCC
health visiting
GP
probation
police
school
psychology service.
Social Services – Children's social care has a key role to safeguard and promote the welfare of children who are in need. To do this, they must work in partnership with parents and other agencies. When concern has been raised about a child, and they are thought to be at risk, children's social care has particular responsibilities to decide on the course of action to take. If it is found that the child may be at risk of harm or abuse social workers will: ● carry out an initial assessment of children who are thought to be at risk to find out about: for example, the child's needs, the ability of parents to meet the child's needs, family and environmental factors ● meet and conduct interviews with the child and family members ● liaise with and gather relevant information about the child and their circumstances from other agencies ● take the lead during the Child Protection Conference
● take action when a child is thought to be in immediate danger.
The (NSPCC) – The NSPCC is a third-sector (charitable) organisation. Its role, as its name suggests, is to work to protect children from harm. The NSPCC is the only third-sector organisation (charity) which has the statutory power, alongside the police and children's social services, to take action when children are at risk of abuse. The NSPCC also:
● provides services to support families and children
● provides a helpline for people to call who are worried about a child
● provides a helpline for children in distress or danger
● raises awareness of abuse, for example, through advertising and training materials works to influence the law and social policy to protect children better
● shares expertise with other professionals.
Health professionals -Health professionals, in particular GPs and doctors in emergency departments, may examine children with injuries which they suspect may be non-accidental. They have a duty to alert children's social care when abuse is suspected. Health professionals may also:
● carry out a medical examination or observations of a child thought to be at risk of abuse or who has suffered abuse
● contribute to children's social care reports
● give evidence in court if a crime has been committed.
Police – The police work closely with children's social care to protect children from harm. The police have particular role to play. All forces have a Child Abuse Investigation Unit (CAIU). Their role and responsibilities include:
● making a decision on whether a crime had been committed and if so, to begin a criminal investigation gathering evidence from children's social care, other agencies and others thought to be involved
● taking emergency action if children are in immediate danger – this may involve removing the child or removing the perpetrator
● attending court to give evidence when a crime has been committed.
Schools have a responsibility to:
● develop children's awareness and their knowledge of what is acceptable and not acceptable behaviour, including when using the internet ● know, support and protect children who are identified as being at greater risk – that is, on the 'at risk register' ● provide opportunities for professional training of all staff relating to safeguarding ● put into place policies and security systems for e-learning activities, for example, provide training for children ● observe for signs that abuse may be happening, changes in children's behaviour or failure to thrive, and refer any concerns ● monitor, keep records and share appropriate information with other agencies.
Question 3a (Weighting: 0)
Understand the importance of ensuring children and young people's safety and protection in the work setting  to show this, please provide: An explanation of why it is important to ensure children and young people are protected from harm within the work setting.
It is important to ensure that children and young people are protected within the setting because it helps the child to learn and thrive. It only can happen if the child is healthy and safe and their welfare is promoted and also it gives the child to develop and achieve from an early age. Having a physical contact between the child and adult its important because it building and caring and trustworthy relationships only when handled in an acceptable and responsible manner.
An explanation of policies and procedures that are in place to protect children and young people and adults who work with them for photography and video example: duty of care
whistleblowing
propriety and behaviour
physical contact
off site visits
photography and video
sharing concerns and recording/ reporting incidents
Policies and procedures are in the place setting not only to protect children and young people but also adults who work with them.
Duty Of Care – adults in school have a duty of care towards children and young people, and should always act in a way which ensures their safety. We should remember that we are in a position of trust and always listen to children and reassure them about issues which concern them.
Whistleblowing – Every school has whistle blowing policies and procedures and these policies are put in place to provide protection for the person against victimisation or reprisals from other members of staff (physical or verbally) when the concerns are genuine and accurate. If a member of staff is the victim of reprisals then an employment tribunal may be able to take action. If any concerns about malpractice or misconduct in a school setting are raised against another member of staff then this should be reported to the safeguarding officer of the school.
Propriety and behaviour – Practitioners working with children believe that children flourish when their personal, social and emotional needs are met and where they have clear boundaries to follow for their expected behaviour. All children should learn to consider the views and feelings, needs and rights, of others and the impact that their behaviour has on people, places and objects. Staff members will help the children develop these skills with support, encouragement, teaching and setting a good example. The principles that underpin how we achieve positive and considerate behaviour exist within the programme for promoting personal, social and emotional development.
Physical contact – when working with young children, adults are often rightly concerned about having any physical contact with them because of issues around safeguarding. However, in some situations, it is appropriate to put an arm around a child e.g. if they are distressed or have hurt themselves. Young children are also demonstrative and will often hug adults affectionately. You should always act sensibly and behave reactively rather than initiating contact with children if there is nobody else around. There are some situations in which this cannot be helped e.g. if you are working with a child who has special educational needs and you need to attend to their personal care. School policy should be followed at all times.
Off Site visits – When participating in off- site visits, all staff (including volunteers) have a duty to take reasonable care to avoid injury to themselves and others, and to cooperate to ensure that statutory duties and obligations are fulfilled. Adults in charge of children or young people during an off- site visit have a duty of care to make sure that the children/young people are safe and healthy. Adults have a common law duty to act as would a reasonably prudent parent. Adults should not hesitate to act in an emergency and to take life- saving action in an extreme situation. As a safeguard to children and young people, volunteer helpers on off- site visits must be appropriate people to supervise children/young people, should be trained in their duties, and have had a CRB check.
Unqualified staff or volunteers must not be left in sole charge of children/young people except where it has been previously agreed as part of the risk assessment. There should normally be a minimum of two adults with any group involved in an off- site visit or activity; the exact ratio of adults to children/young people depends on their ages and should be appropriate for the needs of the group and in line with the relevant guidelines. Staff and volunteers should not be in a situation where they are alone with one child or young person away from the rest of the group.
Photography and video – Working with children and young people may involve the taking or recording of images. Any such work should take place with due regard to the law and the need to safeguard the privacy, dignity, safety and well being of children and young people. Informed written consent from parents or carers and agreement, where possible, from the child or young person, should always be sought before an image is taken for any purpose. Careful consideration should be given as to how activities involving the taking of images are organised and undertaken. Care should be taken to ensure that all parties understand the implications of the image being taken especially if it is to be used for any publicity purposes or published in the media, or on the Internet. There also needs to be an agreement as to whether the images will be destroyed or retained for further use, where these will be stored and who will have access to them. Adults need to remain sensitive to any children who appear uncomfortable, for whatever reason, and should recognise the potential for such activities to raise concerns or lead to misunderstandings. It is not appropriate for adults to take photographs of children for their personal use.
Sharing concerns/recording and reporting – if you have any concerns about safeguarding issue, due to what a child has said or because of your own observations, you should always share these concerns and ensure that you record exactly what has happened. In this way you will protect yourself if later on the child says that they have told you or that you knew previously. You should also inform managers if you have any concerns about other members of staff due to poor practice.
Question 3c (Weighting: 0)
An evaluation of ways in which concerns about poor practice can be reported whilst ensuring that whistleblowers and those whose practice or behaviour is being questioned are protected.
Whistle blowing is the mechanism by which adults can voice their concerns, made in good faith, without fear of repercussion. Each employer should have a clear and accessible whistle blowing policy that meets the terms of the Public Interest Disclosure Act 1998. Adults who use whistleblowing procedure should be made aware that their employment rights are protected. Adults should acknowledge their individual responsibilities to bring matters of concern to the attention of senior management and/or relevant external agencies. This is particularly important where the welfare of children may be at risk.
Question 3d (Weighting: 0)
An explanation of how practitioners can take steps to protect themselves within their everyday practice in the work setting and on off site visits.
A significant element of a practitioner's role in protecting themselves would be to read policies and procedures that are put in place to safeguard them and children or young people in their care. All staff in schools should ensure that their relationships with pupils are appropriate to the age, gender, disability and ethnic origin of the pupils, taking care that their conduct does not give rise to comment or speculation. Attitudes, demeanour and language all require care and thought, particularly when staff of either sex are dealing with adolescent boys and girls. Adults should take particular care when supervising children and young people on trips and outings, where the setting is less formal than the usual workplace.
Adults remain in a position of trust and need to ensure that their behaviour remains professional at all times and stays within clearly defined professional boundaries. Where activities include overnight stays, careful consideration needs to be given to sleeping arrangements. Children, young people, adults and parents should be informed of these prior to the start of the trip. In all circumstances, those organising trips and outings must pay careful attention to ensuring safe staff/child ratios and to the gender mix of staff especially on overnight stays. Health and Safety arrangements require members of staff to keep colleagues/employers aware of their whereabouts, especially when involved in activities outside the usual workplace.
Question 4a (Weighting: 0)
Understand how to respond to evidence or concerns that a child or young person has been abused or harmed, please supply the following: A description of the possible signs, symptoms, indicators and behaviours that may cause concern in the context of safeguarding.
As an adult working with children, you need to have an understanding of the different signs that may indicate that a child is being abused. Although you will need to do your best to ensure a child's safety while they are in your care, you also need to look out for any signs that they are being mistreated while they are out of school. The signs may include both physical and behavioural changes. There are four main types of abuse: physical abuse, emotional abuse, sexual abuse and neglect.
Physical abuse – Physical abuse is the most apparent form of child or young person abuse. It includes any kind of physical harm to a child or young person, which can include hitting, shaking, throwing, poisoning, burning or scalding, drowning and suffocating. Physical harm may also be caused when a parent fabricates the symptoms of illness in a child, or deliberately induces illness – for example, giving a child so much salt that he or she becomes very ill, so that medical staff think the child has a gastric illness or a brain condition. The signs of physical abuse are often quite straightforward to spot and can include bruises, cuts, burns and other injuries. If you notice frequent signs of abuse, it is important to take action. Less obvious signs of physical abuse may include fear of physical contact with others, reluctance to get changed for PE, wanting to stay covered up, even in hot weather and aggression.
Emotional abuse – Emotional abuse is difficult to define and can be difficult to detect. It involves continual emotional mistreatment which results in significant damage to the child or young person's emotional development. The child or young person may come to feel worthless, unloved, and inadequate or valued only if they meet the expectations or needs of another person. It also includes bullying, discrimination, racism, which takes places in the form of name calling, humiliation or teasing. The signs of emotional abuse, are that the child is withdrawn and lacks confidence, shows regression or is 'clingy' towards adults and has low self esteem. Children who suffer from emotional abuse are likely to be anxious about new situations and may show extremes of behaviour or appear distracted and unable to concentrate.
Sexual abuse – Sexual abuse involves forcing or encouraging a child to take part in sexual activities. The child may or may not be aware of what is happening. Activities may involve physical contact (such as rape, including forced anal sex or oral sex) or non- penetrative acts like touching or masturbation. The abuse may include non- contact activities, such as involving children in looking at or in the production of sexual images online or on mobile phones, watching sexual activities or encouraging children to behave in sexually inappropriate ways. The signs of sexual abuse may include sexual behaviour which is inappropriate to the child's age, genital irritation, clinginess or changes in behaviour, regression and lack of trust of adults. Sexual abuse can be almost impossible to identify and its signs can be caused by other forms of abuse. It is therefore important that any signs are seen as possible rather than probable indicators.
Neglect – Neglect means that the parent persistently fails to meet the child's basic physical needs, psychological needs or both. Provide adequate food, clothing and shelter . Keep the child safe from physical and emotional harm or danger. Make sure the child is seen promptly by medical staff when ill. Neglect can occur during pregnancy if the mother abuses drugs or alcohol, which can have serious effects.