Analysis of Annie Dilliard's "Living Like Weasels" Essay Sample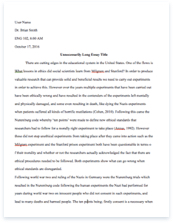 The whole doc is available only for registered users
OPEN DOC
Download Essay
A limited time offer!
Get a custom sample essay written according to your requirements urgent 3h delivery guaranteed
Order Now
Analysis of Annie Dilliard's "Living Like Weasels" Essay Sample
Annie Dillard's essay "Living Like Weasels" offers its readers a unique comparison between the life of weasels and the life of human beings. It seems that one of Dillard's principal objectives is to appeal to all types of people so that all can enjoy her writing. Therefore, Dillard uses stylistic choice to make her story more universally understandable. This essay examines four different realms of discourse in detail. In the first two paragraphs all types are demonstrated including the children's story, objective or naturalistic, scientific and poetic approaches. These realms of discourse are established in the beginning and can be seen again throughout the essay.
As the essay begins, the sense of a children's story is very much conveyed. "A weasel is wild. Who knows what he thinks? He sleeps in his underground den, his tail draped over his nose." These first three sentences give an introduction to the topic and describe the basics about a weasel. The short sentences are typical of children's story writing as well as the simple ideas. Dillard uses this type of introduction to appeal to all types of readers and to establish her ideas in a very elementary type style.
Throughout the entire rest of the story, this childlike approach continues as Dillard describes the actual account she once had with a weasel. It is very descriptive and almost journal or diary like. The bulk of the story follows this pattern and although the vocabulary becomes more complicated and a little more trivial, the sense of a children's story is still present. By using this technique throughout the essay, the reader is able to easily follow the story and acquire a true sense of what the author's message is.
A second realm of discourse used is the objective or naturalistic approach. This is also seen in the beginning of the story when Dillard talks about an account where a naturalist came in to contact with a weasel and refused to kill him. This shift to someone else's dealings with a weasel shows this objective style. The purpose of this shift is to show everyone can relate to an incident, not just the author. By telling someone else's account of a similar situation, the idea is established that this could happen to anyone.
This style is seen throughout the essay as more of a naturalistic approach. In Dillard's personal encounter with a weasel, many of her descriptions of the animal are very naturalistic in style. This type of writing gives feeling to the story and makes it come alive. By describing the encounter in such a naturalistic, realistic way, the reader gets a true sense of what is going on and the sense that it is very real.
The third approach seen in the essay deals with a scientific approach. The scientific approach is mainly centered in the beginning with a stylistic technique. Dillard says, "The supposition is that the eagle had pounced on the weasel and the weasel swiveled a bit as instinct taught him, tooth to neck, and nearly won." A scientific style is evident by the use of the word supposition. This word is an example of nominalization, or when a verb is turned into a noun. This technique is seen continuously in scientific and academic discourses. The scientific approach fits well in the essay since it deals with animals. Dillard uses this to show a little more complexity with her idea she is conveying and to also to give an accurate interpretation of what exactly is happening. The scientific approach gives the essay more of a technical view of weasels, which in turn, gives a better understanding of the animal.
The scientific discourse is not seen as much throughout the rest of the essay. Its focus is merely in the introduction to give a different type of appeal, as well as to convey accuracy in the essay.
Finally, as the introduction concludes, a poetic discourse is established. Dillard states, "…before his breast, bending his beak, cleaning the beautiful airborne bones?" She uses the poetic style to enhance the universal appeal. Poetry is, by far, the most universal type of writing there is. All types of people relate well to poetry and by concluding the introduction with this style, she conveys that her essay is appealing to all and her writing is easily understandable.
This poetic approach also appears at the conclusion of the entire essay. It is almost as if you are reading a poem in the end. "Seize it and let it seize you up aloft even, till your eyes burn out and drop; let your musky flesh fall off in shreds, and let your very bones unhinge and scatter, loosened over fields, over fields and woods, lightly, thoughtless, from any height at all, from as high as eagles." For Dillard to conclude with this universal style, it allows her message to be thoroughly understood. She wants her message to be received and she does it in the most poetic way in the end.
In using several different styles of discourse, the writing becomes unique to that of the author. In this essay, it is obvious that Dillard is attempting to appeal to all and therefore uses approaches that are easily understood by all. Her message is important and one that is directed towards all types of people. The universal approach works well and allows her complexity of ideas to be interpreted in the simplest manner.