Analysis of Joy Williams' Save the Whales, Screw the Shrimp Essay Sample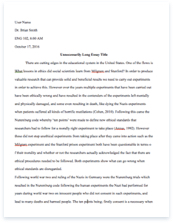 The whole doc is available only for registered users
OPEN DOC
Download Essay
A limited time offer!
Get a custom sample essay written according to your requirements urgent 3h delivery guaranteed
Order Now
Analysis of Joy Williams' Save the Whales, Screw the Shrimp Essay Sample
Analysis of "Save the Whales, Screw the Shrimp" by Joy Williams "Save the Whales, Screw the Shrimp" by Joy Williams is an essay directed towards the human race, and how nature is being ruined by it. The human race is a large audience, but she believes that everyone is responsible for the destruction of nature, except herself of course. Williams wrote in such a satirical way, giving herself an advantage, or authority, over the audience. She showed such authority in that she used second person throughout the entire essay, as if demanding her audience to listen to what she had to say- "I don't want to talk about me, of course, but it seems as though far too much attention has been lavished on you lately…" (Williams 581). By using second person and such strong tone toward the audience, she certainly made an impression.
She always regarded nature as to having very great, significant importance to her, as it should, as she capitalized nature as though one would with God. The exigency that Williams addressed is that appreciation for nature has all but nearly diminished to the human race as of today- "…you don't believe in Nature anymore" (Williams 581), and, according to Williams, if we don't reverse it then our Earth will become a very dead one- "…making you increasingly aware that you're a little too late for nature" (Williams 583). This last quote certainly appealed to my personal emotions, and possibly to others readers' pathos. It made me feel bad that I don't spend much time outside trying to save the environment, make it better, etc. But what good would it do, right? Because according to Williams, it won't do any good since we are, after all, too late for nature. Williams, Joy. "Save the Whales, Screw the Shrimp." 8 Feb 2010.