Analysis of western films "Shane" and "High Noon" Essay Sample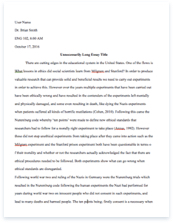 The whole doc is available only for registered users
OPEN DOC
Download Essay
Get Full Essay
Get access to this section to get all the help you need with your essay and educational goals.
Get Access
Analysis of western films "Shane" and "High Noon" Essay Sample
In the genre of western films, the hero plays a key role. In many films the American people have turned their attention to more constructive pursuits, such as battling nature to progress America's future rather than each other. In between this wild country fraught with danger and corruption lies the role of the hero. The hero is usually portrayed as an individual with exceptional skills who through their abilities rids a town of the corrupt elements that lurk from within. In many cases, however, the hero's skills are not enough. His relationship and interaction with the community serves as a marker to determine how successful he will be. In the films Shane and High Noon with heroes have attempted to integrate themselves into their respective communities. This gives them away to identify with the community, giving them incentive to defend their communities from elements which pose as a threat to them.
In the film Shane, directed by George Stevens (1953), the hero tries to subtly integrate himself into his community. Instead of riding into town, Shane, (Alan Ladd) is perceived through the young and carefree eyes of a child. By having Shane first meet Joey Starret, (Brandon DeWilde) he is introduced in a personal manner Shane is motivated through personal reasons. He desires a life free of controversy and war and hopes to live the life of an average settler. The lifestyle of the Starret family and the other settlers amplifies the notions of a simpler life that Shane finds appealing. It offers a way for Shane to escape his past by working to create a simple yet honest community. Shane does not wish to dominate the existence of the other settlers but join them and collectively work together. It is for this reason he is incensed to defend the community from Ryker (Emile Meyer). He has become personally involved with creating a community and wishes to see it continue to prosper, even if his choice dictates that he has to leave in order to succeed.
Kane (Garry Cooper), in High Noon directed by Fred Zinnemann (1952), is a more extroverted hero than Shane and has greater plans to reform the town than merely just driving out the criminal element. Kane's entry to the film is also much grander. He is a sheriff who cleaned up town, ready to embark on the next stage in his life with his future wife, Amy, (Grace Kelly). Moments after the ceremony he learned that the a dangerous criminal has been released and is returning to seek revenge. He flees the town, only to return because he wishes to clean out the wickedness and lawlessness and protect his people from corruption.
This creates the allusion of Kane being a much more romantic hero and having greater plans than merely just wanting to build a safe community. To do this he introduces reforms that not only remove the criminal element, but also set a moral tone for the community. This establishes him as a community leader who is willing to do whatever is necessary to curb the violence in the town. People do not respect him for who he is and what he has done for the community, and not who he is as a person. This fact sets him apart from Shane. Kane's actions are dictated by his own morals and beliefs, not from any kind of loyalty or friendship to any individuals.
The use of clocks in High Noon is emphasizes the importance of time and also provides a running commentary for the viewer on how much time Kane has left. The secondary storylines, such as the break up of Kane's marriage to Amy, Harvey's (Lloyd Bridges), resignation as deputy and Hellen's (Katy Jurado) background with Miller (Sheb Wooley), are supported by the use of real time editing. Kane's marriage occurred less than two hours before he heard the news of Frank's coming. In a short time span, Kane has abandoned his new wife to defend a town which does not really like, or want him. This action shows Kane's callousness but also his morals of responsibly and obligation. Harvey's resignation, and ultimate abandonment of Kane in his time of need, is emphasized using clocks because Harvey abandoned Kane an hour before Frank was due to arrive. This highlights not only the cowardice of Harvey, but also the loneliness Kane experienced. Hellen's background with Miller is not fully revealed, however the audience is aware of its severity due to real time editing.
Hellen was preparing to liquidate her business at half-price, and leave her home town within a few hours after hearing of Miller's arrival. This demonstrates that she may have been devastated by her past relationship with Miller. Hellen and Amy both prepare to leave town on the noon train – the same train Miller is to arrive on. It is interesting that when the clock strikes noon, the frequent cutting to clocks comes to an end. The climax has been reached; noon has arrived with the train carrying Miller. The majority of the High Noon film, taking place prior to noon, is a build up to the arrival of Miller. As the minutes tick by, suspense and anticipation builds. The action sequence after noon between Kane and the Miller gang, compensates for the loss of the suspense that is so critical before noon.
In High Noon the audience is encouraged to relate to Kane and his feelings of abandonment and loneliness. Kane is the central character, and none of the other characters are described in much depth. Kane is therefore the only character with whom the audience can relate. Kane's isolation in his time of need is amplified by the fact that the his town people, wife, best friend and his deputy all abandon him at the first sign of trouble. They leave Kane no time to find an alternative. He must battle the entire Miller gang alone. Because Kane's feeling of hopelessness, the audience sympathizes with him.
In Shane, the relationship between Shane and Joey Starret is important because much of his humanity that is shown is revealed through his interaction with the eyes of a child. Through Joey we are presented with the benefits of why Shane should stay with the Starrets. They represent stability and the predictability of life, which Shane attempts to integrate himself into by the symbolic removing of his moleskins and the donning of working denims. Shane can also be seen as a rival father for Joey because of the boy's hero worship of him. This relationship is crucial because apart from allowing us as an audience to see Shane's human side, it also forces Joey to mature. He loves Shane but is brought to realize that he cannot become a permanent part of his life because of the lifestyle he lives. Shane may be a brave and noble figure who surpasses the tame daily life of the Starret family, but his lifestyle lacks the stability to successfully raise a family. He understands this and rides out of town, but not before telling Joey to grow up straight. Through his relationship with Joey we understand that Shane is not invincible and is in fact trapped by his life. He is forced to live alone in a world where the skills of a lone gunman are becoming obsolete and a stable domestic life has become the social norm.
Frank Miller is also important in High Noon. Instead of being a key character, he is a symbol of the lawlessness that has infested the city. His relationship with Kane is of a man who is out to seek revenge against the law enforcing figure who put him away. It is this that prompts Kane to remain and fight. Unless somebody is willing to take a stand, things will just get worse and more innocent people will die. For this reason Kane's actions could be seen as more heroic than that of Shane's. He is willing to risk his life for a principle, making the town safe for women and children, rather than because of personal connections he has made with the films characters.
Shane's relationship with the community can also be judged by the way he interacts with the film villain, Ryker (Emile Meyer). At first we judge Ryker to be nothing more than a typical thug, who attempts to destroy Starret and the other homesteaders lives for profit. However, as the film progresses we can see many similarities between the two of them, which also promote Shane's isolation from society. They are both outdated concepts in a rapidly changing world. . He belongs to a different era, as does Ryker. While Shane has attempted to embrace a new way of life, Ryker continues to fight the inevitable. This leads to his death at the hands of Shane. Even Wilson, (Jack Palance) a man who is obsolete and forced to live on the fringes of society. Both he and Shane lived in a different era that has long since elapsed. Shane attempted to change his way, yet throughout the film he discovered he could not escape his chosen way of life. Wilson, who like Ryker chose not to attempt to integrate himself into society, died for his way of life at Shane's hands. This death was Shane's final realization of how outdated the life of a gunfighter was. He must live out his life in seclusion, a stranger in a world that no longer needs those adept in the ways of killing.
Kane on the other hand still maintains his usefulness to society at the films conclusion. Kane's role was to protect the town from the lurking corruption and vice. This validates his role as a gunfighter in society. He also holds the office of marshal and is charged with maintaining law and order. Unlike Shane, he does not merely kill for those who offer the most money. The innocents and Kane himself are in danger. He is a man with morals, and therefore decides to get involved in ending's climate of corruption. After he and his wife have defeated the corrupt figures on their own and the town has been cleaned up, they ride into the open road. Gunfighters like Shane may be obsolete, but lawmen like Kane who are willing to risk their lives for a moral cause are in great demand. This validates the transitional nature of frontier America. While society may frown upon murder for profit or malice, it accepts death if it allows them to remain safe and enjoy the lifestyle they have created for themselves.
Romantically, Shane is again an outcast of society. This is again because of the lifestyle he has chosen. He may have feelings for Mrs. Starret played by Jean Arthur, but he has buried them beneath his desire to live the life he has made for himself. Shane recognizes that Mrs. Starret needs the stability of domestic life, not the company of a man who could soon be killed in a gunfight. Another reason he does not act upon his feelings for Mrs. Starret is that he is conforming to the social codes of the day. Shane is forced to live alone on the fringes of society without any kind of lasting human connections or comfort.
Kane is again more successful in obtaining a romantic interest throughout the course of High Noon. His actions are justifiable and he can be seen as a romantic hero because of his honesty. Clearly Kane wears a badge but this by no means grants him respect. The badge on his chest indicates justice and a responsibility to the truth and the law. This raises his status above that of a gunfighter. He lost the people's support, as they are the one's who made him marshal. Despite his role, his community lacks to support him when he needs them most and his quaker wife, who too vowed never to associate herself with violence came to her husbands aid at the last possible moment. Shane is forced to live an isolated existence because he is not a representative of the law, whereas Kane who represented the law left his town because his services were not appreciated.
Shane and Kane portray opposite characters. Shane kills for a living and his lifestyle have no fixed points that anchor them anywhere, where as Kane portrays a figure who upholds the law. Both Kane and Shane, however, do not have the respect of the community and nor their support to fight their oppressors. Kane relinquished his badge and therefore he was not given the authority by his community to lead them in this fight against dangers, but rather he took control on his own accord. Shane has to be content with being a social outcast. He may be heroic but society does not accept him, even looking down on him because he has the ability to kill without anybody's authorization. Kane lacks the popularity of being the peoples hero, where as Shane has to live in the shadows, doing the more distasteful jobs because even though he may do the same job as Kane, he does not have a tin star that represents social authority.