Analysis Twitter and Facebook Essay Sample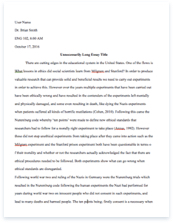 The whole doc is available only for registered users
OPEN DOC
Download Essay
A limited time offer!
Get a custom sample essay written according to your requirements urgent 3h delivery guaranteed
Order Now
Analysis Twitter and Facebook Essay Sample
When it comes to the topic of social media, many will vilify Twitter and Facebook. This is true of authors Gladwell and Baron. Whereas Gladwell states that social media is not the adequate tool to organize social or political activism, Baron maintains that even without social media available, people will continue to fight for what they believe in. One way that each other tries to persuade the readers is through logos. Gladwell begins talking about the sit-ins that happened in Greensboro in 1960 and continues giving other examples of activism.
On the other hand, Baron uses less but more concise evidence to communicate his thought to the audience. However, it is evident that they both discount social networking as the innovator of great social change. Gladwell describes multiples examples of protests and doing so he builds his credibility to support his argument. The author starts describing in detail the Greensboro sit-ins underlying how this protest gathered thousands of students "without [using] email, texting, Facebook, or Twitter" (Gladwell, 2010).
He emphasizes the fact that this type of activism, known as high-risk activism, originates thanks to the strong ties between rebellious. Therefore, he belittles the principles of social media as they "are built around weak ties" (Gladwell, 2010). He then argues that activism succeeds when it works through a hierarchical organization, with "centralized leadership structure and clear lines of authority" (Gladwell, 2010). Facebook and Twitter are devices that build networks, which do not have a central authority and so "decisions are made through consensus" (Gladwell, 2010) within the people belonging to the group.
Gladwell applies the principles of logos throughout the whole article, and provides various examples that reinforce his argument. Baron, on the other side, uses one main example to support his statement. He mentions the fact that Twitter, Facebook, smartphones, and the internet were acknowledged to have helped the overthrow of President Mubarak in Egypt. He reckons that the role of social media in the Middle East revolution is overemphasized, because only a very small part of the population of these countries has access to the Internet.
He compares the use of government shutdown of the internet as the equivalent to burning books that are contrary to the common beliefs, or to the presence of "an official do-not-read list" (Baron, 2011). He also describes how "these technologies can foment revolution" (Baron, 2011) but also how they "can be used to suppress dissent" (Baron, 2011). They are used by the governments as they "spark fear and distrust" (Baron, 2011). At the end, Baron conveys the idea that social media helps bring protestants together admitting that "it is no surprise that the uprising Egypt took advantage of cutting-edge communications" (Baron, 2011).
Nevertheless, in person activism is more reliable and word of mouth, called by the author "sneakernet" (Baron, 2011), is the best way to foment and originate a revolution or change. Gladwell speaks with confidence without sounding arrogant. He efficiently depicts his argument using considerate diction and eloquence. Thanks to his knowledge and experience, he is able to convey his ideas through the writing style and language, as well as through the outline of the article in which he builds his statement.
In fact, by the way of portraying examples and highlighting a fact that follows the example itself, Gladwell improve his credibility. This method underlines his knowledge in the social sciences area, which reinforce the validity of his argument. He employs efficient word choice that can be understood from the general population, but have a higher education quality. Being an experienced journalist, he knows how to persuade the readers in order to make them believe in what he is writing. He does not rely only on his credibility but, through the use of multiples examples, he builds an argument that would be hard to challenge.
Furthermore, he uses emotional appeal through emphasizing some stories, such as the Greensboro sit-ins, as well as diminishing other stories, such as Evan and the Sidekick that almost gets ridiculed. These stories are the examples he uses to strengthen his assertion. Altogether, it builds his ethos and pathos and develops trust in the readers and makes them more inclined to agree with his argument. Therefore, he establishes an increasingly strong rhetorical argument. Similarly, Baron also speaks with conviction and is realistic about the situation he depicts.
Yet, the way he builds his argument is not appealing to the readers. His credibility is created around his knowledge of technology and linguistics but does not completely reinforce the argument as it should. The information collected about the Egyptian Revolution and his experience show that he is knowledgeable and capable of creating a reputable article. This can also be asserted from the use of Latin words, such as "imprimatur", that affirm he is well educated and intellectually aware. However, Baron's writing is not memorable and leaves the readers wondering about the statement he is making.
In addition, he seems overconfident in some observations; he states that "Americans can't seem to survive without the constant stimulus of digital multitasking" and that "much of the rest of the world barely notices when the cable is down, being preoccupied instead with raising literacy rates, fighting famine and disease, and finding clear water [… ]" (Baron, 2011). This is also an example of dark irony, which not everyone recognizes and appreciate. Consequently, his use of irony limits his audience to a specific group of individuals, as well as making it difficult for him to persuade the readers to correspond his assertion.
He therefore does not build trust and does not pursuade the readers to agree with his argument. Gladwell and Baron both discuss the impact of social media, specifically Twitter and Facebook, and the ways in which they are able to originate a revolution or a change in the society. They both agree that change does not rely on social networking. Baron states that it is also true that it may help spread information in order to gather rebellious, whereas Gladwell strongly believes that social media is not the tool that should be used to start activism.