Anne Frank: Growing Up in the Annex Essay Sample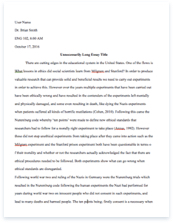 The whole doc is available only for registered users
OPEN DOC
Download Essay
A limited time offer!
Get a custom sample essay written according to your requirements urgent 3h delivery guaranteed
Order Now
Anne Frank: Growing Up in the Annex Essay Sample
Growing up as a young girl is hard enough. For Anne Frank, the challenge was intensified by her captivity in the Secret Annex. She faces puberty within confined quarters and defines herself as a woman along the way. Anne goes from a young, immature girl to a growing woman despite the extremes conditions of the war outside waged by the Nazis.
Before going into hiding, Anne is a normal young girl whose only concerns are of school, friends and boys. Her life suddenly changes when her sister, Margot, receives a call-up notice from the SS. The Frank's go into hiding at the Secret Annex.
After arriving at the Annex, Anne misses her cat very much. Anne describes her cat, "Moortje is my weak spot. I miss her every minute of the day, and no one knows how often I think of her; whenever I do, my eyes fill with tears" (29). Anne occupies most of her time by grumbling about the other occupants of the Annex and studying. She fantasizes about what she will buy when the war is over, and also about getting her period for the first time. On discussing her growing excitement about getting her period, Anne goes back later and discusses her own immaturity by saying, "It embarrasses me greatly to read the pages dealing with subjects that I remembered as being nicer than they actually were. My descriptions are so indelicate" (59).
As time goes on, Anne feels that her family can not possibly understand her. She starts to separate herself from the group. Anne finds it harder to occupy her time. She waits for the war to end, while biding her time as best as she can.
It is obvious when Anne starts to have those familiar feelings of puberty. She talks less of the ongoing battles of the people of the Annex, and more of her sexuality and her growing body. Anne discusses how she feels about her period saying, "in spite of all the pain, discomfort and mess, I'm carrying around a sweet secret" (158-59). She longs for a relationship with the opposite sex; by default, Peter becomes the object of her affection.
Anne becomes bolder in her independence. She writes a letter to her father declaring her independence. Anne tells her father in her letter that, "she is an independent person, and I don't feel the need to account to you for my actions" (279). Anne reflects on her own maturing by saying, "I've changed quite drastically, everything about me is different: my opinions, ideas, critical outlook. Inwardly, outwardly, nothing's the same" (234).
When she first got to the Annex, she was annoyed at her mother's need to talk of spirituality to her. As time goes on, Anne talks more about God and her own spirituality. Anne's faith in God is shown when she says, "God has not forsaken me, and He never will" (244). Close to the end of her days at the Annex, Anne embraces her faith. Anne describes her view on religion as, "You don't even have to live in fear of eternal punishment; the concepts of purgatory, heaven and hell are difficult for most people to accept, yet religion itself, any religion, keeps a person on the right path" (321).
Anne remains optimistic throughout her stay at the Annex. She constantly hopes that the war will end, and she will get to go back to her life. Towards the end, Anne's view of the war matures and she just wants it to end. She just wants something to happen. She says, "Let the end come, however cruel; at least then we'll know whether we are the victors or the vanquished" (304).
Anne's growth into a woman, body and mind, is undoubtfully harder to deal with under her conditions. She deserved to have space, sunshine and companionship like every other teen. Unfortunately, that privilege was not for Anne to have. If she just had the opportunity, I could only imagine what she would have accomplished as a grown woman…and a survivor.