Annual Report Comparison Essay Sample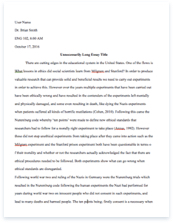 The whole doc is available only for registered users
OPEN DOC
Pages:
Word count: 896
Category: assets
Download Essay
A limited time offer!
Get a custom sample essay written according to your requirements urgent 3h delivery guaranteed
Order Now
Annual Report Comparison Essay Sample
Annual report is distributed to current shareholders and potential investors. Employees (who today are also likely to be shareholders), customers, suppliers, community leaders, and the community-at-large, however, are also targeted audiences. Annual report is published and sent to all shareholders, investors, suppliers and creditors. An online copy of annual report is also available for other consumer's interest.
2.
The annual report serves many purposes. Stakeholders will require financial information to get an understanding of the performance of the organization. It provides management with an opportunity to praise employee innovation, quality, teamwork, and commitment, all of which are critical components in overall business success. Employees also are often shareholders. So, like other shareholders, these employees can use the annual report to help gauge their investment in the company. Customers want to work with quality suppliers of goods and services, and an annual report can help a company promote its image with customers by highlighting its corporate mission and core values. By highlighting internal measurements of quality, innovation, and commitment, annual reports can send an implicit message to suppliers about the company's expectations of outside vendors.
3.
Annual report financial information includes income statements, balance sheets, cash flows, statements of comphrensive income and statements of changes in equity. Income statement- The income statement is one of the major financial statements used by business organisations. The income statement is important because it shows the profitability of a company during the time interval specified in its heading. Income statement of Commonwealth bank income statement shows that income has increased in different areas of revenue. For example: interest income, premium from insurance contracts and net banking operating income are the major contributors in net profit.
Balance sheet- Balance sheet is a summary of the financial balances of business organisation. A balance sheet is described as a snapshot of a company's financial condition. A standard company balance sheet has three parts: assets, liabilities and ownership equity. The difference between the
assets and the liabilities is known as equity of the company Commonwealth bank balance sheet shows that it is well placed with its assets versus liabilities ratio. It also shows that bank is trying to increase its cash and liquid assets which improve the value of its stakeholder's equity. Cash Flows- A cash flow statement is a financial statement that shows how changes in balance sheet accounts and income affect cash and cash equivalents, and breaks the analysis down to operating, investing, and financing activities.
Essentially, the cash flow statement is concerned with the flow of cash in and out of the business. As an analytical tool, the statement of cash flows is useful in determining the short-term viability of a company, particularly its ability to pay bills. Commonwealth bank cash flow statement shows that its cash and cash equivalents are reduced by considerable size due to loss in investing and financing activities. Changes in Equity- A statement of changes in equity summarizes the movement in the equity accounts during the year namely share capital, share premium, retained earnings, revaluation surplus, unrealized gains on investments, etc.
A statement of changes in equity is an important component of financial statements since it explains the composition of equity and how has it changed over the year. Commonwealth bank changes in equity shows that value of share capital, retained profits were improved and retained earnings were also increased. Comprehensive income- Comprehensive income (or earnings) is a specific term used in companies' financial reporting from the company-whole point of view. Because that use excludes the effects of changing ownership interest, an economic measure of comprehensive income is necessary for financial analysis from the shareholders' point of view. Commonwealth Bank statement of comprehensive income shows that income of equity holders of bank is increased during the financial year.
4.
The Group's net profit after tax ("cash basis") for the year ended 30 June 2012 was $7,113 million, which represented a 4% increase on the prior year. Earnings per share ("cash basis") increased 2% on the prior year to 449.4 cents per share, whilst Return on Equity ("cash basis") decreased 90 basis points to 18.6%.The Group delivered a solid financial performance in a challenging environment impacted by ongoing volatility and uncertainty in global markets. This result reflects the Group's financial strength and continued momentum despite the subdued credit growth environment, the impact of increased domestic deposit and wholesale funding costs, and difficult trading conditions for the markets-related businesses.
5.
Commonwealth bank generates superior shareholder returns by optimising revenue growth, productivity, capital efficiency and staff culture. The future strategy is to invest in the competitive advantages that are difficult to replicate. The bank lay down its three primary sources of advantage as industry-leading application of technology to financial services, a customer-focused staff culture and a strong balance sheet.
Each of these respectively supports returns on equity by making bank more attractive to customers in a multi-channel banking world , enhancing customer loyalty and satisfaction, and reducing bad debts expense below peers. Lower losses on bad debts will give bank more room to price keenly to win and retain business while remaining sufficiently profitable. The group will continue to invest in all three sources of advantage. Commonwealth bank industry-leading technology future initiative is the $1.1bn Core Banking Modernisation project, which rolled out real-time banking and same-day settlement.