Aphrodite of Knidos Essay Sample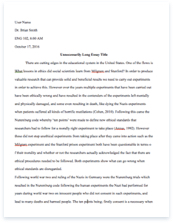 The whole doc is available only for registered users
OPEN DOC
Download Essay
A limited time offer!
Get a custom sample essay written according to your requirements urgent 3h delivery guaranteed
Order Now
Aphrodite of Knidos Essay Sample
Aphrodite of Knidos (Figure 1) was a revolutionary sculpture in terms of Grecian art, as it inspired many artists in the future to attempt to capture Aphrodite's beauty and sexual ambiguity in the nude. Initially commissioned to be created by Praxiteles for a temple on the island of Kos, the sculpture was bought by Knidos. This was due to the fact that it had been severely rejected in Kos, caused by the exposed nature of the goddess. The sculpture itself, in the way Aphrodite was presented, began to symbolize different aspects of Aphrodite's personality and divinity. Thus the sculpture by Praxiteles became the foundation for later female nudes and began to change the Grecian perspective of the nude female taboo.
In the attempts to illustrate how Praxiteles' Aphrodite of Knidos changed the nature of subsequent depictions of the goddess, further Roman replicas of Aphrodite statues will be compared to the Aphrodite of Knidos. These include Aphrodite (Venus dei Medici- Figure 2) and Aphrodite from Rhodes (Crouching Aphrodite) (Figure 3), in which parallels will be drawn to the Aphrodite at Knidos for stylistic similarities, portrayals of the goddess, and postures.
According to several sources, Aphrodite of Knidos was the first and very revolutionary nude female statue. This statue was considered scandalous in Greece at the time because, "Before that, public taste had not readily accepted statues of a goddess undraped." (Alexander 254) The reason that a female nude had never been created before this time was due to, "social mores of Greek society…" and the tradition in which, "Men had been naked in Greek sculpture for over 350 years…." This allows one to conclude that, "…Aphrodite [of Knidos] was the first full-sized naked female sculpture in Greek history," (Scott, "The Scandal of Praxiteles' Aphrodite"). By breaking the centuries old tradition of concealed female sculptures, Aphrodite of Knidos became the "canon for the female nude" (Grout, "Aphrodite of Knidos"). This is clearly seen with the similar posture of Figure 2, Aphrodite (Venus dei Medici) to the original sculpture. Furthermore, Aphrodite of Knidos changed the way Aphrodite's personality and divinity was portrayed. Being the "goddess of love, beauty, and sexual rapture," (Lindemans, "Aphrodite") Aphrodite was always sculpturally portrayed with idealized beauty, arrogance in her smile, and a clear gaze of wisdom (Grout, "Aphrodite of Knidos).
When Aphrodite of Knidos was created, these qualities were expanded upon; mystery, allure, and a sense of modesty were generated. These qualities are seen in the placement of her hand above her genitals and in the marble that was finished and painted in a polished polychrome that made Aphrodite appear extremely naturalistic (stories claim that men would sneak in to see her and leave behind stains of their lust) (Havelock 13). This depiction of the goddess can be seen as a foundation for proceeding female nudes clearly through the comparison between Figure 1 and Figure 2. Figure 2 undoubtedly was inspired by Figure 1, illustrated through the graceful contrapposto poses of both sculptures and the "defining gesture" of the hands above the genitalia (Havelock 12). Even the hair is swooped gracefully into a bun at the nape of Aphrodite's neck in both of her depictions (Havelock 12) with similar facial expressions of the characteristic intent gaze of wisdom and clarity (Grout, "Aphrodite of Knidos"). As time went on and the sculptural portrayals of Aphrodite matured and changed, slight variations in the swelling of the body can be detected (as Figure 1 is fuller and softer than Figure 2) as well as bolder postures being used (increased drama and exaggeration modifying the contrapposto pose), experimentation with drapery (for added anticipation and sensuality), and an overall more sexualized representation of the goddess.
Figure 3 is a later nude depiction of Aphrodite in which the artist displays Aphrodite drying her hair and exposing her breasts freely. This is an adaption to previous female nudes of Aphrodite that were slightly more hunched over and modest. Even though the pose is completely different and more dramatic (characteristic of Hellenistic works), the genitals of the goddess remain hidden, which is typical of female nudes to retain some modesty (highly contrasted to male sculptures that are mostly freely exposed). Furthermore, the artist who created Aphrodite of Rhodes allowed her to express her joy/arrogance through the slight smile on her face whilst Figures 1 and 2 retain an air of quietness to them. It is clear that Figure 1 broke the barrier of the female nude taboo and allowed for later female nudes to be created. Through the examination of sculptures of Aphrodite done after Figure 1, it can be concluded that Figure 1 was the canon for many later works with several variations made to her depiction in later periods. Figure 2 is evident of the same use of proportions and posturing whilst Figure 3 is representative of the adaptions made to the nude depiction of the goddess, exemplifying the changes of the Greek's concept of a nude female sculpture over time. Thus it is evident that Aphrodite of Knidos by Praxiletes was a foundation for later female nudes that changed the Greek view of displaying women without drapery.
Bibliography
Alexander, C. A Statue of Aphrodite. The Metropolitan Museum of Art Bulletin, 1953. Print. Grout, J. Aphrodite of Knidos, Encyclopedia Romana, 24, June, 2013. Web, Jul 2013. < http://penelope.uchicago.edu/~grout/encyclopaedia_romana/index.html>
Havelock, Christine M. The Aphrodite of Knidos and Her Successors: A Historical Review of the
Female Nude in Greek Art. Ann Arbor: University of Michigan Press, 1995. Print. Lindemans, M. Aphrodite. Encyclopedia Mythica, 17, July 1999. Web, Jul 2013. < http://www.pantheon.org/articles/a/aphrodite.html>
Michaelis, A. The Cnidian Aphrodite of Praxiteles. The Journal of Hellenic Studies, 8, 1887. Print.
Scott, M. The Scandal of Praxiteles' Aphrodite, BBC History Magazine, 1, November, 2010. Web. Jul. 2013. <http.www.history extra.com>
Stewart, A. (2007). Praxiteles. American Journal of Archaeology, 2007. Print Figure 1. Aphrodite of Knidos, Greece, 305 BCE, <http://www.museumsyndicate.com> Figure 2. Aphrodite (Venus dei Medici), copy of a Greek original of the 2nd c. BCE, <www.library.artstor.org>