Are Homeschoolers Adequately Socialized Essay Sample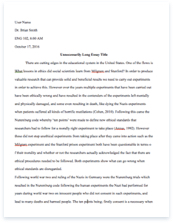 The whole doc is available only for registered users
OPEN DOC
Get Full Essay
Get access to this section to get all help you need with your essay and educational issues.
Get Access
Are Homeschoolers Adequately Socialized Essay Sample
The issue of adequate socialization among homeschoolers has been an unnecessary topic of debate for many years. As the homeschooling population has grown so has the speculation regarding the lifestyle of these families. The first question that a homeschooling family is normally asked is in regards to socialization. There is a natural tendency to believe that a child can only be socially prepared if they are schooled in the public school system. The mass socialization that occurs in public school has always been considered the ideal way to school children. There are two sides to this debate and each side is adamant that they are correct. In recent years there have been numerous studies that are changing the way that America views homeschoolers. For many years it has been a statistical fact that homeschoolers score above public schooled students. A recent study ," Homeschool Progress Report 2009" ,which was done by Brian Ray showed that home-schoolers scored an average of 37 percentile points higher than public schooled students on achievement tests(Smith ,2009). Homeschool graduates exceeded public school graduates in 42 out of 63 indicators of college success in research shared at the National Christian Home Educators Leadership Conference (CBN News,May,2007).
Studies such as this have muted the concern that parents could not provide an adequate education at home.While no one can argue that most homeschoolers are normally intelligent , successful students the argument that remains is that of socialization. Outsiders wonder how these students can maintain a life without their parents by their side no matter how intelligent they may be. The general feeling is that a parent should begin to let go of a child once he or she reaches school age. Homeschool parents believe the opposite. They believe that a parent should be the guiding force in a child's life all through the growing years. To them , this will produce a person ready to face the world and be a contributing member of society. Those involved in this debate have to wonder exactly what is adequate socialization. On the public school side we see students that are experiencing drug addictions and teen pregnancy. Emotional disorders and defiant attitudes are the norm.
Guidance counselors offices are full of children that feel lost and abandoned with no direction in their lives. If this is considered normal socialization then the average parent would prefer their child miss out on this type of "normal" socializing. Homeschoolers generally have a different idea of what the real world is. They tend to want to instill Christian values although not all homeschooling families are religiously based. They choose to surround their child with lessons that teach respect for God and family . Responsibility is a trait that is learned early on in a homeschoolers life by most having to actively participate in household chores. Public school teachers face the added task of trying to maintain order within the classroom . One must wonder how much real world socialization is occurring among the chaos normally present in a classroom. The sides of this issue cannot seem to agree on what adequate socialization really is and where the best place for it to occur is. In the book The Well Adjusted Child: The Social Benefits of Homeschooling, Gathercole brings about a good point by saying "Research has indicated that the most important aspect of socialization is not relationships with peers, but relationships with adults". (Gathercole, 2007)Educators normally agree that the most important social behavior is learned at home.
This would give home-schoolers an advantage over public school children due to the amount of time spent with parents. Families that homeschool generally instill respect for authority, manners, and other character traits that tend to be lacking in public schooled children. The public school teachers are fighting to maintain order and to gain respect within their classrooms while homeschooling parents are able to finish a whole day's worth of lessons in four hours. The behaviors that are learned within this type of setting are ones that homeschool parents are trying to shield their children from. Previously it has been hard to measure the outcome of homeschooling. The increase in homeschooling occurred in the eighties and nineties. Those students are now coming into a time where the fruits of their home education can be measured. It is has always been recognized that these students are more mature than their same age public school friends. The normal day of a home schooled student includes schoolwork as well as instruction in the activities of the home and family. This instruction can be missing from public schooled student's lives. These areas don't usually receive much criticism or debate.
Begin to talk about the 'real world" and all of a sudden homeschoolers are considered inadequate and backwards. While there may be some students that have a natural bent for a shy, withdrawn personality, the same is true for public schooled students. One must ask themselves if it is truly the place of education or simply a natural tendency to be socially shy. Within the public school system there are many children that fail to socialize. They are withdrawn and do not communicate well with others. It is said that public schools offer many opportunities that are not available to home-schoolers. Sports, clubs, and the arts are areas that are able to broaden a student's social skills. When a student is homeschooled these areas are not able to be enhanced to the fullest. There are clubs and organizations for home schoolers. Opponents say that this is not the same type of interaction. The thought is that if one is always around people of the same values and ideas as themselves new social skills are not being learned.
If a person is never put in situations where they can learn about those different from them then it will be hard for them to go into college and fit in. It is easier to adjust your behavior and responses when you are surrounded by likeminded people or family members. There is a certain amount of security that is felt when you are with family. This security is lacking when a student is around others that are different from themselves which forces a student to learn adaptability. Homeschoolers are generally less tolerable of behaviors that contradict what they have been taught at home. This can include prejudices as far as religion and beliefs go. Many are part of religious organizations that have certain doctrinal guidelines that are taught as part of the formal education. It is this that tends to separate and cause the most debate. Most people consider tolerance as part of socialization. Anything out of the norm is considered unacceptable .This intolerance feeds into the argument that homeschoolers are not adapted to the world as most know it. The thought is that homeschoolers look down on those different from themselves and don't see the world as clearly as others.
Research is becoming more available as homeschooling is moving into a more accepted choice for education. The latest research shows that the average homeschooler is involved in eight social activities outside their home and that they are happier , thoughtful and more competent than public school students (Basham,Merrifield, Hepburn 2007). The activites include sports , scouts, church activities , and volunteer work. Many homeschoolers hold jobs also. They are regurlary seen as leaders in their communities and churches. They welcome challenges and tend to put forth the extra effort to excel at tasks. The myth is that a homeschooled child could never survive without the watchful guidance of thier parents.This is contrary to the general type of education that is given. Emphasis is put on a student being able to work independently as much as possible. Not only are these students surviving they are becoming well respected members of society. Their contributions to the world are making an impact on the people around them.
Not only are they academically prepared for life after high school they are socially ready to face the rigors of college life. Many homeschoolers shine in college interviews and are able to impress the college admissions officers with their ability to be direct and make eye contact during interviews. Socialization will continue to be a concern for homeschool opponents. There are no studies , no research that would be enough to stop the questioning. The only tell tale proof the world will have is the lives of homeschoolers. Successful people will come out of both the public school arena as well as the homeschooled world. While the world can go back and forth about socialization homeschoolers will be out and about making their presence felt . The fruit of their education remains to be seen over the next decade. Time will tell on how well socialization has been accomplished by the role homeschoolers will play in society. Chances are they will rise with flying colors and show the world that they indeed can survive in the "real world".