Art Spiegelman's Maus Essay Sample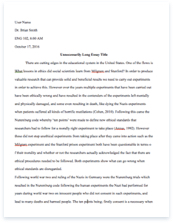 The whole doc is available only for registered users
OPEN DOC
Pages:
Word count: 1457
Category: art
Get Full Essay
Get access to this section to get all help you need with your essay and educational issues.
Get Access
Art Spiegelman's Maus Essay Sample
The subject matter of the Holocaust is ordinarily treated by writers, artists and poets with the utmost level of delicateness. To represent it in any fashion that could be construed as irreverent or less than sensitive is considered taboo. Yet for some reason, when New York-based professional literati Art Spiegelman decided to author a quasi-biographical story about his father's experiences of the Holocaust as a Polish Jew, he chose the frequently dismissed format of the comic book. The resulting two volume work, entitled Maus I: My Father Bleeds History and Maus II: And Here My Troubles Began, presented the memories of Spiegelman's father and the ripple effects these had upon his family. The most notable visual hallmark of Maus is that entire ethnicities – Americans, British, French, Germans, Jews and Poles – are depicted in caricature form as 'funny animals.'
Some critics maintain that the substitution of various ethnicities with different animal genera is a deliberate attempt to present difficult subject matter within a more reader-friendly package, effectively making the unsavory aspects of history more accessible. Furthermore, it has been suggested that Maus is designed to challenge the artistic aspirations of the comic book medium, possibly because Spiegelman's own roots lie within the high-art traditions of the alternative and underground 'comix.' (Pustz 99-100) It is more likely that Spiegelman has deliberately made use of the comic book format because of the unique manner in which it converges time and space to tell a story, and has employed 'funny animals' to purposefully communicate an ideological point.
For anyone suggest that Spiegelman intends to bring respect and artfulness to the medium belies an ignorance of the art form's history. The comic book format may have very specific qualities that set it apart from film and prose, but they are often overlooked primarily because of the strong associations made between it and the superhero genre. As such, understanding of the medium and its peculiar qualities are often limited to exposure to superhero adventure comics. Furthermore, this reflects how the public consciousness has generally disregarded the abundance non-superhero related output that has been produced by comic book artists.
These range from the neo-noir tales of Will Eisner, the experimental 'comix' of the 60s counterculture and the increasingly diverse independents that have risen following the turn of the 20th century. Superhero adventure comics are merely the legacy of a time when comic books were the mass medium of choice for many, decades before television and videogames became ubiquitious and during a time after the pulps had their heyday. (Jones 157-186) A comic activist and historian himself, Spiegelman observes that:
"Comix" have lost their hold as a genuine mass media, so they're free to become a medium of thought. Print can offer the chance [for] reflection. Comix give you two sockets to plug into, both left and right brain. And they don't move while you're looking at them." (Terrell 2004)
Spiegelman is suggesting that comics have seen their place within popular culture transition towards the margins – which means that it is not as subject to the commercial regulation necessary to political economy and therefore has greater elbow room for artistic sophistication than the industries of film and videogames. Furthermore, they merge the shorthand economy of visual design with the static qualities of prose that allow for reader reflection. It would be simplistic to declare that comics merge the best of both worlds – Look, pictures… with words! – when what they do is use panel arrangement to create an interaction between the comics author and the comics author that yields greater reading flexibility but without compromising artistic impact.
As Pustz notes, comics authors may control panel arrangement and the visual grammar of a scene, but it is the readers who "use their imaginations to transform two separate but adjacent images into a single idea."  (Pustz 118) As comic structural theorist Scott McCloud suggests, panels have "no fixed or absolute meaning" other than as "a general indicator that time or space is being divided." (McCloud 98-99) Johnston (2001) also notes that the comic book format allows the reader to control the rhythm and pace of the narrative because "he can linger on a particular image, shift his attention back to a previous one, move on quickly to a dominant image further ahead on the page, and so on."
            These qualities serve a critical purpose to the kind of story that Spiegelman is trying to tell in Maus. Although Maus is frequently described by the popular cognoscenti as a graphic novel recounting of the Holocaust, this is misrepresenting things a bit. The Holocaust is not the sole focus of Spiegelman's Maus, but rather the relationship Artie has with his father and the effects that his father's experiences have had upon his wife and his progeny. The story is framed around Artie's inquiry into these experiences, and his attempt to understand its genealogical implications. As Johnston observes:
"The style [of Maus] does not encourage us to get seduced into the father's story without constantly holding onto the fact that the attempt to understand that story is the main concern here." (Johnston 2001)
As such, Spiegelman makes use of panel arrangement to constantly juxtapose the scenes of the present and the tales of the past, whilst allowing them to spill into one another by means of text. The dialogues of the present constantly overhang each panel, whether it takes place in the present or the past. Furthermore, Johnston also notes that the transition between modern-day New York, where Artie is engaged in a dialogue with his father, and the 1930s and 1940s from which his father's experiences are derived, are where the most notable instances in which space and time are disrupted within the comic book narrative parameters of Maus:
"In modern day New York, for example, the panels tend to be all more or less equal in size, and we move to them in a logical way from left to right. The artistic style tends to remain the same, without sudden interruptions or jarring contrasts. As we start to move to the father's memories, however, the easy flow often becomes instantly upset, and visually we have to sort out where we are and where we are going. The transition points often invite us to linger on some evocative contrasts…" (Johnston 2001)
What Spiegelman is ultimately asking is when does an individual's history become the history of a people or a family? The Holocaust is often discussed in terms that are not only historical, but as something experienced by a people, rather than by individuals, and Spiegelman is ultimately interrogating the boundary between them.
That Spiegelman utilizes anthropomorphic animals to depict the various ethnicities is more than just a means of accommodating younger audiences into a discussion of the Holocaust. Instead, it carries ironic resonance with the questions that Maus engages. Furthermore, Spiegelman homogenizes their physical appearance, using only clothing details to set key figures such as Artie and his father Vladek apart. The animals are coded to each ethnicity according to fundamental stereotypes – the Jews are the resourceful but timid mice, the Poles as affable yet slovenly pigs and the French as jovial but slimy frogs. The result is a visual homogeneity that allows individuals to be somewhat obscured with their racial peers, despite their personal quirks. Ultimately, the effect is that the human tendency to generalize across racial lines is played against the individuality that all humans possess, one that is most highlighted when certain individuals act 'out of character' with their racial peers.
What Spiegelman use of cartooning and the narrative grammar of comic books to tell the story he does in Maus is no mere accident.  The former is a visual shorthand for ideas and themes, whilst the latter, through the convergence of time and space, allows him to play the events of history against its own ramifications upon the present. There is absolutely no other medium by which Spiegelman could have accomplished the same effect in Maus.

Works Cited
Pustz, Matthew J. Comic Book Culture: Fanboys and True Believers. Jackson, Mississippi: University Press of Mississippi, 1999.
Jones, Gerard. Men of Tomorrow: Geeks, Gangsters and the Birth of the Comic Book. Basic Books: Cambridge, Massachusetts, 2004.
Terrell, Kenneth. "9/11: the comic book." U.S. News & World Report. 13 September 2004. Retrieved online on November 23, 2008 from: http://www.usnews.com/usnews/news/articles/040913/13spiegelman.peo.htm
McCloud, Scott. UnderstandingComics: The Invisible Art. Northampton, Massachusetts: Kitchen Sink Press, 1993.
Johnston, Ian. "On Spiegelman's Maus I and II." Johnstonia Web Files. 28 December 2001. Retrieved online on November 24, 2008 from: http://records.viu.ca/~Johnstoi/introser/maus.htm