Article Review-Part A Essay Sample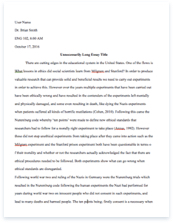 The whole doc is available only for registered users
OPEN DOC
Download Essay
A limited time offer!
Get a custom sample essay written according to your requirements urgent 3h delivery guaranteed
Order Now
Article Review-Part A Essay Sample
The Sarbanes-Oxley Act of 2002 was put in to place as a way of preventing and deterring future accounting fraud, protecting shareholders, and increasing confidence in public company financial reporting. However, SOX has imposed tremendous new duties and costs on public companies and accounting firms. Some individuals may call it an object failure while SOX hoped to create more confidence in capital markets it does not prevent fraud or abuse from occurring.
It is undeniable that SOX has led to greater internal control of financial reporting, and increased expertise and independence among more-focused boards, committees, and directors. SOX has imposed new reporting, audit, disclosure, and ethics requirements, and created internal reporting and whistleblower structures (Maleski, 2012). Randy Eaddy, a partner at Kilpatrick Townsend and Stockton states, "Sarbanes-Oxley made it clear that you cannot be asleep anymore. It was revolutionary in terms of the attitudinal and cultural change that the primarily procedural rules it introduced caused to occur within the community of public companies and the lawyers that work for them. That change is the principal legacy of Sarbanes-Oxley."
Ethical decision making of SOX started with the recognition of director independence. This allows for director liability if the board fails to exercise the appropriate oversight. Because of this decision, companies became stronger and subject to additional oversight with greater technical expertise. The increased demands and need for independence has led to great diversity and has shown effective enforcement to those who serve on boards as well as the director him or herself.
In addition, SOX also required companies to disclose whether their senior executives and financial officers followed a code of ethics. If they did not have one, they had to explain why. Federal sentencing guidelines have said that companies with an effective ethics and compliance program would face reduced criminal sanctions and the Sarbanes-Oxley is just one regulatory framework pushing companies in that direction (Maleski, 2012). It is very clear that mere existence of a corporate code of conduct is useless without compliance (per the Enron and WorldCom scandals).
In the first year of SOX compliance, most companies said that the costs outweigh the benefits. However, after the first year, companies identified the benefits of a better understanding of design and increased effectiveness and efficiency of operations and personnel (Maleski, 2012). SOX has helped companies go through a traditional route of growth and maturing because of the increased duties supplied from the Act. Section 404 of SOX imposes the requirement that companies must hire third-party independent auditors to assess their internal controls. Because of this, there are individuals who say they never really understood their business until this happened therefore it allowed business people a better understanding along with the wants of making better choices.
Among other measures, SOX extended the statute of limitations for the SEC to pursue actions and increased penalties at their disposal. SOX changed the balance of power between companies and prosecutors, putting prosecutors in the driver's seat (Maleski, 2012). With the disclosures made clear and the facts of what is required of public companies, it is easier for agency's to pursue enforcement. The core values when making disclosures have become clear since SOX extended the statute of limitations.
Sarbanes-Oxley makes it a crime for an officer or director of a corporation to fraudulently influence, coerce, manipulate, or mislead an independent auditor in its performance of an audit. SOX also imposes criminal penalties for the destruction, alteration, or falsification of documents in federal investigations and bankruptcy proceedings, extends the maximum prison term to 25 years for securities fraud, enhances white-collar crime penalties and imposes corporate fraud accountability. Moreover, SOX provides for a temporary freeze on extraordinary payments to directors, officers, and employees of companies under investigation by the SEC and makes it a crime to retaliate against corporate whistleblowers (Perino, 2008). The crimes and penalties are as follows: 1. Fraud relating to a security of a company which is public or has any registered securities outstanding, with a penalty of fine and/or up to 25 years imprisonment.
Section 807, U.S.C. section 1348. 2. Any attempt or conspiracy to commit any offense under Chapter 63 of title 18 of the U.S. Code, including mail fraud, wire fraud, bank fraud, healthcare fraud, securities fraud, and false CEO and CFO certifications, with a penalty of fine and/or up to 25 years imprisonment. Section 1349, added by Act Section 902. 3. Tampering with or otherwise impeding an official proceeding, with a penalty of fine and/or up to 20 years imprisonment. Section 1512, added by Act Section 1102. 4. Knowingly altering, destroying, concealing, or falsifying any record, document, or tangible object with the intent of impeding, obstructing, or influencing any matter within the jurisdiction of any department or agency of the United States or any title 11 case, with a penalty of fine and/or up to 20 years imprisonment. Section 1519, added by Section 802.
5. Knowingly or willfully failing to retain audit work-papers in violation of new U.S.C. Section 1520 or SEC rules pertaining thereto, with a penalty of fine and/or up to 10 years imprisonment. Section 1520, added by Section 802. 6. A CEO's or CFO's making a certification under new U.S.C. section 1350 known to be false, with penalty of up to a $1 million fine and/or 10 years imprisonment, or up to $5 million fine and/or 20 years imprisonment if done willfully. Section 1350, added by Section 906.
7. Knowingly retaliating against an informant for providing, to law enforcement officer truthful information, with penalty of fine and/or up to 10 years imprisonment. Section 1513, added by Section 1107. The Sarbanes-Oxley Act has made a profound difference in the business world. Although the criminal provisions have not been well-received because of the complaints that they are needlessly redundant, the face of crime in business has decreased. With the number of fraud defendants who actually receive prison time, opposed to probation increasing, it is believed that they provisions have done more good than harm. This allows individuals to make better choices and ethical decisions based on the outcome in which one knows they will receive.
References
Maleski, M. (2012). Inside Counsel Magazine. Retrieved from:
http://www.insidecounsel.com/2012/01/01/ways-sox-changed-governance. Perino, M.A. (2008). Reflections on the Deterrence Aspects of the Sarbanes-Oxley Act of 2002.
Retrieved from: http://www.whitecollarfirm.com/CM/Custom/Sarbanes-Oxley-Act.