Assessment Report Evaluating Problem of the Use of Child Labor by GAP Essay Sample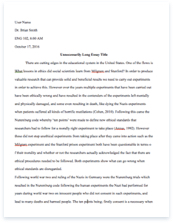 The whole doc is available only for registered users
OPEN DOC
Pages:
Word count: 477
Category: children
Get Full Essay
Get access to this section to get all help you need with your essay and educational issues.
Get Access
Assessment Report Evaluating Problem of the Use of Child Labor by GAP Essay Sample
1. The Introduction
The main goal of this report is to analyze problem of child labor across Gap's supply chain and to give recommendations concerning strategy to cope with this problem as well as with decreasing consumers' confidence.
1. The problem of child labor – summary
Cheap labor is one commodity India has in abundance, and even though India has laws in place to protect children and bans the use of young workers; they remain pretty ineffective. Some researches report over 11 million children that are forced to work in India.
In order to remain competitive on the global market, Gap outsources some of its production to developing countries, such as India. Total number of factories within the supply chain of the company amounts to more than 2000 factories. It appears that several of contractors broke Gap's rule and employed children.
The case was reported by the "Observer", a British newspaper and concerned production of GapKids' blouses in New Delhi. There exist irrefutable evidence of child labor in our facilities, as pictures presenting child workers and Gap clothes were taken. Children, in this case working in conditions close to slavery, which is simply unacceptable and remarkably harms company's image.
1. Effects of the incident
The conference Board, a market research firm, claims that consumer confidence fell for the third month in a row. In addition to that, Sales in September were 7% lower than a year ago, which caused significant financial damage to the company. Besides short term effects, the company is facing threat of losing its strong position on the market, since its product are not attractive to the consumers anymore.
The reaction of the Gap was immediate – the order was cancelled and urgent meeting with local supplier was called in order to remind to all of them that practices of child labor are unacceptable.
1. Recommendations
The company's CSR strategy, although based on the right presumptions, seems to be ineffective. Consumers view Gap's policy as paying lip service. Definite actions have to be introduced to cope with the problem and improve company's image at once.
First of all, the Gap should consider launching campaigns on letting the public know its Code of Conduct. The campaigns should be supported with starting a program of provision of schooling to under-age children and guaranteeing them a job once they reach legal age.
Secondly, actions and production processes of the contractors across Gap's supply chain should be properly monitored. We believe that this problem can be solved by introducing numerous inspectors, who will supervise the factories.
Finally, Gap should try to influence Indian government on the issue of child labor. This problem seems to have its roots at the level of faulty legal system, therefore it is important to lobby for stronger regulations.