Assigned Leaders Authority and Influence Essay Sample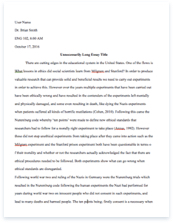 The whole doc is available only for registered users
OPEN DOC
Pages:
Word count: 401
Category: leader
Download Essay
Get Full Essay
Get access to this section to get all the help you need with your essay and educational goals.
Get Access
Assigned Leaders Authority and Influence Essay Sample
Assigned leaders derived their authority and influence based on a position afforded them by an organization while emergent leaders derive influence from a perceived ability rather than a position or title (Northhouse, 2013). At the beginning of the year a new manager was hired for our department and although he has limited experience in the actual management of people he has authority and influence over me based on his position and how it can affect me. He has been assigned to run a department based on technical training, which the current management structure keys on, in six sigma methodologies regardless of whether he has experience implementing these programs in a dynamic production facility. He is not a leader of men but his position and its stature cares significant weight and influence in the organization.
As the most senior member in the department and most likely successor I am tasked with providing the direction that my manager is unable to. His lack of personal leadership abilities and skills has forced me to become an emergent leader who provides daily direction and ensures team members remain focused on tasks even though that is not the primary goal of my position. If my manager is the dad of the family I am the oldest brother and whether detailed in a position tile or not I will ensure that the team remains unified and focused on the task of improvement.
Communication behaviors which tend to make emergent leaders successful are being able to become verbally involved, well informed, seek other opinions, initiate new ideas, and are firm but not ridged (Northhouse, 2013). In my interaction with other team members I engage them verbally every day to gauge their understanding, progress, and frustrations with the directions provided. I also engage members in and outside the department to stay fully apprised of all situations and during these interactions I look to others to provide different perspectives on the situations. In most situations I have an idea of the solution but I want others to provide the same linear thinking and come to logical well thought out solutions. Finally team members can tackle a problem with any organized process they see fit; however, they will obtain results and bring it to conclusion in a reasonable time frame.
Northouse, P. (2013). Leadership theory and practice (6th ed.). Thousand Oaks, CA: Sag Publications. ISBN: 9781452203409.