Assignment: Collaborative Group Writing Essay Sample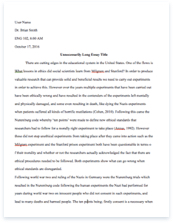 Pages: 3
Word count: 698
Rewriting Possibility: 99%

(excellent)

Category: writings
Get Full Essay
Get access to this section to get all help you need with your essay and educational issues.
Get Access
Introduction of TOPIC
PART 1: PRE WRITING & OUTLINE (5 MARKS)
a. You will work in groups of 4/5 members from the same lecture group b. During lecture 5, a topic will be given to you. Develop a thesis statement and brainstorm the structure of the essay c. Find at least 4 different texts from sources such as books, journals, newspapers, magazines, etc. (Remember that ideally the chosen references should support your thesis) d. Read each of your sources carefully and highlight the main ideas. e. Summarize and paraphrase the main ideas
f. Analyze your sources to identify the similarities and differences or group similar ideas together; generalize from these similar ideas g. Organize the various generalizations in a logical and coherent way. h. Prepare an essay outline/ plan of your ideas using ONE of the visual forms learned (mind-map / sentence or topic outline) i. Prepare your essay plan / outline on a piece of paper & present it to your lecturer in Week 7.
PART 2 PEER REVIEW OF FIRST DRAFT (5 MARKS)
a. Based on the essay plan, draft an essay of 400 words.
b. Organize your paper logically:
I. State your thesis clearly and make sure that it reflects the focus of your essay. II. Make sure your main points are clearly stated (use topic sentences), and connect each point to your thesis as explicitly as possible. III. Divide paragraphs logically.
IV. Provide appropriate transitions both within and between paragraphs
c. Use specific examples and source materials appropriately
as support. Be sure to integrate source materials smoothly into your own writing using transitions.
Also be sure to avoid unnecessary repetition.
d. Remember to acknowledge other people's work by including in-text citation and a list of references (APA format) to avoid plagiarism. e. A peer review session will be held during the lecture in week 8. Bring your typed essay to be reviewed by another group. In return you will use a peer review form to review another group's essay. f. On completion of the peer review session, photocopy the corrected essay and the completed peer review. g. Return the photocopy of the peer review form and the original draft to the group. h. You will be graded for the draft that you reviewed and the comments in the peer review form. i. Correct the errors in your essay and prepare a 2nd draft.
PART 3 WRITING CONFERENCE & FINAL DRAFT (25 MARKS)
a. In week 9, meet your lecturer during consultation to discuss your 2nd draft. b. Use the comments given during the writing conference with your lecturer, to rewrite your 2nd draft, c. Think of a title, which best captures your thesis
j. Turn in the completed project in hard copy to your lecturer in week 10.
Format:
1) The length of your paper should be 350 to 400 words.
2) It should be typed in double-spaced pages with reasonable margins. Use a font size of Times Roman 12 3) Be consistent in your use of bibliographic references; include page numbers for quotes. List all works you cited at the end of your paper 4) If you quote three lines or fewer, the quote should not be set off or indented but integrated into the text of your paper. 5) Do not use the first person.
6) When you are done editing, think of a title, which best captures your thesis. 7) Bind your assignment & arrange the information in the order below: I. Cover
II. Essay plan/outline (A4 size) on the first page
III. Final essay with in-text citation
IV. Corrected first draft
V. Photocopy of the completed peer review form filled out by group
VI. Corrected 2nd Draft with lecturer's comments
VII. Reference list.
VIII. Photocopies of all references used (Appendices)
Note:
Every one in the group is responsible for research on the assignment topic, writes a specific part of the essay, revises and edits the final essay for accuracy and assists team members with technical problems.